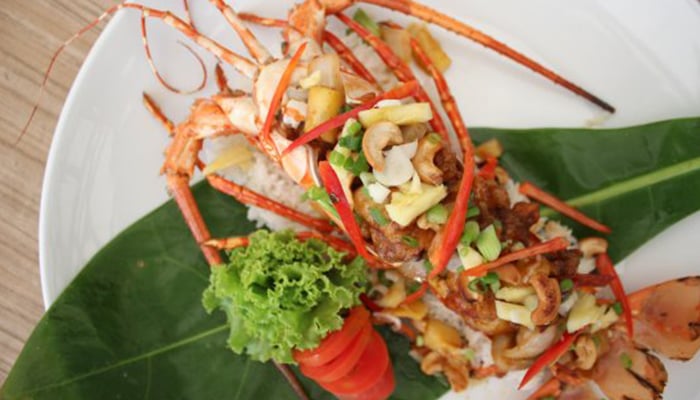 We bring a special recipe of 'Kung Pao lobster'.  Try this out for a special occasion. 
Bon Appetite!
Ingredients
Lobster meat, diced 200 gms
Onion, diced 20 gms
Green and red bell pepper, diced 30 gms
Ginger fresh, chopped 04 gms
Scallion, chopped 05 gms
Garlic, sliced 05 gms
Cashew nuts, fried 30 gms
Sichuan pepper 03 gms
Dried chilli 03 gms
Vinegar 03 ml
Salt 02 gms
Soya sauce 04 ml
Corn starch 15 gms
Chicken stock 50 ml
Oil for frying
Method:
In a steel bowl, marinate the lobster meat with salt and 5 gms corn starch and set aside.
Place the rest 10 gms of corn starch into a bowl and add 20 ml water, mix well keep aside.
Now heat the wok, add oil heating till 170 degree centigrade, fry the lobster for 1 min, use the strainer take out the lobster. Set the fried lobster meat aside.
In another pan add the Sichuan pepper and dried chilli. Fry till the chilli turns brown in colour.
Then add chopped ginger, scallion, garlic and stir fry for a while.
Add the rest of fresh vegetables and fried lobster, soya sauce, salt, sugar, vinegar and stir fry for 1 minute.
Now add the liquid corn starch till the sauce thickens.
In the end add fried cashew nuts. Mix well.
Arrange the dish in a platter and garnish with the lobster shall. Serve hot.
Preparation time: 15 minutes
Cooking time: 15 minutes; Serves: 1
Originally published in The news