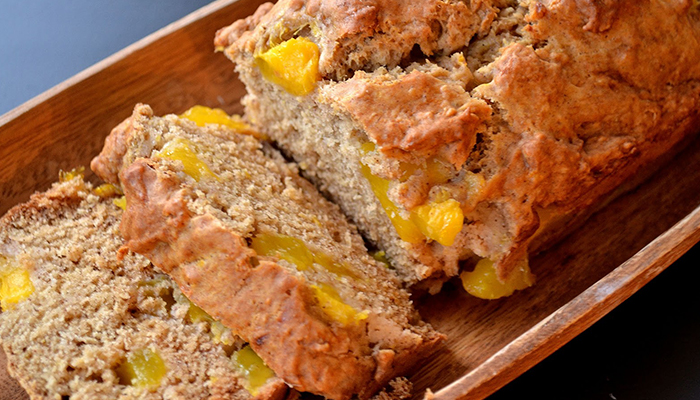 We all love to have some sort of dessert after our savoury snacks on Eid, right? Check out this mouth watering recipe of 'Mango banana bread' which is quite simple to make. Try it out and indulge into the flavour of this sweet delight. Happy baking!
Ingredients:
Granulated sugar 3/4 cup
Butter (softened) 1/3 cup
Eggs (room temperature) 2
Flour 1 & 3/4 cups
Baking powder 1 tsp
Baking soda 1/2 tsp
Salt 1/2 tsp
Mango pulp (mashed) about 1 cup
Large bananas (mashed) 2
Method:
Preheat the oven to 350 degrees F. Grease a 9 x 5 x 3-inch loaf pan.
In a medium mixing bowl, cream the sugar and butter with an electric beater. Add the eggs and beat well.
Sift flour, baking powder and soda and salt and add to the creamed mixture. Stir in the mango and banana and mix until just blended. Fret not as the batter will be lumpy.
Pour the batter into the greased pan and bake for 50 minutes or until a toothpick inserted into the middle comes out clean.
Cool in the tin for about 10 minutes before turning the loaf onto a wire rack to cool completely before slicing. Enjoy!
Originally published in The news