This Ramzan, give your taste buds a delectable treat and delve into the goodness of Thai cuisine with these mouth-watering and unique recipes that are sure to win hearts. 

Thai-style Tempura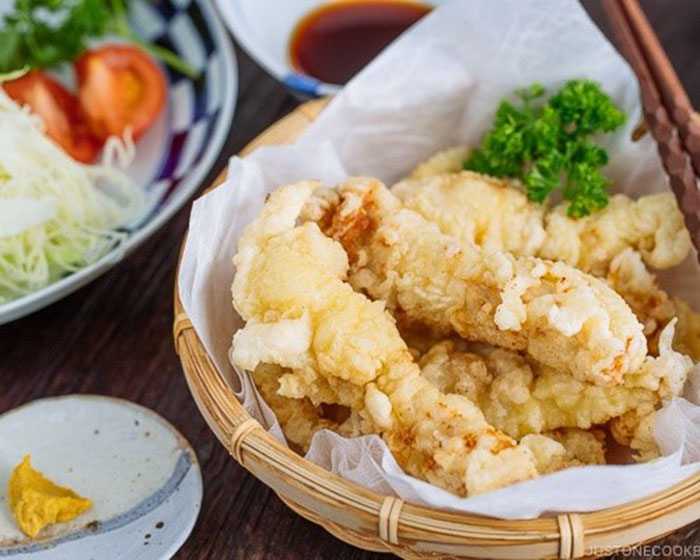 Tempura ingredients
Tofu (cubed) 1 cup
Bean sprouts (small pieces) 1 1/2 cup
Potatoes (cubed) 1 cup
Red capsicum (cut finely) 1
Tomato (cubed) 1
Spring onions (cut finely) 3 stalks
Green chilli (cut finely) 1
Oil 1 cup
Spring onions, tomatoes, green chillies - for garnishing
Sauce Ingredients
Cornflour 1/2 cup
Refined flour (sieved) 1 cup
Baking powder 1 tbsp
Cold water 1 cup
Sugar 1 tsp
Soya sauce 2 tbsp
Eggs 2
Method:
Take a bowl and mix all sauce ingredients in it thoroughly.
Add in all ingredients for the tempura except oil.
In a wok, put oil and heat it. One by one fry one tbsp of tempura each till golden and remove.
To garnish, add diced spring onions, tomatoes and green chillies. 
Thai Rice and Prawn Meatballs 
Ingredients
Prawns 1/2 kg
Rice (boiled) 200 grams
Egg (beaten) 1
Onion 2
Fresh coriander 1/4 bunch
Red chillies (fresh) 2
Desiccated coconut 1 tbsp
Lemon rind (grated) 1/2 tsp
White sesame seeds 2 tbsp
Black pepper powder 1/4 tsp
Refined flour (sieved) 2 tbsp
Cornflour 2 tbsp
Salt to taste
Oil for frying
Method
In a blender, mix prawns with onions, green chillies red chillies, coriander, black pepper and salt and blend, put the mixture in a bowl.
Mix in lemon rind, egg, cornflour, coconut, refined flour, sesame seeds and salt in rice.
Add prawn mixture and mix.
Lightly dust hands with flour and make small meatballs from the mixture.
In a wok, heat oil and fry meatballs till golden brown. Serve hot. 
Thai Shrimp and Pineapple Curry
Ingredients
Oil 1 1/2 tablespoons
Thai red curry paste, store-bought 2 tablespoons
Coconut milk 1/2 cup
Water 1/2 cup
Kaffir lime leaves, slightly bruised, (optional) 3 - 4
Shelled and deveined shrimp, tail-on 8 oz
Pineapple cubes 1 cup
Fish sauce 1/2 tablespoon
Sugar/palm sugar 1/2 tablespoon
A squirt of lime juice
Method
Heat a pot with the cooking oil.
Add the curry paste and stir to release the aroma.
Make sure to keep stirring.
Add coconut milk, water, and kaffir lime leaves and bring the curry to boil.
Add in the prawn and pineapple and let cook for about 5 minutes on medium to low heat.
Add fish sauce, sugar, and lime juice, stir to combine well.
Turn off the heat and serve immediately with steamed white rice.