Running late? No time to cook dishes after dishes for Iftar? Trust these 5 recipes to save you on days when you are super busy and cannot spend devote much time to cooking in the kitchen. 

Chicken Shawarma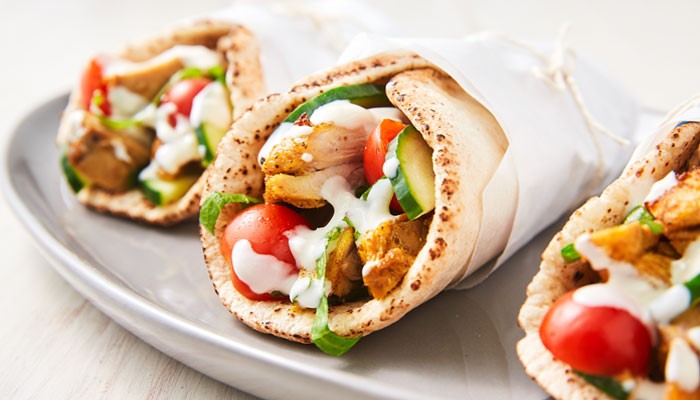 Ingredients
8 Boneless chicken thighs (skinless)
For the marinade:
1/2 cup malt vinegar
1/4 cup plain yogurt
1 tbsp vegetable oil
to taste salt and pepper
1/4 tsp freshly ground cardamom
1 tsp All spice powder
For the sauce:
1/2 cup tahini
1/4 cup plain yogurt
1/2 tsp garlic (minced)
2 tbsp lemon juice
1 tbsp olive oil
1 tbsp fresh parsley, chopped
to taste salt and pepper
For plating:
4 medium tomatoes, sliced
1/2 cup onion, sliced
4 cups lettuce, shredded
8 Pita bread rounds
Method
• In a glass baking dish, mix together the malt vinegar, 1/4 cup yogurt, vegetable oil, mixed spice, cardamom, salt and pepper.
• Place the chicken thighs into the mixture and turn to coat. Cover and marinate in the refrigerator for at least 4 hours or overnight.
• Preheat the oven to 350 degrees F (175 degrees C).
• In a small bowl, mix together the tahini, 1/4 cup yogurt, garlic, lemon juice, olive oil, and parsley.
• Season with salt and pepper, taste, and adjust flavors if desired. Cover and refrigerate.
• Cover the chicken and bake in the marinade for 30 minutes, turning once.
• Uncover, and cook for an additional 5 to 10 minutes, or until chicken is browned and cooked through.
• Remove from the dish, and cut into slices.
• Place sliced chicken, tomato, onion, and lettuce onto pita breads.
• Roll up, and top with tahini sauce.
Creamy mango saffron kulfi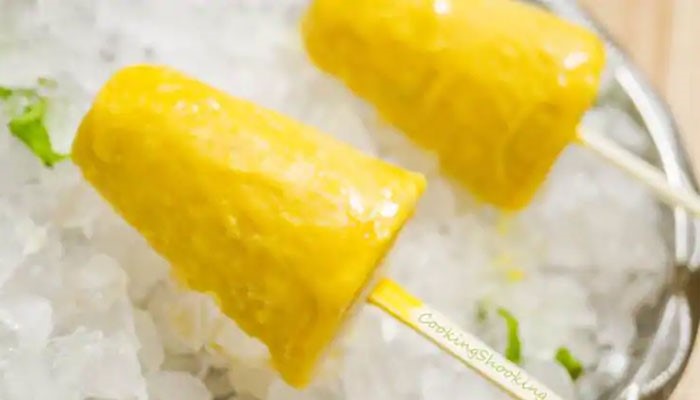 Ingredients
500ml- Milk
1.5 cup- Sugar
2 tbsp- Cream
A few strands of saffron
1 and ¼ Cup- Mango Pulp
2 tbsp- Pistachio
8- Kulfi moulds
8- Ice Cream Sticks
Method
• Heat milk in a wide pan and bring to a boil.
• In a small bowl, keep aside 1-2 tbsp of the boiled milk and add the saffron strands to it.
• Now, reduce the larger quantity of milk on a medium flame, stirring it occasionally to prevent burning. The trick to perfect kulfi is stirring milk evenly.
• Add the soaked saffron to the reducing milk, stiring all the while and reduce to half. Add the sugar and cream, and cook it for another 1-2 minutes.
• After reducing the milk, let it cool down completely.
• After it cools down, add mango pulp and pistachios and pour into kulfi moulds.
• Set the moulds in the freezer for two hours. After two hours take them out, insert ice cream sticks into each of the kulfi moulds.
• Let it set for another four hours and serve.
Crisp mini samosas 
Ingredients
For dough
250 gm – Maida
40 gm – Ghee
3 gm – Ajwain
20 gm – Salt
50 ml – Water
For filling
125 gm – Boiled potato
60 gm – Boiled green peas
5 gm – Green chilli paste
15 gm – Ginger paste
15 gm – Garlic paste
3 gm – Whole coriander seeds
2 gm – Fennel seeds
2 gm – Cumin seeds
3 gm – Garam masala powder
3 gm – Coriander seed powder
3 gm – Cumin seed powder
3 gm – Turmeric powder
3 gm – Red chilli powder
Salt to taste
Black salt to taste
20 gm – Chopped coriander
Sufficient cooking oil to deep fry
Method:
• Sieve the maida, add ajwain and salt.
• Heat ghee and water together and add to the maida mix.
• Knead the maida into a tight dough and keep aside covered with a wet cloth.
• For the samosa filling, heat oil in a pan and add the cumin, fennel and coriander seeds.
• After they crackle, add the ginger paste, garlic paste and the green chilli paste and saute well.
• Next add all the powdered spices – turmeric, garam masala, coriander, cumin and red chilli powders – and saute until the masalas are cooked well.
• To this mix, add boiled and crushed potato, boiled green peas, black salt, salt and lastly, the chopped coriander leaves.
• Make even-sized balls of the samosa dough.
• Roll them out in an oval shape and cut into halves.
• Fold two halves to make samosa patties and stuff the filling into it.
• Seal them tightly, taking care that they don't break while frying.
• Deep fry until golden brown and serve.
Hara Bhara Kebab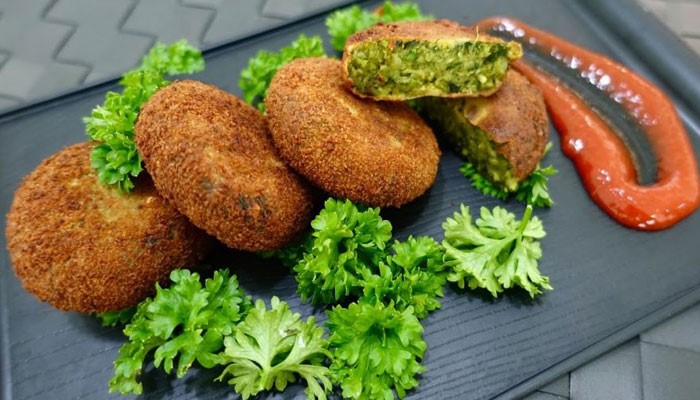 Ingredients
1 cup split gram dal (channe ki dal)
1 bundle (600 gm) spinach – only leaves, chopped very finely
3 tbsp oil
3 slices bread – broken into pieces and churned in a mixer to get fresh crumbs
3 tbsp cornflour
2 green chillies – chopped finely
½ tsp red chilli powder
½ tsp garam masala
¾ tsp salt or to taste
½ tsp dry mango powder
½ cup grated paneer (75 gm)
¼ cup chopped green coriander crush together
½ tsp cumin
seeds of 2 black cardamom
3-4 black peppercorns
2-3 cloves
Method
• Crush cumin, seeds of black cardamom, peppercorns and cloves together.
• Clean, wash dal. Pressure cook dal with the above crushed spices, ½ tsp salt & 2 cups water. After the first whistle, keep the cooker on slow fire for 15 minutes. Remove from fire and keep aside.
• After the pressure drops down, mash the hot dal with a karchhi or a potato masher. If there is any water, mash the dal on fire and dry the dal as well while you are mashing it. Remove from fire.
• Discard stem of spinach and chop leaves very finely. Wash in several changes of water. Leave the chopped spinach in the strainer for 15 minutes so that the water drains out.
• Heat 3 tbsp oil in a kadhai. Squeeze and add spinach. Stir for 8-10 minutes till spinach is absolutely dry and well fried. Add paneer and coriander. Cook for 1 minute. Remove from fire and keep aside.
• Mix dal with – fresh bread crumbs, cornflour, spinach-paneer, green chillies, salt and masalas. Make small balls. Flatten slightly.
• Cook them on a tawa with just 2-3 tbsp oil till brown on both sides.
• When done shift them on the sides of the tawa so that they turn crisp and the oil drains out while more kebabs can be added to the hot oil in the centre of the tawa. Remove the kebabs on paper napkins. Serve hot with hari chutney.