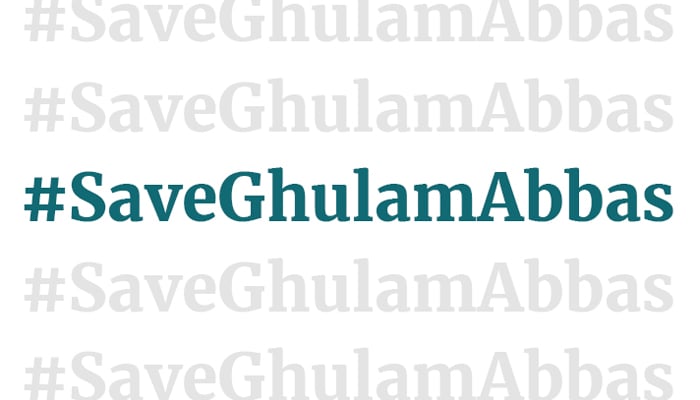 ISLAMABAD: The Supreme Court of Pakistan on Monday granted a stay on the June 18 execution of Ghulab Abbas, a mentally-ill prisoner on death row for more than a decade.
Abbas was sentenced to death in 2006 after being imprisoned in 2004 for fatally stabbing a neighbour.
According to the court's order, a copy of which is available with Geo News, Justice Asif Saeed Khosa, the chief justice of Pakistan, issued the "order to stay the execution of death sentence to convict prisoner namely Ghulam Abbas".
A "Constitution Petition filed by mother of convict prisoner namely Ghulam Abbas currently confined in Central Jail, Rawalpindi against the execution of death sentence to said convict prisoner on 18.6.2019" was placed before the CJP, the order read.
The ruling was made following a confirmation of the prisoner's illness through a government-appointed medical board, comprising Benazir Bhutto Hospital doctors "Prof Dr Asad Tamizuddin Nizami, Assistant Prof Dr Mehmood Ali Khan and Dr Muhammad Azeem Khan".

Human rights law firm, the Justice Project Pakistan (JPP), said the court's order came in response to a petition it had filed earlier. It said it had initiated a campaign on social media as well in order to garner support for staying the execution order and to spread awareness on what it said was an urgent matter.
The JPP said it had filed the application "after the Punjab Home Department withdrew its permission to allow an independent psychiatrist and two government doctors to visit Adiala Jail and evaluate Ghulam Abbas, who has spent 15 years in prison and was to be hanged on June 18 (today)".

The JPP expressed its gratitude to Human Rights Minister Shireen Mazari, Ayesha Chaudhry, a member of the Punjab Assembly, and Maleeka Bokhari, the parliamentary secretary for Law and Justice for their "untiring efforts" in paving way for the medical board to be set up to evaluate Abbas, the prisoner.

Abbas is the last surviving son of his widowed mother, the statement added.
Explaining the condition of Abbas, the JPP wrote: "According to the doctors, the prisoner shows 'strong evidence of epilepsy with reported episodes of fits within the jail'.
"They added that 'he has evidence of psychotic illness with hallucinations and behaviour disturbances' and also suffers from a 'depressive illness and is on treatment in the jail since April 24, 2019'," it said.
The JPP further noted that the doctors reviewing Abbas' condition have "recommended an MRI Brain with contrast, EEG and psychological assessment for IQ, adding that Abbas needs further assessment and treatment".

Abbas, the statement highlighted, was jailed in 2004 "for fatally stabbing a neighbour". Citing his family, it added that "he suffered from learning disability as a child, which resulted in him remaining completely uneducated and devoid of even basic primary schooling".
Commenting on the development, JPP Executive Director Sarah Belal said she was "relieved" to hear it but added that there were "many other mentally ill prisoners on death row who may not be as fortunate as Abbas.

"There is a dire need for systemic change […] to ensure that no mentally ill patient is sentenced to death and no family has to go through the traumatic experience of scrambling to save their loved one's life hours before their scheduled execution," she added.