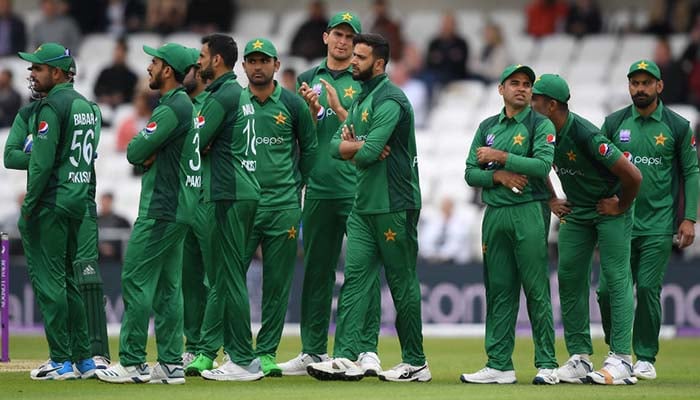 Virtually, it was all over for Pakistan in World Cup 2019 when England thrashed India in the group stage match to take the number four spot of the table. 
It seemed as if only it was a miracle left, which would help Pakistan to score a 400+ against Bangladesh in the last match and dismiss the opponent completely within minimum runs.
With emotions running high and low, both on and off the field, especially when we had the big clash against the arch-rivals India - which we lost - due to our lower per par batting, bowling, and fielding. It would be dishonest to justify Pakistan's loss due to bad luck.

What went wrong?
Everything, everything went wrong. Although Pakistan beat the most competitive teams of World Cup 2019 including England and New Zealand, Pakistan's campaign deemed a complete failure in the quest of winning their second World Cup title. 

Witless Batting
It was not the first time that Pakistan's batting line-up was questioned. It's been years that we have not been able to find the perfect winning combination for our team.
Pakistan played with 9 different combinations, with the inclusion of seniors and juniors in the team, still, the creaky batting left Pakistan out of the World Cup. 
Imam-ul-Haq and Babar Azam played for Pakistan in all the matches of their World Cup 2019 campaign and scored consistent runs. Haris Sohail was included in the batting line as a replacement for the veteran Shoaib Malik after the clash against India.
Imad Wasim helped Pakistan win against Afghanistan, but it was the only time his innings powered the team during World Cup 2019.

Champions Trophy 2017's hero opener Fakhar Zaman faced a clean decline in his performances this year as he failed to maintain his average.
All the other batsmen, clearly tossed out Pakistan's batting line-up and clearly are the culprits of our loss.
Dropping Catches
The second factor which can be credited for Pakistan's elimination for World Cup 2019 is the sloppy fielding. 
After the first five matches, Pakistan topped the chart for dropping the most number of catches (14) in the tournament. Dropped catches and slippery hands have cost Pakistan a lot in World Cup 2019 and are major grey areas for concern.
Hasan Ali's Curious Case and Benched 'Hasnain'
The Champions Trophy 2017's player of the tournament fast-bowler Hasan Ali proved himself as unworthy for investment in the World Cup 2019. The fast-bowler was completely monotonous and off-coloured in the tournament which is why he was benched in most of the matches. 
Muhammad Hasnain, the Pakistan Super League 4 sensation with a crude pace of 150+ Kmph, was included in the World Cup 2019 squad but wasn't experimented with in any of the matches. Maybe he could have done wonders?

Playing for Quetta Gladiators in Pakistan Super League season 4, Hasnain was also titled as Man of the Match in the final against Peshawar Zalmi, where he knocked off the scalps of opener Imam-ul-Haq, middle-order batsman Umar Amin, and skipper Darren Sammy for only 30 runs guiding his team to become PSL 4 champions for the first time.
He has taken 5 wickets in 5 ODI innings so far, where he has delivered 246 balls, giving away 303 runs.
The 19-year-old young blood can turn out to be a lethal death bowling asset for Pakistan.
Yawning Skipper and Bowling First
Although it was only a yawn, it turned out to be so much of an off-deal for Sarfaraz Ahmed. The cameraman caught him yawning and the image fire-spread all over the internet, pointing out skipper's reluctance in making winning efforts for the team. 
Pakistan Cricket Team isn't a good chaser but still, the skipper denied making the easiest decision of batting first after winning the toss in the few matches.
The Eleventh Player - RAIN
Four matches of World Cup 2019 were called off due to unpleasant weather. 
Pakistan was strongly hit by the rain in their clash against Sri Lanka, which was abandoned with no result and splitting a point between the two.
Everything considered, Pakistan would have beaten Sri Lanka if the match was played would have got one more point paving their way to the semi-finals, leaving behind New Zealand.
Now, what should we do?
Pakistan's World Cup 2019 campaign has given rise to several questions for our team's future including the fitness level of our players, captaincy, batting order, room for youngsters, winning combination, team management, and many more.
I have always followed the domestic circuit of Pakistan cricket regularly and it was clear to me that most of our domestic players were a worthy investment to make their place in World Cup 2019, however, they were not given a chance to prove their worthiness but should be polished ahead of World Cup 2023. 
We have four more years ahead of World Cup 2023 and now it is a major responsibility for Pakistan Cricket Board to start working on their road to CWC23 and for that, they have to invest not only in the domestic circuit of Pakistani cricket itself but also on its broadcasting.
It has always been seen that senior players are given more priority over young-blood regardless of their performance. This act of favouritism should come to an end now.
The young players with match-winning abilities and capacities should be given opportunities and platform to perform for their homeland. 
Pakistan Super League season 4 shed light on many young players earlier this year. 
No exact figures but players like Khushdil Shah, Umer Khan, Saud Shakeel, Haris Rauf, and many more have displayed brilliant performances in the Ramzan Tournament held in May 2019. 
Players like Ahmed Shahzad and Umar Amin from SSGC, who have already played for the National team earlier and are not in the current squad have also played with consistency for their department team in the last few years. 
Umer Akmal has also been showering runs in the domestic season.
These players have been through their crucial years of development and shall be given a 'maybe-last chance' to show the mettlesome display of their game. 
All-rounder Muhammad Hafeez, would not be playing for long and our team lacks a proper off-spinner. Umer Khan, the rising off-spinner from Karachi Kings and SSGC, fetched a bag full of wickets not only in PSL season 4 but also in the domestic tournament earlier and is consistently playing a role in his team's victory.
We do not have promising cricketers in our team and now a hunt is required for them by strengthening the circuit of our domestic cricket. It should be a time to bid farewell to the veteran cricketers and to foster new talent from the nation. 

Keeping in mind Pakistan's inability to make through World Cup 2019 semi-finals, it is now important for Pakistan Cricket Board (PCB) to look out for a major change, not only in the team itself but also the management and complete domestic structure.