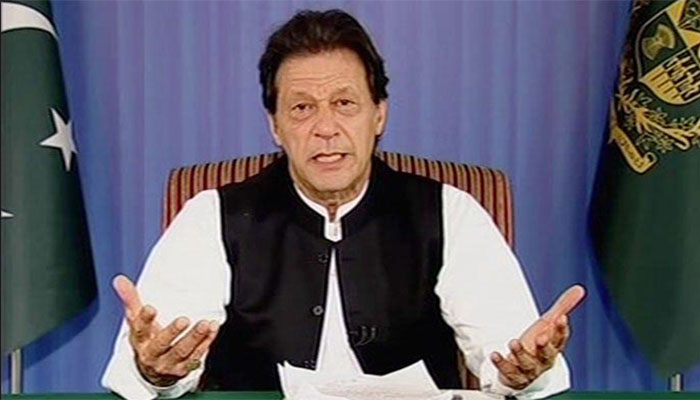 ISLAMABAD: Prime Minister Imran Khan said on Wednesday that the RSS ideology of India will not only threaten Kashmiris, Pakistan, Indian Muslims or others, but India itself.

In a tweet, the prime minister shared a link of an international publication titled "Hitler's Hindus: The Rise and Rise of India's Nazi-loving Nationalists".
"This is the RSS ideology that threatens not just Kashmiris or Pakistan or even just Indian Muslims, Christians & Dalits but India itself as envisaged by its Founding Fathers," wrote the PM in the tweet with the link to a story describing India's propensity towards Neo-Nazism.
In his earlier speeches, PM Imran Khan has vehemently lambasted India's politics of hatred and genocidal tendencies as seen in occupied Kashmir.
PM Imran has also likened Indian PM Narendra Modi to Hitler several times and his Bhartia Janta Party to the German fascist Nazi party.
In his speech today, PM Imran said: "We are facing up to a dangerous ideology: Modi's RSS ideology. This ideology is grounded in hatred for Muslims, and it takes inspiration from Hitler's ideology," the premier continued.
"First, we have to highlight this dangerous ideology of Modi to the rest of the world. It's a dangerous ideology and it has resulted in incidents like Babri mosque and 'beef' lynchings. What is going on in Modi's India is similar to what happened in Nazi Germany. Intellectuals in India are afraid to speak up because if they do, they are targeted."