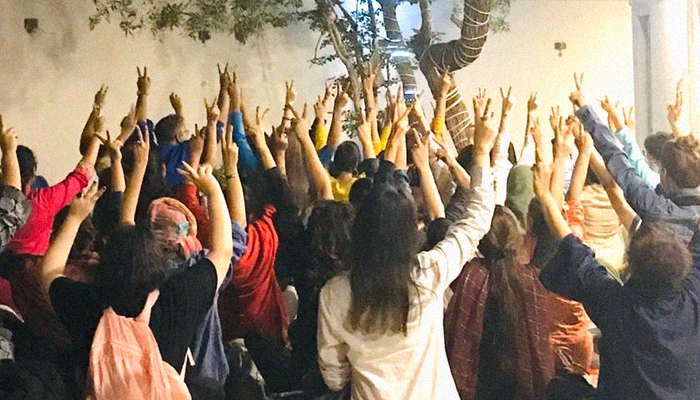 Dozens of women, trans people, and non-binary folks turned up at the Arts Council, with the fire in their hearts burning stronger than ever to smash patriarchy and tackle misogyny out of the public discourse, media, and Pakistan's laws.

A day prior, an announcement of the first organising meeting of the Aurat March 2020 had unexpectedly struck the right nerve when thousands upon thousands of men descended on the Facebook post to troll and make vile comments.
Despite the cyber-attack of sorts by a troll army of mostly misogynist, sexist men who made threats of rape, death, and various other forms of attacks, the call for the meeting attracted a very diverse, inter-class group, including not just women representing religious minorities but also transgender people, gender non-conforming, genderfluid, and non-binary folks.
In fact, it was heartwarming to see that a mother-daughter duo had turned up to become part of the team while a non-binary participant even pledged to donate their entire salary as a donation to the Aurat March funds. "It's part of the revolution!"
Prominent feminists from sports, media, documentary filmmaking, social work, minority rights organisations were present. One of them, in fact, plans to follow the organising team's journey to the Aurat March 2020 and present a documentary on it.
The inclusive meeting focused on the demands for next year's Aurat March and how to tackle systematic and institutional patriarchy, work on implementation of laws pertaining to gender-based violence (GBV), reproductive rights, and sexual harassment, and create mental health support for survivors.
One of the organisers underscored that the Aurat March committee had zero tolerance for sexual harassment and any kind of shaming during the planning and at the rally, adding: "We are for the call-out culture."
Participants agreed that calling out rapists, predators, and harassers — most of whom are men — on social media was pertinent for GBV and sexual harassment survivors as it is a last resort. Legal system is often a tedious, years-long process that significantly affects the survivors' lives, as well as mental and physical health, they added.
That, they added, was why logistical and emotional support on the part of their allies and legal teams became necessary. The folks noted that despite the existence of some progressive laws, those in power are men who protect fellow men through a system created by men.
It was, therefore, necessary to have a feminist, gender-neutral perspective that was sensitised to the trauma and exhausting experience that women face in the country.
The organisers informed the participants and the new Aurat March 2020 team that legal assistance was available to anyone who was facing threats and intimidation because of calling out sexual abuse or harassment by powerful men.
A discussion on the decriminalisation of the defamation laws was also held, wherein ways to remove patriarchal bias from the country's laws and make them more gender-neutral and in favour of survivors were talked about.
Defamation laws, as the Women's Action Forum (WAF) mentioned in August, were being used "as a silencing tool" and that Pakistan was witnessing "an alarming rise in the registration of criminal defamation cases against individuals speaking or reporting on specific incidents of harassment, assault and rape".
The Aurat March organisers reiterated their support for the decriminalisation of the defamation laws. "It is important to note that we believe survivors 100 percent and will continue to do so," they said.
They also underlined how the #MeToo and #TimesUp movements had progressed abroad over the past couple of years but Pakistan was still stuck at a stage where people were discussing defamation and whether to believe survivors or not.
Cyber-crime authorities, as well as other institutions, needed to have sensitivity training in order to better understand the seriousness of online stalking, harassment, and revenge porn, among other things. "We have so many ongoing cases in the country and they are all examples of how the system is skewed," a participant said, shining light on how even reporting and the subsequent process took a toll on mental health.
Another organiser noted that as the Sindh Reproductive Healthcare Rights Bill was passed earlier this month in the provincial assembly and made into law, it was important to work on its implementation. "There's zero tolerance by Sindh government in terms of GBV. Now, it is crucial to hold those who make promises accountable for those promises," they said.
An introductory event — the Aurat Jalsa — has been scheduled next month to encourage debate on issues related to women's rights, post-sexual assault processes, reporting and reporting on sexual violence, among other aspects.
In a statement issued Wednesday night on their social media, the Aurat March organising team said their call for the meeting "received a few thousand misogynist messages, which included rape threats, death threats and threats of blowing up the venue.
"We, however, held our meeting today and received a fantastic turnout with, great energy and a commitment to making Aurat March 2020 even bigger," they added.
"We will continue to smash the patriarchy!"