There is a video circulating on social media post the attack on the Punjab Institute of Cardiology (PIC). In the video, a man is attempting CPR on a seemingly lifeless patient. It is apparent that he has no formal training to perform the procedure and is frantically pressing the patient's chest. His eyes desperately plead for a doctor, a nurse, or anyone with credentials better than him to save his loved one's life. There is no one to help. Doctors and nurses have fled for their lives, avoiding or physically engaging a battery of lawyers that have descended on the hospital, in a grotesque display of fury and viciousness.
As someone who has witnessed a family member gasping for their last breath in a hospital, that video has seared a hole into my consciousness. The thought of that patient and his relatives in that state of abject hopelessness and terror, with no one to help them is enough to make one's skin crawl.
On December 11, PIC, a centre for saving life, turned into a battle-ground. Let that sink in again. A hospital. 
For a nation well-versed with an almost endless cycle of wanton destruction caused by terrorism — this was a new low.
No one is surprised that this has happened though. For too long, the lawyer community has been a smouldering powder keg. The word "advocate" is menacingly brandished on the back of our cars more as a warning than a professional title. Traffic policemen have been the subject of our ire for their temerity in issuing us a ticket. We are not issued credit cards, no one wants to rent us their premises and the general public views us with a mixture of awe and barely concealed disgust.
We are adept in mobilising ourselves against any kind of slights; real or perceived. Countrywide strikes against attending court proceedings paralyse an already broken system, and drive already burdened litigants into despair. We have added to this glittering CV of destruction by attacking a hospital; hallowed ground, where the unwell are cured and the sick are comforted. If our heads could go down lower in shame, we would be certifiable ostriches.
Read more: 250 lawyers booked over Lahore hospital attack
Much ink has been spilled on the Bar Councils' inability to regulate lawyers whom they are beholden to for votes and patronage, a classic case as any of regulatory capture. Incidents of the lower judiciary being thrashed, locked in their rooms or coerced into granting favourable orders, are almost banal in their predictability. Post 2009, the term 'wukla gardi' is an indelible part of the general public's vocabulary.
The image of a lawyer dancing on a gutted police vehicle in a bad Joker parody is arresting but unsurprising. The real despair is the inability of the legal community to unite and condemn this incident in unison without whataboutery or caveats.
Observe any discussion in bar rooms, legal chambers or WhatsApp groups; no two lawyers shall agree that the incident deserves condemnation without blaming doctors, the state and now the judiciary. The official statement of our National Bar Association is a classic case of he said/she said, where, in a master of understatement, the conduct of lawyers is deemed "irresponsible" and everyone else is roundly condemned. Token condemnations aside, the silence from the leading luminaries of the Bar is also predictably deafening.
Those who blame the Lawyers' Movement as the catalyst for these actions naively miss the point. It was a movement against a patently unconstitutional set-up, an illegality that needed to be rectified. The bar associations were at the forefront in galvanizing support against an authoritarian regime.
However, like all movements which need to sustain, self-accountability and introspection was conspicuously absent. As a consequence, bar icons started believing their infallibility and closed ranks to protect their own at all costs in order to sustain their vote banks.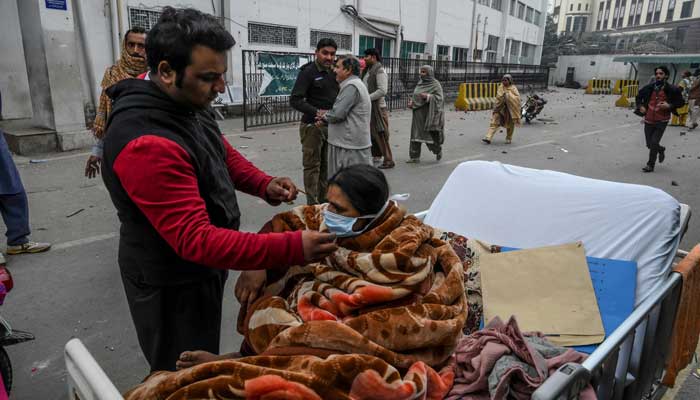 I will say it again. This was a hospital. The sight of helpless patients and their caregivers on the street in hospital beds carrying IV bags in absolute pandemonium, should silence any contrarian voices, dissolve the most hardened egos, but nothing of the sort has happened thus far. It is enough to drive one to despondency.
The insufferable irony of this horrific incident is that we as lawyers are the custodians of rights. Every petition we file, every suit we draft, every plaint we draw up is an appeal to recognising, validating and safeguarding inalienable dispensations granted to us by the constitution and other laws. Yet, after the PIC attack, all of this sounds hollow, contrived and even hypocritical.
What are our solutions? These will likely never happen, but let me just state them for the sake of posterity.
Our bar associations need to introspect that true regulation shall always remain a pipe-dream until their constitutions are altered to allow independent members, who aren't practicing lawyers, to oversee licensing and registration requirements of new lawyers. 
Read more: Lawyers, doctors go on strike after Lahore hospital clash
We need implementation of judgments of the apex court regulating legal education in law schools through a multi-faceted curriculum with a special emphasis on legal ethics and professional development, which should be an integral part of bar exams. 
Punitive sanctions such as disbarment of advocates engaged in committing or inciting violence is the bare minimum that is required for deterrence. Finally, the superior judiciary must play its role in overseeing the regulation of these reforms, ostensibly through committees.
Ultimately, some of us practitioners privileged enough to receive a foreign education, working independently or in coveted chambers are also part of the problem. We are so cocooned in our own worlds of attempting to do our jobs quietly and honourably that the chasm between us and less privileged lawyers widens to the point that they two just cannot relate to each other.
We detest bar politics because of its power struggles, its deference to patronage and its turf wars are so alien to us. For some of us who have taught law, do so in privileged universities where we are, in most cases, preaching to the choir, urging other like-minded future lawyers to ape ourselves in pursuing a practice that is clean and bereft of controversy. This will need to change. We need to be more accessible to all lawyers, through sharing our experiences, to dispensing some of our own wisdom, to reach out and validate their problems and struggles as they start their own careers; something that is well known to all of us.
For now, I am simply ashamed and embarrassed. A noble and cerebral profession sullied for so long reached its nadir, perhaps irrevocably. I hope that we get a chance in our lifetime to right this wrong.
---
Ali is a barrister in Lahore. He tweets at @RezaAli1980
Disclaimer: The opinions expressed in this article are those of the author and do not necessarily reflect the official policy or position of Geo News or the Jang Group.