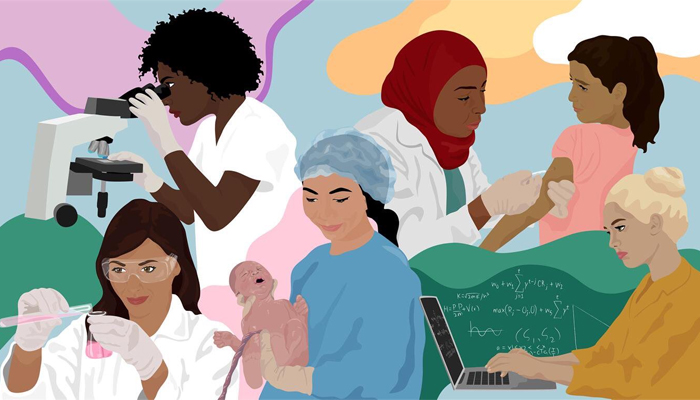 February 11 marks the International Day of Women and Girls in Science 2020. It is ever so important to celebrate this day and talk about it as even now, women only account on average for less than a third of researchers worldwide.
According to the UNESCO Institute for Statistics fact sheet for 2019, women researchers worldwide comprised 29.3 percent of the total number of researchers. The data shows that the situation in South and West Asia is worse, considering that only 18.5 percent of the total researchers in the region were women.
As of 2017, women researchers in Pakistan were 38.8 percent of the total researchers.
With #WomenInScience being celebrated on Twitter, we decided to honour these women and have listed some of them alongside their accomplishments.
Pakistan
Dr Sarah Qureshi
Dr Qureshi completed her PhD in aerospace. She has invented a more environment-friendly engine for to help reduce global warming.
The British High Commission in Pakistan termed her work as "inspirational".
Dr Sania Nishtar
A Pakistani physician, Dr Nishtar is cardiologist and activist currently serving as the Special Assistant to the Prime Minister on Poverty Alleviation and Social Safety.
She chairs the Advisory Board of the United Nations University - International Institute for Global Health (UNU-IIGH) and co-chairs the US National Academies of Sciences, Engineering, and Medicine Committee on Improving Global Quality of Healthcare, as well as the World Economic Forum's (WEF) Global Council on the Future of Health and Healthcare.
Tania Aidrus
Aidrus quit Google, where she was Chief of Staff and Head of Strategic Initiatives on the Next Billion Users (NBU) team, to head the Prime Minister's 'Digital Pakistan' initiative.
With an MBA from the MIT Sloan School of Management and a BSc from Brandeis University, she wishes to "put Pakistan on the map" as far as technology and innovation were concerned.
Dr Fauzia Idrees Abro
Dr Abro holds a PhD in cybersecurity and is currently "working on security of Internet of Things (IoT) especially the intrusion detection for IoT".
She's the recipient of the Global Cyber Security Advocate, as well as the Fatima Jinnah & Benazir Bhutto Awards by the UN Commission on Status of Women.
Nida Athar
One of the founders of Pakistan Innovation Foundation (PIF), Athar is also the director of the UK's World Science Collaborative Limited.
Lalah Rukh
The founder and chief executive at Science Fuse, she works on training aspiring minds in STEM education. She also teaches at The University of Oslo.
Shirin Zaidi
Pennsylvania-based Pakistani planetary scientist Shirin Zaidi, an avid space fan and admirer of Saturn sixth-largest moon, Enceladus, studies "planets and moons in our solar system".
Speaking to Geo.tv, she explained how her everyday life expands beyond just the astronomy laboratory and telescopes.
"A large part of my every day involves working on long-term inclusivity goals for women and under-represented genders in science, especially in astronomy and astrophysics," she said. "This is a largely important issue because many women and girls love science but are driven out for societal and peer-driven reasons.

"Currently, I am working to push for more accessible science classes, mental health advocacy workshops, and inclusivity at my university, but I hope to extend this through as I go for my PhD," Zaidi noted.

Around the world
Mary Jackson
American mathematician Mary Jackson, who died in 2005, was the NASA's first African-American woman engineer. Jackson was also part of the United States' victory in the "Space Race".
Flossie Wong-Staal
A molecular biologist and virologist, Chinese-American Wong-Staal was the first-ever scientist to clone the human immunodeficiency viruses, or HIV, and how its genes operated, thereby helping understand the linkage between HIV and AIDS.
Mae Jemison
The NASA's first African-American woman astronaut, Jemison carried out experiments pertaining to motion sickness and weightlessness in space, in process earning the title of Space Mission Specialist.
Sunita Williams
Williams spent 29 hours doing spacewalks outside her aircraft when she went to the International Space Station (ISS) in 2006. The Indian-American also spent 195 days in space at the time.

Maryam Mirzakhani
The Iranian mathematician was fluent in theoretical mathematics, including moduli spaces, hyperbolic geometry, symplectic geometry, and Ergodic theory.
Mavly Sanchez
The Venezuelan particle physicist is known for working in experimental long baseline neutrino physics and was honoured with the Presidential Early Career Award for Scientists and Engineers.
E.K. Janaki Ammal
The Indian botanist conducted research in cytogenetics and phytogeography and set up a collection of valuable plants from Kerala's rain forests.
Esther Duflo
The 2019 Economic Sciences Laureate says she did not know about economics in high school.
"But I knew I wanted to change something in the world. It just took some time before I knew what that would be," she states, according to The Nobel Prize's Twitter account.
Donna Strickland
Strickland — a Canadian physicist who received the Nobel Prize for her work with laser pulses in 2019 — says women's gender shouldn't affect their career choices.
"Do what you love and what you think you are good at."
Frances Arnold
Arnold was the winner of the 2018 Nobel Prize in Chemistry.
She says: "I think I was an engineer and scientist from day one!"
Tu Youyou
The Chinese chemist, who won the Nobel Prize in Physiology/Medicine in 2015, discovered artemisinin – an anti-malarial that has saved the lives of millions of people worldwide, as per the accolade's Twitter account.
She tested artemisinin on herself to speed up development after finding a way to extract it from a traditional Chinese medicine.
May-Britt Moser
The Norwegian psychologist and neuroscientist won the Nobel Prize in Physiology/Medicine 2014, as well as the Louisa Gross Horwitz Prize. She uncovered brain's grid cells — or the inner GPS.
"I was not always the best student with the highest grades, but my teachers saw something in me and tried to encourage me," says Moser.
Francoise Barre-Sinoussi
Recipient of the Nobel Prize in Physiology/Medicine in 2008, Barre-Sinoussi and her team discovered HIV — the virus that causes AIDS — back in 1983.
She advocates and works on the behalf of people living with HIV.
Dorothy Crowfoot Hodgkin
Hodgkin, a British biological chemist who received the 1964 Nobel Laureate in Chemistry, died in 1994. She was one of the most outstanding X-ray crystallographers of her time.
"I was captured for life by chemistry and by crystals," she said. She determined the structure of penicillin and vitamin B12, and the 3D structure of insulin.
We think there should definitely be more women in science!