Women cyclists, bikers zoom on Karachi thoroughfare to honour Asma Jahangir
Starting at Quaid's Mausoleum, Aurat March Bike Rally saw women overjoyed at owning the roads they so often have been sidelined from
Updated Monday Feb 17 2020
Riding with fellow women cyclists and bikers felt "overwhelming and safe", said one of the teenage girls who joined the Aurat March Bike Rally — aimed at honouring Pakistan's 'Iron Lady' Asma Jahangir — on Sunday.
In a build-up to the March 8 main event, Aurat March 2020, today's rally paid tribute to Jahangir, the late women's rights activist and lawyer who passed away two years ago and was famously seen travelling on a bike in a viral photo.
Bringing together Karachi's best and brightest, women and girls of all ages on bikes, motorcycles, and in cars reclaimed the metropolis' streets. They took to the city's thoroughfare, the Shahrah-e-Faisal, owning the public spaces, especially roads, that they have so often been sidelined from and experienced catcalling at.
"It was amazing and I feel very overwhelmed and safe with these women; we should do this more often," explained Areesha, who hails from Khudadad Colony.

"I feel great [driving my bike] on Shahrah-e-Faisal because I can't really use it in my area as it's not kind of neighbourhood" where women on bikes are welcomed, she added.

Starting at Quaid's Mausoleum, the bike rally snaked through Shahrah-e-Qaideen, passing the intersection between Tariq Road and Sindhi Muslim Society, and entered Shahrah-e-Faisal. As it started from Jinnah's final resting place, onlookers, pedestrians, and hawkers gazed in bewilderment, with some motorists honking profusely in an attempt to clear the road of women.
Before reaching Nursery, the women passed through multiple traffic signals, where security personnel whipped out their phones to record and a police constable signed a thumbs-up at the rally, ringing loud with chants of Azaadi — freedom — and acceptance. Participants joined in the chorus telling the country's leaders to understand that women were here to stay and occupy the streets and that they were not going to back down.
Along the way, many of the motorists amalgamated into the crowd, expanding it to twice its size, while men and women in cars that slowed down to understand what the rally was about waved in excitement and encouraged the protesters to stay determined.

A rickshaw driver on the way sarcastically asked the participants if "these women wanted the freedom to divorce", to which he was told, "yes and much more". He sped away muttering under his breath angrily.

Speaking to Geo.tv later, Wirsa referred to a big difference in the number of women riding bikes in Islamabad and Karachi.

"Karachi has very few of them. We have to motivate university students to start driving motorbikes because how much should we travel by bus? It's a hassle and it's exhausting, and when we have papers, it's too big a task to return home [in buses]," she said.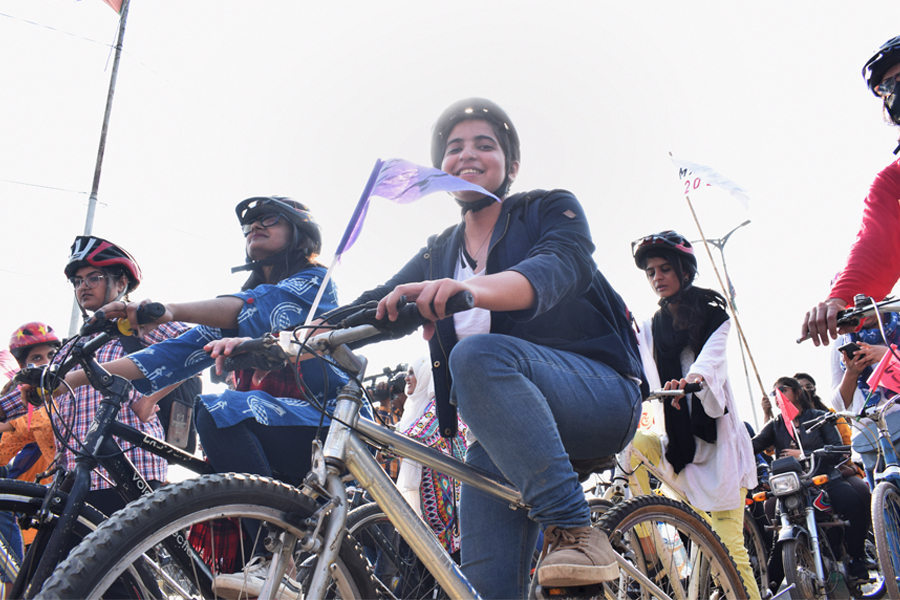 Today's bike rally "means that girls won't be afraid to use bikes anymore, those who would have seen us on bikes [today] will also have the confidence to use bikes and we will also feel more confident to use bikes [by ourselves] now".

Wirsa noted that despite having had training, "I had till today not ridden my bike owing to the fear of how to drive it by myself".
"I will drive my bike now!"

Accompanying the women bikers and cyclists was Zahid, a former street racer who rode with the late Babu 70 — a famed motorcyclist of Karachi.
"I reside in Delhi Colony and I came here to guide girls with the technicalities of motorcycles, such as using clutch, gears, and brakes. Some of the girls who looked scared or confused, I told them not to worry and to clear their mind in order to drive and then you won't face any issues," he told Geo.tv.
Zahid mentioned that driving bikes was his and his friends' passion back in 2012 and 2013. He used to go to races with Babu 70 and hung out with him. However, their zeal died along with their mentor after which, he said, "we help people learn how to drive motorbikes … we don't really have any business but we have pages on social media, including YouTube".

On Shahrah-e-Faisal, the women's chants and excitement grew louder as did the rally. Bikers zoomed past as the sound of music — from a recitation of Faiz Ahmad Faiz's poem, Hum Dekhenge, and Bismil Azimabadi's Sarfaroshi Ki Tamanna to Gully Girls by Lyari rapper Eva-B — blared on speakers.
As the rally concluded and the girls and women yelled in joy and pride, there was a sense of pure achievement and fiery determination. Aroosa, a biker, termed it "a fantastic experience".
"Sometimes, it's not only that we need men to realise that women are independent, but also we need women to remember that they can do so much more. This Aurat March Bike Rally was actually for everyone who thinks that women are not independent and that we need others to help us do our work.
"We can do everything by ourselves and we can help others as well," she added.
The rally comes as a series of events leading to the Aurat March, which demands freedom for marginalised bodies to occupy and participate in whatever space they desire.
"Public spaces need to be more accessible to women, trans folk, and non-binary people, but we are not azaad on the streets to walk, drive, protest or exist."
"We must acknowledge that not all women, non-binary and transgender people have the same understanding of patriarchy. As we do that, we open the space up for dialogue and solidarity."

Aurat March 2020, scheduled on the International Women's Day, March 8, is set to take place in various Pakistani cities, including Karachi, Lahore, Peshawar, Islamabad, Quetta, and Hyderabad, among others. Organisers of Karachi's event have started an A-Z series of definitions relating to women's rights that can be found on their social media.

—Photos by author