Coronavirus updates: Latest news on the coronavirus outbreak from Pakistan and around the world
Two more cases diagnosed in Sindh, one in Quetta, taking the nationwide tally to 19; WHO reports staffer has virus
Updated Tuesday Mar 10 2020
The number of confirmed cases of novel coronavirus 'COVID-19' infections in Pakistan has risen to 19 after two more cases emerged in Sindh and Quetta reported its first on Tuesday.
Karachi has been the worst affected city so far, with 15 of the total confirmed cases. The remaining two are in Gilgit-Baltistan and one has been reported from Islamabad and Hyderabad each.
Follow the global coronavirus live counter here.
Globally, the virus has killed more than 4,000 people and infected over 110,000.

Read on for live updates on what's happening in Pakistan and around the world. 

For March 11 coverage of coronavirus click here. 

---
12:00am - Live updates for March 10 are now closed
11:49pm - Dr Zafar Mirza urges people to do their part in the fight against coronavirus

Special Assistant to the Prime Minister on Health Dr Zafar Mirza confirms coronavirus cases in Pakistan have "doubled in the last 24 hours" but says the fact is "not surprising".

"[The] disease has spread in 106 countries. All 19 cases have brought this [virus with them] from abroad. All [patients] are stable. There is no evidence of local spread as yet. If we act responsibly we can avoid [the] spread," he wrote in a post on Twitter.

Urging people to do their part in the fight against the virus, he shared some precautions which are necessary to ward off the spread of the disease, such as washing our hands frequently and keeping a distance from those who are sick.

---
11:32pm - Experts urge low-risk virus patients not to overwhelm hospitals
People at low risk of falling seriously ill with the new coronavirus must do everything possible to avoid overwhelming hospitals, experts have warned, reported AFP.

The nightmare scenario of health authorities around the world involves a sudden explosion of cases that clogs hospitals and health resources.
This is what happened in Wuhan, China where the virus first erupted, with patients lying — and dying — on hospital floors for lack of beds, and health workers crumbling from exhaustion.
The medical experts want to avoid that happening elsewhere and are using social media to tell people, most of whom are not in danger of dying from coronavirus, to #FlattenTheCurve.
"Up to now, people have the impression that this disease poses an individual danger, when in fact the danger is for the population as a whole," explained Philippe Devos, a Belgian emergency-medicine physician.
So far, 80 percent of infections are benign, and the vast majority of fatalities have been among the very elderly already struggling with underlying health problems.
"Every day we can slow down the epidemic is another day hospitals can prepare themselves for cases," World Health Organization head Tedros Adhanom Ghebreyesus has said on several occasions.
"With very rare exceptions, young people are not dying, but when they clog up hospitals that are taking the place of others who will die without proper treatment," he told AFP.
11:22pm - Russia issues public transport warning
Russia has recommended against hugging, handshakes and taking public transport during rush hour as part of sweeping measures aimed at preventing the spread of the coronavirus, AFP reported.

There are 20 confirmed cases of the deadly virus in Russia, despite the country taking unprecedented steps to control its spread, including closing its border with China and restricting travel from Iran and South Korea.
Russia´s human wellbeing agency Rospotrebnadzor on Tuesday appealed to citizens to refrain from visiting public places, including shopping centres, sports and entertainment events, and from using public transport during peak times.
The recommendations could have a major impact on Moscow´s metro system which is one of the world´s busiest and is used by as many as six million people daily.
The mayor of Moscow also banned gatherings of more than 5,000 people until April 10.
Rospotrebnadzor said Russians should also "limit your hugs and handshakes when greeting".
Moscow city officials last week ordered Russians and foreign citizens arriving from seven countries to self-isolate at home for 14 days.
The city said on its website Sunday that failure to comply with the measures could result in a fine and up to five years in prison.
---
11:11pm - France toll jumps by five to total of 30
The death toll in France from the coronavirus outbreak has risen to 30 from 25 a day earlier, reported Reuters, citing the French public health authority.
---
11:07pm - Taiwan students fight virus with Lego disinfectant dispenser
Students at an elementary school in the southern Taiwanese city of Kaohsiung have found their own unique way to fight the coronavirus and stay ahead of the curve in epidemic prevention — an automated disinfectant dispenser built from Lego, reported Reuters.

Children ranging from six to 12 years old use every school break and any chance they can get to line up to use their self-built alcohol disinfectant robot that some of their peers have assembled under the guidance of their robotics coach.
"Washing hands is super," shouts a recorded voice after the dispenser senses a pair of hands in front of its ultrasonic sensor and dispenses alcohol disinfectant from a spray bottle by pulling back its handle with a motor and gearwheel mechanism.

Watch the video here.
---
10:54pm - 65 new cases emerge in Norway

Norway's local media reports the emergence of 65 new cases, taking the total number of patients in the country to 304.
---
10:50pm - We have the situation under complete control: PM's special aide on health
With the national tally rising to 19 confirmed cases of the coronavirus and Khyber Pakhtunkhwa reported 24 suspected cases, the prime minister's special assistant on health, Dr Zafar Mirza, in a statement seeks to quell the nation's fear, saying the situation is "under complete control".

"We are keeping a close eye on the situation," said Mirza. "The new cases reported are being provided the best possible medical attention."

He said that the federal and provincial governments were working "on a far footing" to deal with the situation.
---
10:42pm - Italy sees 168 coronavirus deaths
Italy recorded 168 deaths on Tuesday from the novel coronavirus, its highest single-day toll to date, pushing the number of fatalities outside China to more than 1,000, AFP reported.

Overall in Italy, 631 people have died from the COVID-19 disease caused by the virus and 10,149 have been infected in just over two weeks.
Tuesday´s toll raised the number of deaths outside China to 1,115, according an AFP tally.
---
10:33pm - WHO staff member contracts virus
A member of the World Health Organisation has become infected, the organisation has confirmed, reported Reuters.

The organisation, in its announcement, said it is taking "all precautions necessary".

---
10:20pm - Air France to suspend all flights to Italy from March 14 to April 3
French flag carrier Air France said it was suspending all flights to Italy from March 14 to April 3 due to the coronavirus outbreak in France´s neighbour, AFP reported.

The company said in a statement that it would be maintaining one flight a day to all its destinations in Italy up until March 14 to allow customers to travel if they needed.
---
10:11pm - KP reports 24 suspected cases

The Khyber Pakhtunkhwa health department, while reporting that 24 suspected cases surfaced on Tuesday, says that 20 were found clear of the virus.
The results of the remaining four are awaited, the health department added.
Of the suspected cases reported, eight were from Peshawar, four from Swabi, and three from Swat. Abbottabad and Kurram reported two suspected cases each.

Meanwhile, Bajaur, Charsadda, Lower Dir and Kohat reported one suspected case each.
---
10:00pm - South Korea reports fewer than 150 new cases
South Korea, one of the worst-affected countries in the coronavirus epidemic outside China, on Tuesday reported fewer than 150 new cases for the first time in two weeks, AFP reported.

A total of 131 infections were confirmed on Monday, the Korea Centers for Disease Control and Prevention (KCDC) said, taking the total to 7,513.
Three more people died, it added, with the toll rising to 54.
Each morning the South announces how many cases were diagnosed the previous day, with Monday´s figure the lowest for a single day since late February and marking the fourth consecutive daily fall.
"The number of new COVID-19 cases has been declining, so we can assess the rate of increase is coming to a standstill," said Yoon Tae-ho at the Central Disaster Management Headquarters.
But the outbreak was still spreading, he added, warning against any relaxation of containment efforts.
---
9:50pm - Afghan health ministry reports two fresh cases
The Afghan health ministry has verified that two more people have tested positive for the coronavirus.
The patients are said to belong to the provinces of Samangan and Herat.
With the latest addition to cases, the country's total number of patients now stands at 7.
---
9:42pm - UN headquarters closed off to tourists
The United Nations headquarters building in New York has been closed off to visits by tourists.

According to the spokesperson for the UN secretary general, the move was made to safeguard against the spread of the virus.
So far, no case among the UN's New York staff has been reported, said the spokesperson.
---
9:20pm - Quetta's first case reported
The city's first coronavirus case has been confirmed by the Medical Superintendent (MS) of Fatima Jinnah Hospital.
A 12-year-old boy was said to have the virus. According to the MS, the boy had travelled to Taftan with his parents.
The parents were screened and were reported to test negative for the virus.
---
9:02pm - Austria says will deny arrivals from Italy
Austrian Chancellor Sebastian Kurz announced on Tuesday that it will not let arrivals enter the country from Italy, in light of the rising coronavirus cases in the country. 
"The utmost priority is to prevent the spread and thus the importing of the illness into our society. There is therefore a ban on entry for people from Italy into Austria, with the exception of people who have a doctor's note (certifying they are healthy)," said Kurza as number of confirmed coronavirus cases jumped to 157.

---
8:50pm - Greece to close schools for two weeks
Greece has announced it is closing schools, universities, daycare centers and other educational establishments as a precautionary measure against the spread of coronavirus. 
"Now is the time for all Greeks to show personal responsibility. All schools will be closed for 14 days to help reduce the spread of the virus in the community," Vassilis Kikilias, Greece's health minister, said. 

So far, Greece has reported 89 cases of the coronavirus yet no deaths have been reported so far in the country. 
---
8:35pm - Decision on reopening Balochistan schools to be taken on March 14
The provincial government will take a decision on whether or not schools will reopen on March 14 in a meeting, said the province's education minister. 
"Our children's health and lives are important to us," said Balochistan Education Minister Sardar Yar Muhammad Rind. "Important steps have been taken to stop the spread of coronavirus in the province."
---
8:20pm - 60 persons diagnosed with coronavirus in Sweden
Sixty new cases of the coronavirus emerged in Sweden on Tuesday, taking the total number of affected persons to 320. Sweden's public health agency has warned that the spread of the infection in the country is at a 'high risk'.

Most of the people that have been infected with the virus are from Stockholm.
---
8:13pm - Harvard, MIT and other universities to hold online classes
In a bid to tackle the coronavirus and prevent it from spreading, Harvard University, MIT and the Trinity College Dublin have moved lectures online. 
---
8:04pm - PSL matches to be held in Karachi from March 12: CM Sindh
Chief Minister Sindh Syed Murad Ali Shah announced that PSL matches will be held in Karachi from March 12. 
He directed the chief secretary and IG Police to make necessary arrangements for organizing PSL matches as per their schedule. However, he tasked them to issue an advisory for spectators. 
He urged authorities to ensure that hand wash sanitizer boxes were installed at the stadium and advised people who have been to Iran recently to not visit the stadium.
---
7:59pm- All 14 coronavirus patients recovering in hospitals: CM Sindh told in taskforce meeting
Sindh Chief Minister Syed Murad Ali Shah presides over a meeting of the novel coronavirus where he is told that all 14 coronavirus patients from the province are recovering. 
He was also informed in the meeting that two samples from suspected patients have been sent for testing whose results have not yet been received.  
The health department informed the chief minister that it has conducted 162 lab tests, of them 147 were declared negative while 15 were diagnosed positive. Two results are pending.
---
7:45pm - Morocco reports first coronavirus death
Morocco reported its first ever death from the pandemic as an old woman suffering from heart and respiratory diseases succumbed to the virus. The health ministry informed that the 89-year-old woman arrived in Morocco from Italy's Bologna. 

Morocco has banned all trips to and from Italy. 
---
7:40pm - Congo reports first case of novel coronavirus
The Democratic Republic of Congo (DRC) reports its first case of the novel coronavirus. A Belgian citizen in the country has tested positive for the infection, states a health ministry spokeswoman. 
The spokeswoman informed that the patient was placed in quarantine after testing positive for the virus at the airport of Kinshasa, Congo's capital city. 
---
7:35pm - Saudi flights to Egypt temporarily restored
Saudi citizens will be able to fly to and from Egypt for the next two days, the Cairo embassy said in a statement.

The flights have been restored for Tuesday, March 10 and Wednesday, March 11.
The aim is to allow Saudi citizens to return home.
---
7:30pm - Iraq prohibits congregational prayers
Iraq's Grand Ayatollah Ali Sistani has issued a new fatwa (religious decree) on the coronavirus, prohibiting people from congregating for prayer.
Sistani has called upon everyone to follow these new measures to restrict the spread of the virus.

---
7:20pm - DG Health Services Dr Tahir Nadeem appointed KP focal person for coronavirus 
The Director-General Health Services Dr Tahir Nadeem has been appointed the focal person for coronavirus for Khyber Pakhtunkhwa. The focal person will suggest steps to tackle and  provide the remedy for the coronavirus. 
A strategic and sight committee has been formed which will operate under the provincial health minister to deal with the pandemic. It will provide guidelines on precautionary steps to avoid the virus. 
According to a press release, the committee will have the right to take decisions on closure of schools and bazaars. 
7:18pm - Britain reports another coronavirus death
The British death toll from the coronavirus outbreak has risen to six, Reuters reported citing British health officials.
"It appears the virus was acquired in the UK and full contact tracing has begun," Chris Whitty, England's chief medical officer, said in a statement.
The patient was being treated at Watford General Hospital, north of London, and had tested positive for COVID-19.
"The patient, who died in the evening of Monday March 9, was in his early 80s and had underlying health conditions," a West Hertfordshire Hospitals NHS Trust spokesman said.
---
6:09pm - PIA suspends flights to Milan
Pakistan International Airlines (PIA) temporarily suspended its flights to Milan till March 31 after the country was placed under lockdown due to the coronavirus outbreak in the European state.
According to the national carrier, those holding a European passport can travel to Paris on PIA flights if they wish to travel to the continent.
The airline clarified that the passengers will only be allowed to travel till Paris on the PIA flights and anyone wishing to travel to any other destination will have to plan their trip on their own.
"Those who have booked a PIA flight till Milan can travel to Paris through PIA," said the national airline
---
6:07pm - Karachi's Dolmen Mall confirms new coronavirus case

A statement issued by Dolmen Mall in Karachi on it's Facebook page has confirmed that a coronavirus case had surfaced from one of Dolmen City's office floors.
"There has been a reported case of COVID-19 at one of the office floors at Dolmen City. The reported individual was travelling internationally and returned at the Harbour Front office premises for a few hours last Friday before being sent home. Since that time the individual has not returned to the premises," read the statement.
The mall confirmed that the individual was found to have the virus today and said that as per local authorities and medical experts, the virus spreads from a proximity of 3 feet or less and time spent with the affected individual for more than 15 minutes.

"We have been advised that this is an isolated incident and does not affect the mall or offices. Both, Dolmen Mall and offices will remain open and operating as per usual," added the statement.
The Dolmen Group said it has ensured that all public areas are sanitised "multiple times a day" and that "international best practices" are being followed within the mall premises.

---
6:01pm - India reports 9 new cases
Nine new cases of the novel coronavirus have emerged in India, taking the total toll of affected persons in the country to 56. The nine cases have emerged in Kerala and Karnataka today.

The Indian government has started taking measures amidst the rise of the pandemic. 
Fifty-eight Indian citizens in Iran were airlifted and brought to Delhi as the Indian government has started to evacuate its citizens from the country.
---
5:50pm - All measures being taken to facilitate pilgrims, CM Balochistan says
The Balochistan government is taking all measures to facilitate pilgrims returning from Iran, the province's chief minister has assured. 
"We are also taking measures to spread awareness through basic health centers," CM Jam Kamal has said. 
---
5:44pm - Special Assistant to PM on Health chairs emergency meeting
Special Assistant to the Prime Minister on Health (SAPM) Dr Zafar Mirza has chaired a meeting of the emergency core group tasked with combating the spread of the coranavirus and reviewed recent developments across the country.
Dr Mirza told officials that they were working to improve coordination between the federal and provincial governments. 
He added that a comprehensive policy has been developed for travelers returning to Karachi from abroad.
"We are all working together, taking this as a national emergency," said Dr Mirza. 
He also confirmed that 18 cases have been diagnosed in the country.

---
5:41 pm - CM Murad Shah's brother-in-law says he's perfectly fine
Sindh CM Murad Ali Shah's brother-in-law has issued a video statement clarifying that he is completely fine and news regarding him being diagnosed with coronavirus may have been a mistake. 

He added that he is currently in Islamabad attending a meeting. 
It had earlier been reported by local media that Asif Haider Shah had contracted the virus and was undergoing treatment at a private hospital. 

---
5:25pm - Federal cabinet briefed on coronavirus 
The federal cabinet was on Tuesday briefed on the developing situation of coronavirus in the country after a sharp spike in cases, said Special Assistant to Prime Minister (SAPM) on Information and Broadcasting Dr Firdous Ashiq Awan.
Dr Awan also shared Dr Zafar Mirza and Zulfi Bukhari also apprised the cabinet of their talks with the parents of students stuck in China's Wuhan. 
---
5:08pm - 'Spectators to be screened at National Stadium Karachi' 
Sindh's Information Minister Nasir Hussain Shah on Tuesday stated that spectators who will be attending the Pakistan Super League matches scheduled to be held in Karachi's National Stadium from March 12 will be screened for the coronavirus at the venue.
The minister was speaking to the media after visiting the National Stadium in Karachi to review preparations for the matches.
The minister said that the government will try to provide sanitizers and  carry out thermal screenings of all spectators.
---
4:58pm Iran reports 54 new coronavirus deaths
Iran on Tuesday reported 54 new deaths from the coronavirus in the past 24 hours, the highest single-day toll since the start of the outbreak in the country.
The latest deaths bring the number of those killed by the virus in Iran to 291, the health ministry's spokesman Kianoush Jahanpour said in a televised conference.
He added that 881 new cases had also been confirmed, bringing the total infection tally to 8,042.
---
4:54pm - Engro employee contracts coronavirus 
Engro corporation has shut down its offices at Karachi's Harbour Front building for three days after an employee contracted the coronavirus.
An email was sent to all employees by the organisation's Human Resources department. According to the email, the employee was last in the office on Friday, March 6.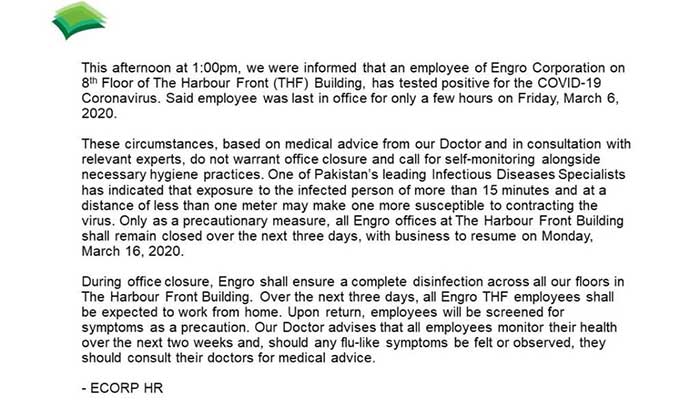 The corporation's office will re-open on Monday and the employees have been directed to work from home meanwhile, while the offices are disinfected.
---
4:39pm - Two more cases of coronavirus emerge in Sindh
Sindh's Health department on Tuesday confirmed that the province has identified two more cases of coronavirus, the media coordinator to the provincial health minister said on Twitter, taking the toll of patients diagnosed with the disease in the country to 18.
"The first case is from Hyderabad and the patient arrived from Syria via Doha. The second case is from Karachi and the patient arrived from Iran via Dubai," said the tweet issued by the official. 
She added that the two new cases bring the tally of the number of cases in Sindh to 15.
---
3:45pm – No plan to extend school closure: secretary education
Sindh's education secretary has dismissed reports of a provincial government plan to extend school holidays across the province.

In a conversation with The News, Khalid Shah shared that the government was not considering any recommendations seeking an extension in school holidays.
"All educational institutions in Sindh will re-open on March 16 as earlier notified," Shah said. 
---
All you need to know about the global coronavirus spread
With its spread in over 100 countries, more than 4,000 dead and more than 100,000 infected, the coronavirus epidemic has not only disrupted daily life but global travel and forced the cancellation of everything from conferences to sporting events.
You can read all about the latest on the spread here.
---
3:00pm — PHC dismisses petition seeking return of Pakistani students in China
The Peshawar High Court has dismissed a petition seeking the return of Pakistan students stuck in China.
The court, while disposing the plea, stated it cannot issue directions to the Chinese government.
Earlier, the Assistant Attorney General had told the court that the government had spoken to the Chinese envoy and it had been decided to evacuate those students who have been cleared of the coronavirus.
---
2:54pm – Sindh health department bans citizens from entering office
Sindh's health department has enforced a complete ban on citizens from entering the department's office.
According to the official only people working in the department will be allowed to enter the premises.
We are under an emergency situation that's why we have closed the doors, said the focal person for the department.
---
Helpline for Sindh residents
If you are a resident of Sindh and have any information to report or wish to seek help for someone who may have the coronavirus, contact the following numbers.
Telephone nos: 021-99204405, 021-99206565, 021-99203443, 021-99204405
---
2:45pm – SHC bans fingerprint attendance for its employees
The Sindh High Court has enforced a ban on fingerprint attendance for its employees, an announcement issued by the court said.
SHC added that employees attendance will now be taken through facial recognition.
"The decision has been taken due to the rise of confirmed coronavirus cases in the city," it said. 
---
2:10pm - Lebanon records death from coronavirus
The Lebanese health ministry on Tuesday confirmed its first death from coronavirus in the country.
At least 41 people have been infected from the virus in Lebanon. 
---
2:01pm – Five new  cases confirmed in Saudi Arabia
Saudi Arabia on Tuesday confirmed the emergence of five new cases taking the number of confirmed cases to 20.
The Saudi health ministry said, three of the five new cases had a travel history of Iran and Iraq.
---
1:45pm – Passenger claims inadequate measures at airports
A passenger who recently returned to the country from South Korea told Geo News he was handed three forms on the aeroplane before disembarking.
"After disembarking I handed two of the forms on a counter. Nobody took my temperature or asked me if I had any cough or anything at the counter," the passenger revealed.
The passenger added, no one asked for the third from which he brought home with himself.
---
Work woes?
No respite from work?
Here's a bunch of things you can do to help in preventing the spread of the novel coronavirus in shared work spaces.
Wondering what is this new epidemic and how you can avoid it?
Read here how you should avoid touching your face to avoid picking up major infections like coronavirus.  
---
1:31pm – Taskforce meeting to take decisions on proposals: minister
Sindh Minister of Health and Population Welfare Dr Azra Fazal Pechuho has said no decision regarding shifting the PSL matches from Karachi has been taken.
"A meeting of chief minister's task force is scheduled at 7pm tonight where the proposals will be discussed," she said.
The provincial minister added no decision regarding the extension of school closure has been taken either. She also cautioned the public to avoid places with large crowds.
---
01:20pm - Quarantine centre established near Quetta
The Provincial Disaster Management Authority (PDMA) has announced that it is setting up a quarantine centre near Quetta's Mian Ghundi area. PDMA officials say that the the centre can house close to 1000 people and Pakistanis returning from Iran will be kept there.
The officials have said that the centre has 22 rooms, 100 tents and six containers.
---
01:10pm Sadiq Sanjrani launches awareness campaign
Chairman Senate Sadiq Sanjrani on Tuesday launched an awareness campaign regarding the coronavirus. The senate chairman also issued precautionary measures to be followed in the Senate in view of the spread of the disease.
Sanjrani urged the parliamentarians and media to play their role in the campaign. He added that the public should be informed regarding the disease rather than creating panic among the masses.
He urged the institutions to improve the communication between them so the correct information could reach the public.
---
01:00pm - Temporary hospitals in Wuhan closed
China on Tuesday shut down all the temporary coronavirus hospitals in city of Wuhan, according to state media.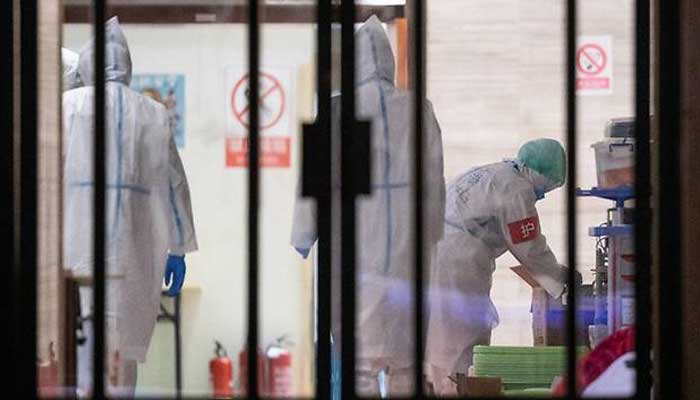 12:45pm - Strict measures at Lahore airport
The Civil Aviation Authority has tightened measures at Lahore's Allama Iqbal Airport to contain the spread of virus, Geo News reported.
According to sources, all the passengers coming from abroad are being strictly screened upon arrival and their luggage sprayed.
---
12:00pm – 'Travelers coming to Karachi from abroad to self-quarantine for 14 days'
A spokesperson of the Sindh health department has said that the authorities have decided to ask all those coming to Karachi to self-quarantine for 14 days.
The spokesperson added the provincial government would issue a health advisory today.
---
11:45am: PCB in contact with Sindh regarding PSL matches: spox
A spokesperson of Pakistan Cricket Board (PCB) said Tuesday that the board was in contact with the Sindh government regarding the new advisory recommended by the health authorities and a proposal to ban public gatherings in Karachi.
"PCB officials are in constant touch with the Sindh government and attending all the meetings regarding PSL matches in the city," the spokesperson said.
"Whatever the government recommends, the PCB will implement it."
Matches are scheduled to be held in Karachi from March 12 in the city.
---
11:14am - Sindh health department to recommend ban on public gatherings in Karachi
The Sindh government on Tuesday decided to issue a health advisory after nine new coronavirus cases were confirmed in Karachi.
According to spokesperson, Minister of Health and Population Welfare Dr Azra Fazal Pechuho in an internal department meeting decided the following:
1. Sindh Health Department will be setting up its own health desk and screening at the Karachi Airport to screen all the patients coming to Karachi.
2. All private and Public hospitals will be setting up a frontline desk for information on Coronavirus.
3. An advisory will be issued today to avoid large public gatherings.
4. It has also been suggested to the CM to put a ban on large public gatherings like PSL.
5. An advisory will be issued today for people to self-quarantine for 14 days if they have recently come to Karachi from a country with positive cases.
6. Gadap Hospital has been prepared and set up as an Isolation facility for all confirmed positive cases.
7. SOPs have been provided to all private hospitals on how to deal with a positive Corona Virus case.
8. Shutting down schools for a longer duration has been suggested to the CM.
---
11:10am – Pak-Afghan border closure enters day nine
The Pak-Afghan border remained closed for a ninth straight day on Tuesday after the Pakistani government extended border closure.
According to UNHCR, the border closure has resulted in hampering the return of refugees back to Afghanistan.
---
10:59am - PSL 2020: Commissioner Karachi calls for meeting
A session chaired by Commissioner Karachi will be held at the National Stadium today as Pakistan Super League action returns to the city.
The meeting will discuss issued pertaining to precautionary measures to combat the virus spread during the matches.
According to sources, match goers will be screened before being allowed in the stadium.
---
10:56am – Oil prices bounce 7% after 'Black Monday'
Oil prices bounced back 7% on Tuesday from the biggest one-day rout in nearly 30 years, as investors eyed the possibility of economic stimulus despite a price war between top producers Saudi Arabia and Russia.
---
10:09am – Trump not tested for coronavirus: White House
The White House on Tuesday said US President Donald Trump has not undergone testing for coronavirus despite being in close contact with lawmakers who are now self-quarantining, reported CNN.
---
10:00am - Screening continues at Taftan border

The Federal Investigation Agency (FIA) has said 173 people arrived in the country via the Pakistan-Iran border on Monday.
"There are 121 pilgrims, 52 traders among those who arrived in the country last night," an FIA official said, adding there was a ban on pilgrims travelling to Iran.
---
8:30am - China: President Xi pays first visit to Wuhan
Chinese President Xi Jinping arrived in Wuhan on Tuesday for his first visit to the epicentre of the country's coronavirus epidemic since the crisis erupted in January.
Xi's unannounced visit comes as unprecedented quarantine measures that have sealed off Wuhan and the rest of central Hubei province since late January appear to have paid off, with new infections dropping dramatically in recent weeks.

Read also: President Trump not tested for coronavirus, says White House
---
8:00am - Decrease in new cases in China
In China, the daily infections are now growing at a much faster pace abroad with the country reporting only 19 new cases on Tuesday, the lowest figure since it started to compile the data on January 21, AFP reported.
Seventeen cases were in Wuhan while the other two were imported from abroad.
---
3:30am - Italy under lockdown
Italy became the first country on Monday to order a nationwide lockdown after the country's death toll from the virus climbed to 463 with 97 more deaths reported.
The measures extend a quarantine zone that Italy had imposed for its industrial northern heartland around the cities of Milan and Venice on Sunday.
The national restriction will run until April 3 and mean that schools and universities will all immediately close.
Travel in and out of the country, as well as movement between cities, will be restricted.
Read also: Iran lets go almost 70,000 prisoners, reports 43 new deaths
---
10:30pm/March 09 - Canada reports first death from coronavirus
Canada on Tuesday reported its first casualty from the novel coronavirus in the province of British Columbia announced Tuesday.
According to AFP, the victim, a man living at an elderly care facility, "was infected with COVID-19 (and) passed away last night," the province's said.
Two other residents and two caregivers had also tested positive for the disease at the facility.
Canada has recorded more than 70 confirmed coronavirus infections, nearly all of which are in British Columbia or Ontario, the most populated province.
Quebec confirmed two new cases Monday, including one person who was exposed to the virus during a trip to France.
Coronavirus fears and drop in oil prices trigger collapse of Asian markets
---
9:00pm/March 09 - No need to panic: SAPM Zafar Mirza
The Sindh government had earlier set up a task force to deal with the coronavirus after the number of cases reported in Pakistan jumped to four.
On Saturday, Dr Zafar Mirza, Pakistan's health minister, had said one of the two positive cases was reported in Sindh, while the other was in "federal areas".
Speaking about the two earlier cases of coronavirus in Pakistan, Dr Mirza had said there was no need to panic as both patients were getting better. "One of the patients will be discharged from the hospital quite soon," he had said.
Dr Mirza had disclosed that the infection had spread to Pakistan after cases were first reported in 47 countries. He said that the disease had affected people in the country last as the government had taken necessary precautions to constrain it.
---
Thumbnail image: A man wears a face mask as a preventive measure in Karachi — Reuters

Header image: Reporters wear face masks as a preventive measure during a news conference in Karachi — Reuters