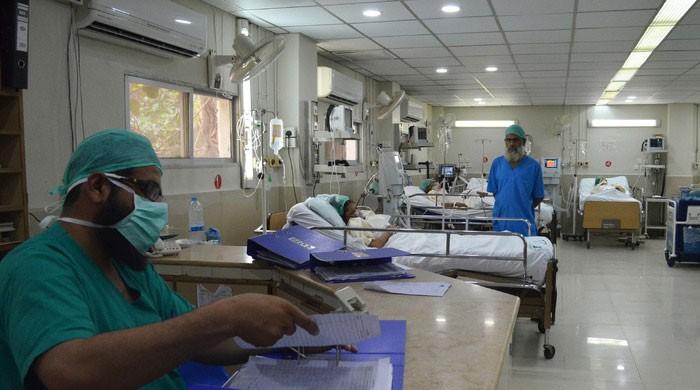 If Pakistan's confirmed cases of coronavirus were to spike in the coming days, its healthcare system would be stretched thin and could burst at the seams, doctors warn.

Already, in the last one month, the number of infected has risen to 1,000 cases across the country, while the death toll stands at seven, as of March 25.
So, is Pakistan prepared for an influx of patients?
Here is a snapshot of the state of Pakistan's healthcare system:
Public Hospitals
There are a total of 1,279 government-run hospitals in the country, as per the Pakistan Bureau of Statistic's 2018 report.
- Islamabad has nine hospitals. The number has reduced from 12 in 2008, as the subject of health was devolved to the provinces that year.
- Punjab has 388 hospitals, up from 306 in 2008.
- Sindh has 473 hospitals, up from 330 in 2008.
- Khyber Pakhtunkhwa has 277 hospitals, up from 202 in 2008.
- Balochistan has 132 hospitals, up from 98 in 2008.
In addition, there are 5,527 Basic Health Units, 686 Rural Health Center and 5,671 dispensaries.
Also read: The first 3D-printed ventilator prototype in Pakistan could be ready within two weeks
Hospital Beds
Pakistan has a total of 132,227 inpatient and critical hospital beds. Following is the breakdown:
- Islamabad: 2,571
- Punjab: 60,191
- Sindh: 39,564
- Khyber Pakhtunkhwa: – 22,154
- Balochistan: 7,747
Also read: What is coronavirus, how does it spread?: Here's everything you need to know

Medical Staff
In total there are 220,829 registered doctors in Pakistan, both at private and public hospitals, as per the ministry of finance's economic survey 2018-2019.
- Dentists: 22,595
-  Nurses: 108,474
That means there is one doctor for 963 persons and one hospital bed for 1,608 persons.
Health Spending
Pakistan ranks 152 out of 189 countries, therefore in the medium slot, on the United Nation's Human Development Index 2019. Iran, on the other hand, ranked on the higher side.
According to the ministry of finance's economic survey, Pakistan's "spending on health has been less than 1% of GDP since decades."
- Punjab in its 2019-2020 budget increase the health budget in the province by 20% in comparison to the previous year, allocating a sum of Rs279bn
- Sindh in the same financial year increased its budget by 19% to Rs.114.4 billion.
Note: The data does not include private hospitals and those run by the Armed Forces.