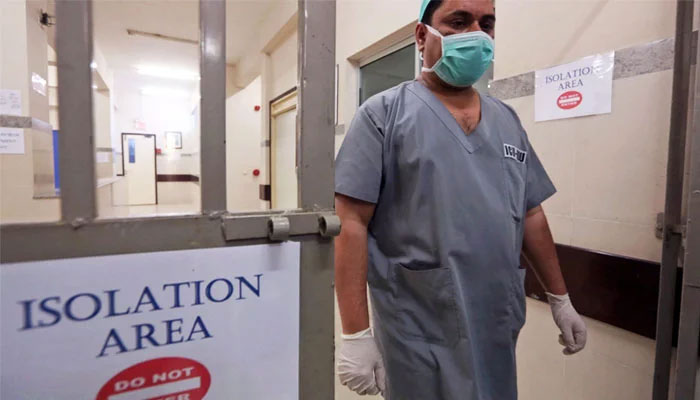 Two more Pakistani doctors have been confirmed to have contracted the novel coronavirus while treating patients.
Punjab's Primary and Secondary Health Care Department said on Friday that two doctors involved in the fight against coronavirus have positive for the disease.
The spokesperson for the department stated that the doctors had been performing their duties at a quarantine centre in Dera Ghazi Khan when they started showing symptoms associated with COVID-19.
Read also: Doctor in KP protests shortage of masks by wearing a plastic bag over his head

Both doctors have since been confined to an isolation ward and are out of danger, added the statement.
Earlier, a doctor had lost his life in Gilgit-Baltistan while performing his duties at one of the quarantine centres in the region.
Dr Usama Riaz, who was screening pilgrims who had returned to Pakistan from Iran, had tested positive last Friday and could not survive.
Health authorities have come under criticism for not providing Personal Protective Equipment to doctors and nursing staff as the number of patients witnessed an exponential rise in the past two weeks. 
Currently, there are more than 1,200 confirmed cases of coronavirus in the country. 
A doctor in Khyber Pakhtunkhwa had recorded his protest against the non-availability of face masks and gloves by donning a plastic bag over his head as a protective measure.
Dr Amir Ali Khan, 30, who works at the state-run Category-D Hospital in Swabi, complained that he had to check 30-40 patients but could not find any face masks and gloves at the local pharmacies to keep himself safe from the deadly virus.
Read also: US designates Pakistan 'a priority country', will send $1m in COVID-19 aid

"I had earlier written several letters to the district health department to provide us doctors masks or at least help us buy them," Khan tells Geo.tv, over the phone, "But no one responded."
Tired of waiting on officials, the doctor had himself photographed covered in polythene bags while checking a patient.
Patients from villages in Mardan – a virus hotspot – also visit the hospital where Khan works, as it is located on the road connecting the two cities of the district.
After Khan's pictures went viral on social media, Khan says he was contacted by the provincial health department and provided face masks and gloves.
"We doctors cannot afford to get sick," he said. "If the number of cases keeps increasing, we will be needed to directly deal with the influx."
Geo News will later today be honouring Pakistani doctors, paramedics and nursing staff on the frontlines of the battle against the coronavirus. 
At 6pm today (March 27), the nation has been asked to display white flags and join in to a singalong of 'Humain Tum Say Pyar Hai' (We love and cherish you) organised by Geo News.