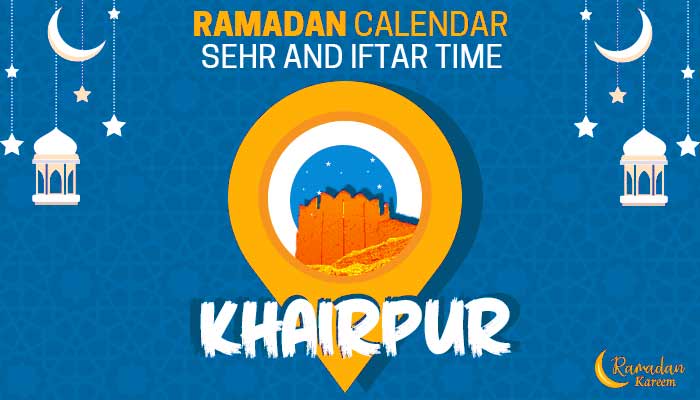 KHAIRPUR: Ramadan is the ninth month of the Islamic calendar and it is observed by Muslims around the world to fast from dawn to dusk.

The practice of fasting is regarded as one of the five pillars of Islam.
This year the month of Ramadan began on April 25, 2020. The central Ruet-e-Hilal Committee is assigned the task to sight the Ramadan moon every year in Pakistan.
Federal Minister for Science and Technology Fawad Chaudhry had said that the Ramadan moon will be sighted on April 24 as per the lunar calendar, marking the first fast of the holy month of Ramadan on April 25.
The Sehar and Iftar timings vary in different cities of Pakistan.
Below are the Sehar and Iftar timings in Khairpur.
Fiqh Jafria: Suhoor Time -10min | Iftar Time +10min

| | | | |
| --- | --- | --- | --- |
| Ramadan | Date | Sehar | Iftar |
| 1 | April 25, 2020 | 04:29 AM  | 06:54 PM  |
| 2 | April 26, 2020 | 04:28 AM  | 06:54 PM  |
| 3 | April 27, 2020 | 04:27 AM | 06:55 PM  |
| 4 | April 28, 2020 | 04:26 AM | 06:55 PM  |
| 5 | April 29, 2020 | 04:25 AM | 06:56 PM  |
| 6 | April 30, 2020 | 04:24 AM | 06:56 PM  |
| 7 | May 1, 2020 | 04:23 AM | 06:57 PM  |
| 8 | May 2, 2020 | 04:22 AM | 06:57 PM  |
| 9 | May 3, 2020 | 04:21 AM | 06:58 PM  |
| 10 | May 4, 2020 | 04:20 AM | 06:59 PM  |
| 11 | May 5, 2020 | 04:19 AM | 06:59 PM  |
| 12 | May 6, 2020 | 04:18 AM | 07:00 PM  |
| 13 | May 7, 2020 | 04:17 AM | 07:00 PM  |
| 14 | May 8, 2020 | 04:16 AM | 07:01 PM  |
| 15 | May 9, 2020 | 04:15 AM | 07:01 PM  |
| 16 | May 10, 2020 | 04:14 AM | 07:02 PM  |
| 17 | May 11, 2020 | 04:13 AM | 07:03 PM  |
| 18 | May 12, 2020 | 04:13 AM | 07:03 PM  |
| 19 | May 13, 2020 | 04:12 AM | 07:04 PM  |
| 20 | May 14, 2020 | 04:11 AM | 07:04 PM  |
| 21 | May 15, 2020 | 04:10 AM | 07:05 PM  |
| 22 | May 16, 2020 | 04:09 AM | 07:05 PM  |
| 23 | May 17, 2020 | 04:09 AM | 07:06 PM  |
| 24 | May 18, 2020 | 04:08 AM | 07:06 PM  |
| 25 | May 19, 2020 | 04:07 AM | 07:07 PM  |
| 26 | May 20, 2020 | 04:07 AM | 07:08 PM  |
| 27 | May 21, 2020 | 04:06 AM | 07:08 PM  |
| 28 | May 22, 2020 | 04:05 AM | 07:09 PM  |
| 29 | May 23, 2020 | 04:05 AM | 07:09 PM  |
| 30 | May 24, 2020 | 04:04 AM | 07:10 PM |