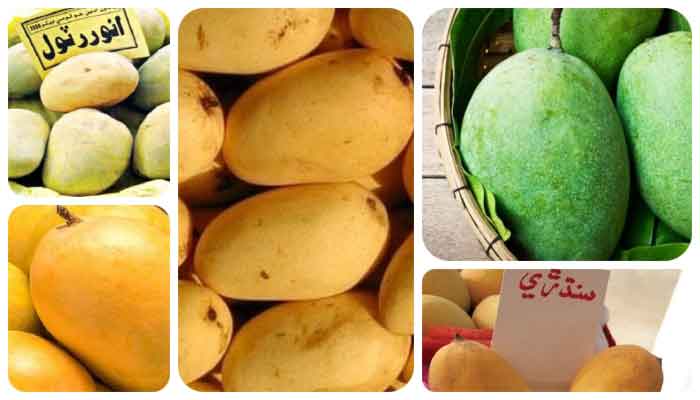 This year's mango season has been a treat for fans of the undisputed 'King of Fruits', especially with household chefs dusting off old recipes and getting innovative in the kitchen during the coronavirus lockdown.
Pakistan ranks globally among the top 10 producers of mangoes, with the Chaunsa — currently in season — widely regarded as one of the most sought after varieties of the fruit. 
Besides being thoroughly delicious, mangoes are believed to help in maintaining cholesterol levels, cleansing the skin, strengthening the immune system, and much more.

Among the hundreds of varieties of mangoes that are cultivated, only 25 to 30 are actually cultivated on a commercial scale. The famous varieties are Chaunsa, Sindhri, Langra, Dausehri, Anwar Ratol, Saroli, Samar Bahisht, Toota Pari, Fajri, Neelum, Alphanso, Almas, Sanwal, Surkha, Sunera, and Desi.
Read on for their distinctive features and how to identify them. 
Chaunsa
Dubbed as one of the worlds' top available varieties of mangoes, Chaunsa is originally from Rahim Yar Khan and Multan in Punjab. Its ripening season is June-August; however, it keeps on delighting until late September.
Talking about its high demand, especially in the months of June and July, Shehzad Bukhsh, who owns a cold-storage facility in Multan, said that the fruit is initially stored in huge trunks which are later dispatched across the country and also exported to other countries.
"The Chaunsa mangoes exported from Pakistan are the most loved types of mangoes around the world, especially in the west," Bukhsh added.

The delectably sweet mango has tempting fragrance and deliciously soft, succulent flesh that is low in fibre but is loaded with vitamins. 
Sindhri
Sindhri, as its name suggests, is a leading variety of mango from Sindh. It is a large oval-shaped fruit that is extremely sweet and aromatic and is in season from June to July. Its origin is from Mirpur Khas, the seventh-largest city of the province of Sindh. 
For many, the Sindhri is the gold standard in taste and texture in mangoes. A meal of diced Sindhri with besan ki roti (flatbread made of gram flour) and mint chutney with a glass of chilled lassi is quite famous in most parts of Sindh.
Many households eagerly wait for Sindhri mangoes to hit the markets as they are a staple in the preparation of the famous South Asian 'mango pickle'.
"The taste of Sindhri Mangoes compliments my pickles and adds a piquant flavour to my recipe when cured with cumin, fenugreek, and mustard seeds," shared Maria Asif, who is famous for mango pickles among her family and friends.
Langra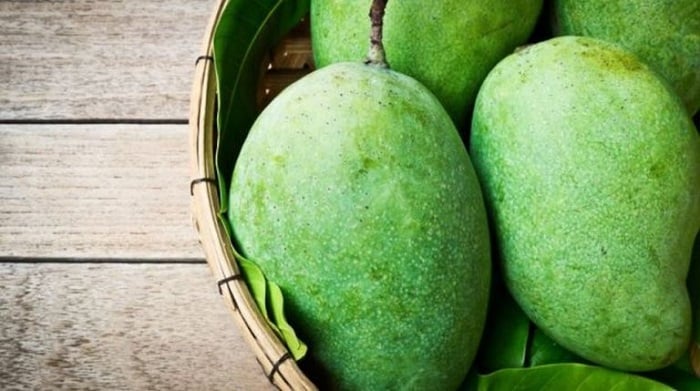 Originating from Varanasi, India, this mango kind is yellowish-brown in colour with a strong smell when it ripens. 
It is said that the person who first cultivated the fruit suffered from some mobility issues, and the fruit thereafter came to be known as the 'Langra'. 
Also read: Flaunt your love for mangoes this season with these quick recipes
Compared to other varieties of mangoes, the Langra is naturally very sugary and soft and the size of the seed is small and oval in shape. It usually hits the markets mid-July to August.
Dussehri
Tracing its roots back to the gardens of the Nawab of Lucknow in the 18th century, this lip-smacking mango has the juiciest sweet pulp with a delectable taste and delightful aroma.
"This particular type of mango is used in milkshakes and mango squashes because of its sharp sour taste and juicy pulp," says Atika Zaeem, who is currently running an online kitchen that serves beverages and chutneys famous in the mango season.
You can eat Dussehri in various forms, Zaeem explained. For instance, you can cut them into slices or suck their juice from the top of the fruit after gently massaging the flesh to a pulp with your finger-tips. 
This type of mangoes is particularly famous among children because of their flavoursome taste and easy way of eating.
"My four-year-old daughter loves it in breakfasts with a chilled glass of milk," she added.
Anwar Rataul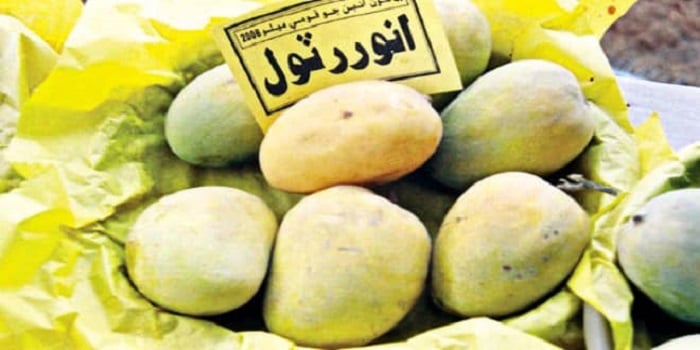 According to an interesting anecdote, the fruit was named after Anwar-ul-Haq — the man who first cultivated it in a village named Rataul near Baghpat district in Uttar Pradesh, India. 
With a distinct taste and fibre-less flesh, the fruit is extensively produced in the areas of Punjab and its peak season is from mid-July to August.
Neelum Mangos
This type of mangoes is available throughout the season, but the tastiest ones arrive by mid-June and are grown in many parts of Pakistan and India. 
Fajri
This particular kind of mango is quite rare because of its unique breed, sweet taste, and exceptionally rare texture. The skin of the fruit is pale, and the pulp is fibre-less.
In case, just eating the fruit plainly does not satisfy your hunger, here are a few recipes you can try out this season:
1. Mango King Kulfi
This innovative recipe for a mango king kulfi is quite popular among children because of its rich taste and creamy flavour. It also weighs light on the pocket since the ingredients used in this recipe are found in every household.
Ingredients
4 cups of milk (1ltr)
3tbs sugar
1 cup mango pulp (250ml)
Few drops of mango essence (optional)
Pistachios (crushed)
8- Ice Cream Sticks
Method
Remove it from the stove and add the mango pulp.
Blend the mixture until it smoothens like cream.
Add in the pistachios and mango essence and mix it well.
Pour the mixture into a kulfi mould, cover it with aluminum foil and seal it.
Insert a stick in the middle and freeze over night or for 8 hours minimum.


2. Mango Squash
The bell rings at your house and you have unexpected guests standing at your doorstep. Even if you do not have a lot to offer, you still have fresh mangoes in your refrigerator. With minimal ingredients and time, you can prepare a nutritious drink for your friends and family. Chill and serve!
Ingredients:
2 cup mango pulp
1 cup mango diced
1 cup soda water (optional for taste)
1 glass of chilled water
1/4 cup or 2 tbsp white sugar or honey
1/2 cup of lemon juice
5-6 ice cubes
Method:
Keep the water boiling for 2 to 3 mins till the sugar dissolves and turns into a thick syrup.
Add mango pulp and mix it well while boiling for 3-4 mins on high flame.
After it cools, strain the mixture in order to get rid of any mango bits left as residues.
Let it cool for a couple of minutes.
In two cups of chilled water, add the squash, and serve. You can also add soda water to enhance the flavour.
3. Mango Delight
This Mango Delight recipe isn't that difficult and fancy as it looks like. You can try it out with friends and experiment with the dish in your Kitchen when you plan out a movie day or friends get together. Remember, to serve it chilled with whipped cream topping on the top that will double up the flavour.
Ingredients
250ml milk
2tbs sugar
2tbs custard powder
3tbs milk
1cup sliced mango
1 egg+ 2 yolks

1 tbs Lemon Zest
1 tbs Lemon Juice
1 cup whipped cream (optional)

1 packet biscuits (optional)
For the crust:
1 cup flour 
1/4 cup powdered sugar
1 egg
11g sugar
1/4 teaspoon vanilla extract
Method

Preparing filling:
Boil the 250ml milk and add sugar in the pan.
Meanwhile, add 3tbs of milk in vanilla custard powder and mix it well. Using a beater is always a good option.
After the milk boils, start adding the custard mixture and keep stirring.
After that's done, add 1cup of fresh mango (grinded) and mix that too.
Let it cool for an hour and then serve with whipped cream and biscuit crumbs on the top. 
Preparing the dough for crust:
Pulse it till a soft dough is formed
Wrap it into a plastic bag and refrigerate it for a couple of minutes to let the dough settle
Roll out the dough until it is 1/8 thick
Transfer the dough into a tart pan after oiling the edges.
Gently pierce the bottom of the crust with a fork or any other sharp utensil.
Refrigerate for 30 minutes and enjoy with friends and family