Elderly Pakistanis share experience of getting coronavirus vaccine: 'It's a risk worth taking'
A number of senior citizens have dutifully gotten coronavirus shots and are now urging others to take part in the national vaccination drive
Updated Wednesday Mar 24 2021
It was another busy day at Karachi's Jinnah Postgraduate Medical Centre (JPMC) when Muhammad Miyan Aslam, 75, visited for his first dose of the Chinese Sinopharm vaccine. 
Aslam had registered earlier for the vaccination shot on 1166, following which he was directed to visit the centre and get his shot.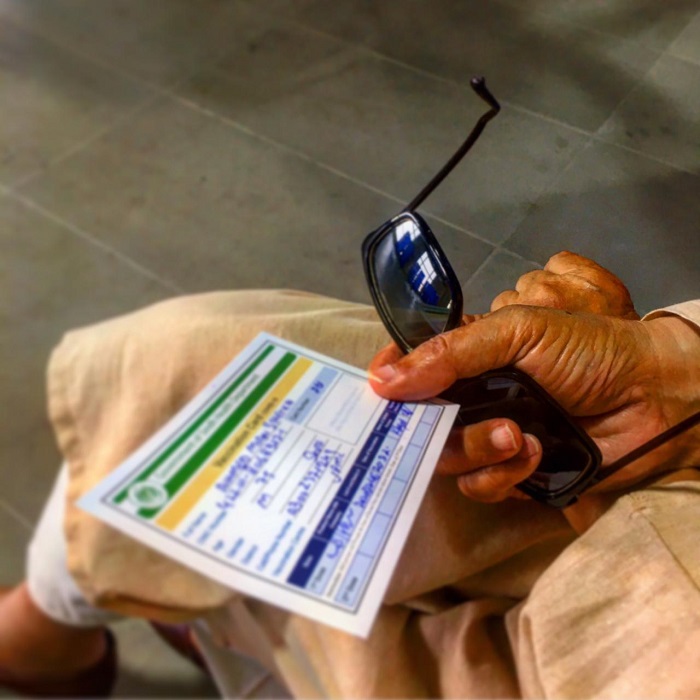 He was accompanied on the day by his wife Fatima, who, unlike Aslam, seemed more worried about the vaccination procedure than he was.
Read more: Pakistan receives first batch of Chinese COVID-19 vaccine
Aslam, with registration card in hand, went from desk to desk as he was guided through the process. He first got his registration number verified on one desk, then his vitals checked on the other.
The procedure, according to what the 75-year-old described, was smooth and well-ordered. 
Aslam is among thousands of other senior citizens who have gotten themselves inoculated through Pakistan's nationwide vaccination drive for elderly citizens aged above 60, which started March 10.
In Karachi, a total of 27 vaccination centres have been set up, where doctors and the elderly have been the first to get inoculated in the first two phases of the immunisation process.

The drive entered its second phase with a walk-in vaccination facility for senior citizens last week.
"People are generally apprehensive of vaccine reactions because they have been exposed to a lot of fake news on social media. From what I have seen so far, the experience is worth a shot," Aslam told Geo.tv.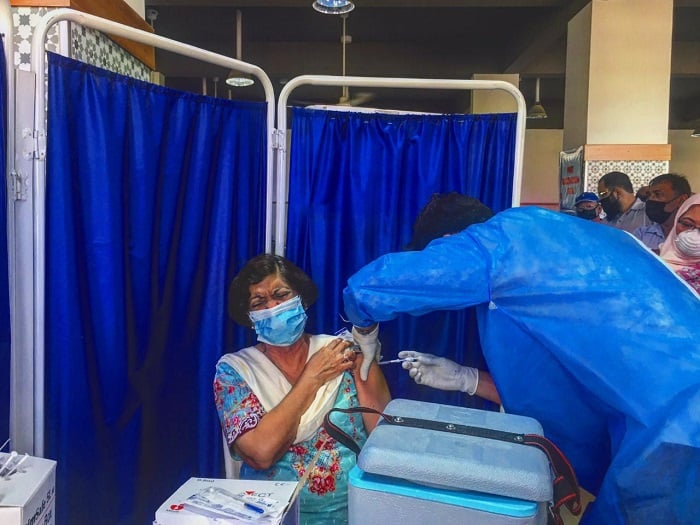 Another senior citizen, Armeena, 64, shared that she was a bit skeptical about getting vaccinated at first, which is why her sister had tagged along for moral support.
Standing fifth in a queue of 12 other candidates, however, Armeena did not seemed fussed at all. 
"We have lost score of the precious lives lost to this deadly contagion. We should not wait for more damage," Armeena's younger sister, Annie, said.
Like other patients, Armeena was asked to wait for at least 15 minutes in an enclosure after receiving the shot to observe if there were any reactions to the vaccine she just received. 
She was then handed over a follow-up date for 20 days after for the second dose.
'Don't worry, we are in safe hands'
Among the senior citizens hoping that the vaccination drive will usher in better days is 100-year-old Israel Ahmed Meenai, who got vaccinated at an Agha Khan vaccination centre last week.
The centenarian, a retired High Court lawyer, said he was very satisfied with the procedure and the way he was dealt with by paramedics. 
"I would request people to keep all their apprehensions aside and take the vaccination dose. It is the only thing, after God, that can protect us against the virus," Meenai stressed.
Read more: 100-year-old Pakistani gets coronavirus vaccine jab in Karachi

Another 78-year-old citizen, Abdul Quddus, shared that his perception of government set-ups changed completely after his vaccination experience.
Quddus, who spent most of his life traveling for business around the world, commended the doctors at the vaccination facility he visited, saying: "We undermine our resources and health facilities a lot. Pakistan has some of the best doctors and they are as competent as any other health professionals around the world."
Echoing the same sentiment, 64-year-old Kishwar Khatoon said that people right now should trust the doctors and paramedics staff of the country.
Khatoon, who got vaccinated from a Sindh Government vaccination facility at Liaquatabad on March 15, said she had experienced no reactions to the vaccine so far.

"Medical science has shown us light at the end of the tunnel. We should at least give it a try before losing hope to fake news and unreasonable reservations," she added.