The index falls below the 44,000-point mark with a fresh decline of nearly 648 points.
Selling pressure was witnessed across the board.
Volumes increase from 176.1 million shares to 226.6 million shares.
---
KARACHI: In line with the trend in the preceding week, the stock market continued its descent on Monday and fell nearly 650 points owing to weak economic cues.
In the backdrop of an unsatisfactory economic scenario, coupled with geopolitical uncertainty, the index fell below the 44,000-point mark.
Moreover, the weak expectation of corporate results and uncertainty over the ongoing staff-level talks between Pakistan and the International Monetary Fund (IMF) over the $6 billion loan programme also kept the market under pressure.
The benchmark KSE-100 index opened in the green; however, the bourse could not hold on to higher levels and gave way to selling pressure. Throughout the trading session, the index could not break out of the red zone.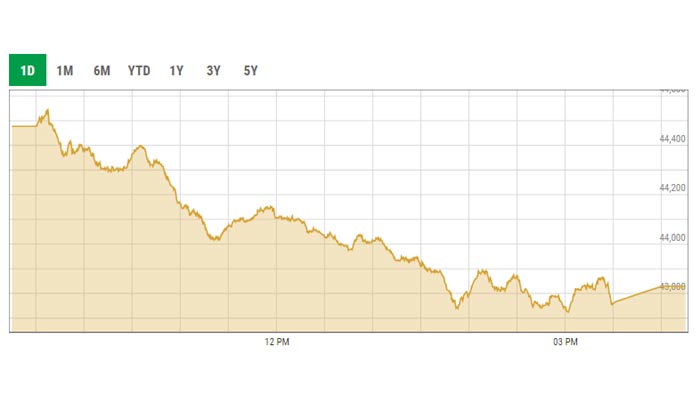 At close, the benchmark KSE-100 index recorded a decrease of 647.89 or 1.46% to settle at 43,829.35.
A report from Arif Habib Limited noted that the market tumbled again on concerns over high energy and commodity prices as well as prospects of further electricity tariff hikes that can lead to erosion of purchasing power and an economic contraction.
"Foreigners continued selling stocks unabated that brought the index down by 759 points during the session and closed the session in the red," it said.
The report added that an increase in international oil prices failed to have a material impact on the stock prices of exploration and production stocks.
Selling pressure was witnessed across the board; however, technology, cement, oil and gas marketing companies contributed to the downward trend.
Sectors contributing to the decline included technology (-202 points), cement (-121 points), banks (-56 points), engineering (-49 points) and oil and gas marketing companies (-36 points).
Volumes increased from 176.1 million shares to 226.6 million shares (+29% day-on-day). Average traded value also increased by 21% to reach $48.4 million as against $40 million.
WorldCall Telecom was the volume leader with 41.4 million shares, losing Rs0.28 to close at Rs2.25. It was followed by Telecard Limited with 13.9 million shares, losing Rs1.40 to close at Rs17.27, and Treet Corporation with 9.4 million shares, losing Rs4.35 to close at Rs53.66.
During the session, shares of 548 listed companies were traded. At the end of the session, 61 stocks closed in the green, 470 in the red, and 17 remained unchanged.
Among these 548 companies, stocks that contributed positively to the index includes Pakistan Petroleum (+21 points), Colgate-Palmolive (+9 points), Hubco (+8 points), Allied Bank (+7 points) and Feroze1888 Mills (+7 points).
Stocks that contributed negatively were TRG Pakistan (-119 points), Systems Limited (-68 points), Lucky Cement (-26 points), Fauji Fertiliser Cement (-25 points) and Unity Foods (-25 points).