KSE-100 index sheds nearly 500 points to close below 42,000-mark.
Political crisis, uncertainty on economic outlook take a toll on PSX.
Investors opt to remain on the sideline.
---
KARACHI: A deepening political crisis, along with uncertainty on the economic outlook combined, took a toll on the Pakistan Stock Exchange (PSX), as the benchmark KSE-100 index lost nearly 500 points or 1.15% on Monday, to close below the 42,000-barrier for the first since December 2020.
In the backdrop of an unsatisfactory economic scenario, coupled with a deepening political crisis, the index fell below the 42,000-point mark. Economic uncertainty following the hike in a benchmark interest rate and the delay in the outcome of talks with the International Monetary Fund (IMF) impacted the investment climate.
On the political front, the investors kept a close eye on the developments regarding PTI's 'Azadi March' scheduled to begin tomorrow (May 25).
Read more: Gold price hits all-time high of Rs143,600 per tola in Pakistan
Moreover, the depreciation of the rupee against the US dollar and depleting foreign exchange reserves, as reported by the State Bank of Pakistan, coupled with a gloomy economic outlook aided the bearish sentiment.
At close, the benchmark KSE-100 index closed at 41,950.32 after losing 489.93 points or 1.15%.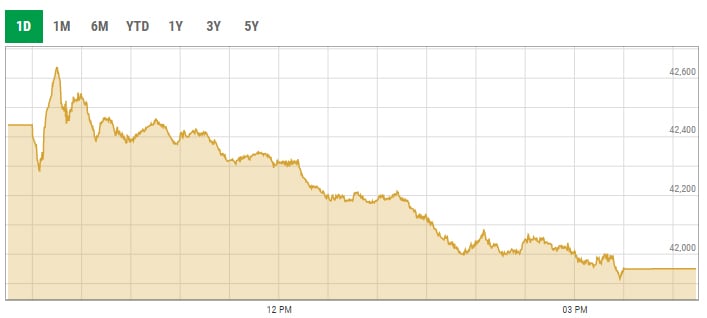 A report from Arif Habib Limited noted that the benchmark KSE-100 index opened negative and witnessed a volatile session throughout the day due to concerns over foreign exchange reserves and a rate hike in the monetary policy statement which pulled off confidence among investors.
Read more: IMF talks may extend longer than planned, SBP chief says
"The market continued to remain under pressure as investors opted to remain on the sideline until further clarity on the political as well as economic front," it stated.

The brokerage house noted that the volumes remained dry throughout the mainboard whereas, healthy volumes were observed in the third-tier stocks.
Sectors contributing to the performance included banks (-108.8 points), technology (-74.8 points), cement (-72.1 points), fertiliser (-56.2 points) and chemical (-25 points).
Explainer: Will Pakistan default?
Shares of 318 companies were traded during the session. At the close of trading, 94 scrips closed in the green, 208 in the red, and 16 remained unchanged.
Overall trading volumes rose to 169.70 million shares compared with Monday's tally of 118.98 million. The value of shares traded during the day was Rs5.46 billion.
Pakistan Refinery was the volume leader with 15.73 million shares traded, gaining Rs0.46 to close at Rs15.74. It was followed by Silk Bank with 14.66 million shares traded, gaining Rs0.07 to close at Rs1.39 and TPL Properties with 10.60 million shares traded, gaining Rs0.38 to close at Rs15.49.