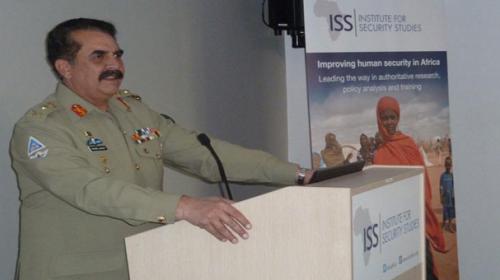 RAWALPINDI: Chief of Army Staff, General Raheel Sharif has said that Pakistan is the most resilient nation and having suffered through so much of terrorism, is on the rise.
According to Inter Service Public Relations, the Army Chief during his visit to South Africa's Defence College and Institute of Security Studies said, "Pakistan has rendered unparalleled sacrifices for regional peace. With unprecedented successes in our operations against terrorism, Pakistan Army stands tall as one of the most trained and battle hardened Army."
He said, "Ours is collective national victory of a nation so resolute and determined to root out terrorism from our region.''
General Raheel while highlighting the successes of operation Zarb-e-Azb, said that Pakistan has successfully dislodged the terrorists from their established sanctuaries and continues to pursue them till their total elimination.