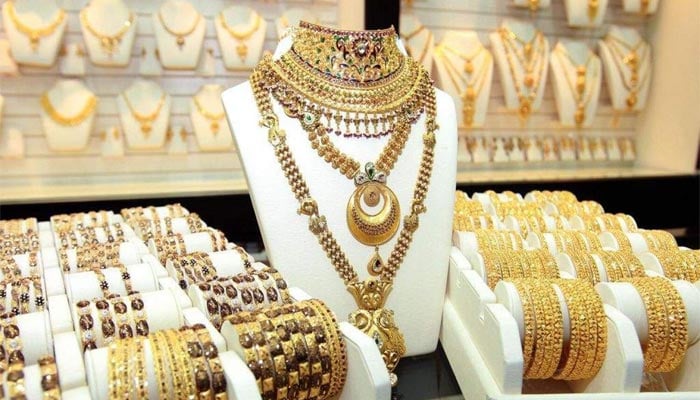 Price of gold settles at Rs150,100 per tola.
Gold has lost around Rs5,000 per tola in last three sessions. 
Silver prices in domestic market remain unchanged.
---
KARACHI: Gold extended losses into a third session on Saturday, closing slightly above the threshold of Rs150,000 per tola in line with price movement in the international market and expectations that economic recovery could sap inflationary pressure, curbing the metal's appeal as a hedge.

Data released by the All Pakistan Sarafa Gems and Jewellers Association (APSGJA) showed that the price of the precious metal declined by Rs3,750 per tola and Rs3,216 per 10 grams to settle at Rs150,100 per tola and Rs128,686 per 10 grams, respectively.
Cumulatively, the precious commodity has lost around Rs5,000 per tola in the last three sessions. Meanwhile, it lost Rs6,100 per tola during the week ended September 24.
Pakistan is a small market for gold at the global level. It meets the commodity's demand through imports as it does not produce the commodity locally.

Accordingly, the gold price for local markets is determined by keeping in view its prices in world markets, rupee-dollar exchange rate, and demand and supply in domestic markets.
The latest price for local markets was determined to keep in view the prices at which trade took place among buyers and sellers.
In the international market, the price of the yellow metal fell by $2 per ounce settling at $1,642 — its lowest since April 2020 — hurt by an unrelenting rally in the US dollar and Treasury yields as the Federal Reserve adopts a more aggressive stance to check surging inflation.
Analysts believe the economy is clearly heading towards a recession. The risks of a hard landing are elevated and this has been just continuing to drive flows into the dollar, which has been bad news for gold.
Gold rates in Pakistan are around Rs2,000 below the cost compared to the rate in the Dubai market.
Meanwhile, silver prices in the domestic market remained unchanged at Rs1,570 per tola and Rs1,346.02 per 10 grams.
— Additional input from Reuters