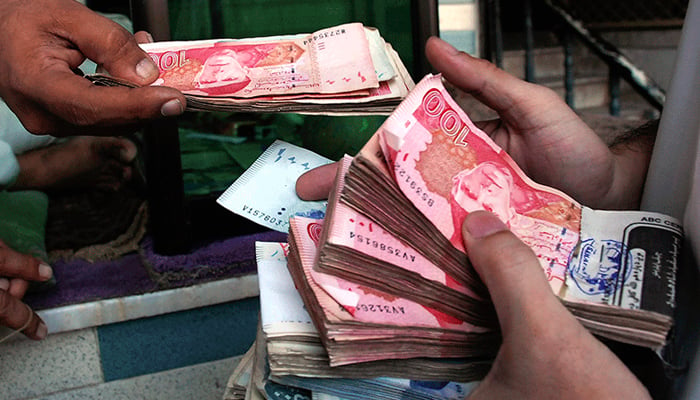 Rupee settles at Rs223.91 against US dollar in interbank market.
Investors remain anxious about uncertainty on IMF's ninth review.
Local unit also remains under pressure due to a wider trade deficit.
---
The rupee shed 0.10% on Monday ending a week-long steady streak against the US dollar as worries over informal channels of currency trading gained traction.

Data released by the State Bank of Pakistan (SBP) showed the rupee closed the session at 223.91 against the US dollar after losing 0.10% in the interbank market.
Investors remained anxious about the uncertainty surrounding the International Monetary Fund's (IMF) ninth review of the bailout package.
Talks with the IMF seem to be running into difficulties. While it is a lender of last resort, it also actively evaluates borrowers' repayment potential, according to the Tresmark report.
Moreover, traders believe rampant smuggling and the prevalence of a black market were hitting Pakistan's efforts to reduce volatility in the exchange rate.

At the same time, many believe higher rates offered in the 'black' or illegal markets were encouraging remittances to be sent through informal channels.
Fundamentally, the local unit remained under pressure as a wider trade deficit was reported with remittances unlikely to compensate when data is revealed later this month.
Meanwhile, the country's foreign exchange reserves held by the State Bank of Pakistan (SBP) continued to decline by 4.17%.

On November 25, the foreign currency reserves held by the SBP were recorded at $7,498.7 million, down $327 million compared with $7,825.7 on November 18, data released by SBP showed on Thursday.