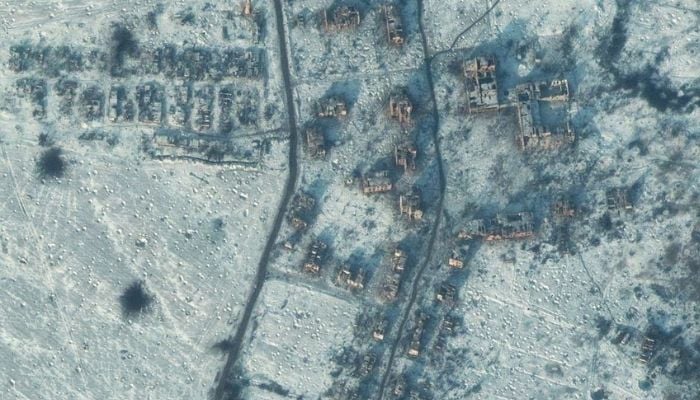 Seizing Soledar would be first big Russian success in months.
Ukraine says its forces still fighting in the town.
US says Russian capture would not change course of war.
---
KYIV: Russia said on Friday that its forces had taken control of the town of Soledar in eastern Ukraine, claiming Moscow's first big battlefield gain in half a year, but Kyiv said its troops were still fighting in the town.
Reuters could not immediately verify the situation in Soledar, a salt mining town that has been the focus of relentless Russian assault for days.
If confirmed, Russia's capture of the town would at last give Moscow a trophy for one of the bloodiest campaigns of the war, following major battlefield setbacks throughout the second half of 2022.
Kyiv and the West have played down its significance, saying Moscow sacrificed wave upon wave of soldiers and mercenaries in a pointless fight for a bombed-out wasteland, unlikely to affect the wider war except insofar as the huge losses have sapped manpower on both sides.

"The capture of Soledar was made possible by the constant bombardment of the enemy by assault and army aviation, missile forces and artillery of a grouping of Russian forces," Moscow's defence ministry said.
Seizing the town would make it possible to cut off Ukrainian supply routes to the larger nearby city of Bakhmut, and trap remaining Ukrainian forces there, it said. Moscow has been trying to seize Bakhmut for months.
But Serhiy Cherevatyi, spokesperson for Ukraine's eastern military command, told Reuters by telephone Soledar had not been captured: "Our units are there, the town is not under Russian control."
A Ukrainian officer in the area, speaking on condition of anonymity as he was not authorised to speak to the media, also told Reuters by telephone the Russians had not fully taken the town.

"Last night artillery fire was like from hell, both sides. From what I know, our boys have managed to exit some parts (of Soledar) in an orderly manner and now (assault) groups are counterattacking, but we still hold the town."
Ukrainian officials said on Thursday more than 500 civilians were trapped inside Soledar, including 15 children.
In an overnight video address, Ukrainian President Volodymyr Zelenskiy thanked two units in Soledar he said were "holding their positions and inflicting significant losses on the enemy." He did not give more details.
'Meat grinder'
After Ukrainian forces drove Russia into humiliating retreats for much of the second half of 2022, the front lines have barely budged for the past two months. Meanwhile, the battles around Bakhmut and Soledar became what both sides called a "meat grinder" — a brutal war of attrition claiming the lives of thousands of soldiers.

Kyiv's Western allies see it as a fight for marginal gains on a stretch of front where neither side can make a big breakthrough, a sideshow from battles further north and south, where Ukraine hopes to push through Russian lines.
"Even if both Bakhmut and Soledar fall to the Russians, it's not going to have a strategic impact on the war itself," US National Security Council spokesman John Kirby told reporters at the White House, "and it certainly isn't going to stop the Ukrainians or slow them down."
Within Russia, victory in Soledar could also boost ultra-nationalist mercenary leader Yevgeny Prigozhin, whose Wagner Group of fighters-for-hire, including convicts recruited from prison with promises of pardons, has focused on the fight in that area. He has griped as the regular military has taken credit for the Soledar battle without mentioning his fighters.
"They constantly try to steal victory from the Wagner PMC (private military company) and talk about the presence of other unknown people just to belittle Wagner's merits," he complained.
New weapons
The new year has brought important pledges of extra Western weapons for Ukraine, which is seeking armour to mount mechanised battles against Russian tanks.

Major new announcements of weapons are likely next week, when US Secretary of Defence Lloyd Austin hosts defence chiefs from other allies at a US air base in Germany for a meeting of the contact group set up to provide support for Ukraine.
Last week, France, Germany and the United States pledged to send armoured fighting vehicles. Discussion this week has focused on supplying main battle tanks, a major potential upgrade for Kyiv.
On Friday, Finland joined Poland in promising to send German-made Leopard tanks to Ukraine as part of a Western coalition apparently being put together to supply them.
That requires the permission of Berlin, which has so far been hesitant but has lately signalled a willingness to allow it. A German government spokesman said on Friday Berlin still had yet to receive any formal request for permission to re-export the tanks.
Russian President Vladimir Putin launched the invasion on Feb 24, saying Kyiv's ties with the West threatened Russia's security, and Russia has since claimed to have annexed four Ukrainian provinces. Ukraine and its allies call it an unprovoked war to seize territory, and Kyiv says it will fight until it recaptures all its land.