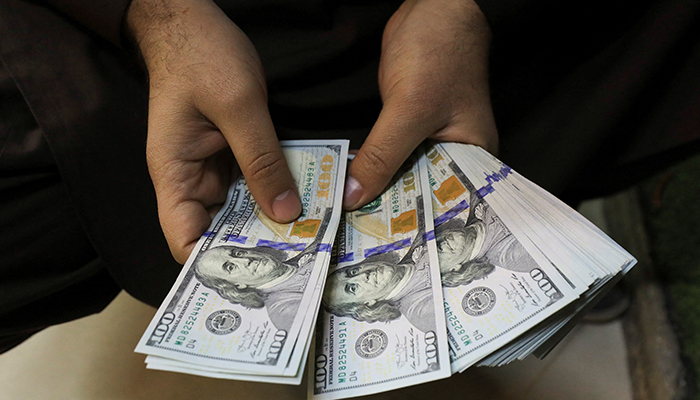 Forex reserves fall to lowest level since Feb 2014.
Reserves to provide import cover of less than a month.
IMF delegation to visit Pakistan on January 31.
---
The State Bank of Pakistan's (SBP) foreign exchange reserves fell to a record low of $3.7 billion as the country grapples with a severe economic crunch, striving to revive the International Monetary Fund's (IMF) bailout programme to avoid a looming debt default.

In a statement, the SBP said as of January 20, its reserves fell to $3,678.4 million due to external debt repayments, which will now provide an import cover of less than a month — 0.73 month to be exact.
The net foreign reserves held by commercial banks have also fallen to $5,774.8 million, bringing the total liquid foreign reserves to $9,453.2 million, the central bank's statement mentioned.
Inflows have virtually come to a grinding halt despite assurances from friendly nations, as the lenders seem reluctant to release funds before Pakistan completes the IMF's stalled programme.
As the coalition government desperately seeks to revive the ninth Extended Fund Facility review, it had requested the Fund to send a delegation for a visit.
In response, IMF Resident Representative in Pakistan Esther Pérez Ruiz told Geo.tv that an in-person Fund mission is scheduled to visit Islamabad from January 31–February 9 to continue the discussions under the ninth EFF review.
"The mission will focus on policies to restore domestic and external sustainability, including to strengthen the fiscal position with durable and high quality measures while supporting the vulnerable and those affected by the floods; restore the viability of the power sector and reverse the continued accumulation of circular debt; and reestablish the proper functioning of the FX market, allowing the exchange rate to clear the FX shortage."
SBP Governor Jameel Ahmad had last Wednesday said that the country expects inflows from "next week", however, no physical funds have been received so far — except for a $2 billion rollover by the Abu Dhabi Fund for Development.
Financial pundits have stressed the government to complete the IMF programme to pave the way for further inflows as they warn that a delay in reviving the Fund's programme could be catastrophic for the economically distressed nation.
British publication Financial Times has also warned that Pakistan's economy is at risk of collapse with the government's "failure to revive" the IMF deal.
According to the report, rolling blackouts and a severe foreign currency shortage are making it difficult for businesses to continue operations.
"Already a lot of industries have closed down, and if those industries don't restart soon, some of the losses will be permanent," founder of Macro Economic Insights Sakib Sherani said.