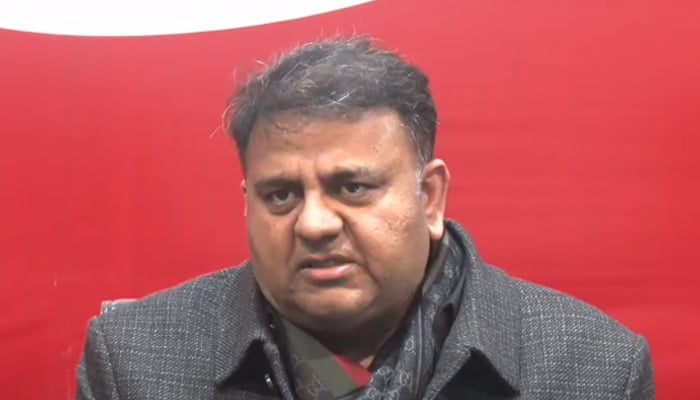 "Article 6 will be applied to anyone who tries to delay elections."
Fawad insists PTI took country from "terrorism to tourism".
Says there was no blast in Pakistan during PTI government.
---
Pakistan Tehreek-e-Insaf (PTI) Senior Vice-President Fawad Chaudhry Thursday claimed if Pakistan did not vote within 90 days after the dissolution of assemblies, it would be a violation of the Constitution — which would stand suspended because of this breach.
In his first press conference a day after his release on bail in Islamabad, the former information minister said on Thursday that "if any administration or authority tries to defer the elections in Punjab and Khyber Pakhtunkhwa beyond the 90-day period allowed by the Constitution, Article 6 of the Constitution will be applicable on them". 

As per the law, the "unconstitutional means shall be guilty of high treason".
Fawad, who is facing sedition charges for publicly "threatening" members of the Election Commission of Pakistan (ECP) in a media talk, was arrested from his Lahore residence on January 25 after a case was registered against him at Islamabad's Kohsar Police Station. He was released on bail after an additional sessions court in the federal capital approved his bail plea on Wednesday.

During the presser, he also addressed the accusation levelled against the previous PTI government of "aiding and abetting terrorism" in the country through lax policies and leniency — the rhetoric set by the leadership of the ruling Pakistan Democratic Movement (PDM).
In the parliamentary session held on Tuesday regarding the Peshawar mosque blast, members of the treasury alleged that the PTI-led government had permitted terrorism to take root in the country again.
Defence Minister Khwaja Asif had come down hard on the Imran Khan-led government for its insistence on dialogue with proscribed outfits — including Tehreek-e-Taliban Pakistan (TTP) — while Interior Minister Rana Sanaullah declared that the previous government had failed to play its part in tackling the issue of terrorism, saying that the ousted rulers allowed people who had been sentenced to death to walk free.
Responding to the aforementioned "accusations," Fawad said: "You are trying to shift the blame on PTI, however, we had defeated terrorism. During the years that the PTI was in power, Imran Khan handled matters of Afghanistan and the United States in the appropriate manner."
There was no blast in Pakistan during our time, he insisted.
He further clarified that the PTI's policy was to try and curb hatred and said: "Imran Khan's stance was that political problems cannot be solved by military force."
The former federal minister went on to say that the current leadership in Afghanistan respected Khan, "but the federal government's stance" had destroyed the PTI chief's Afghan policy.
"You cannot solve the TTP issue without the Afghan leadership's backing," Fawad further said. "Using force will make matters more complicated."
Foreign Minister Bilawal Bhutto-Zardari, he said, made 17 visits to the US but has never visited Afghanistan.
Attacking the incumbent government, Fawad also said that "its policy is unclear and that it has no idea of what the situation in Afghanistan actually is".
"Back when we were in power, it was being touted that Pakistan is going from terrorism to tourism, we even revived international cricket in the country. In merely nine months, our efforts have been destroyed."
He further said that the institutions should not back "corrupt" people. "Don't carry the burden of [Asif Ali] Zardari, Nawaz Sharif and Fazl Ur Rehman so much that your back doubles over with the brunt of the burden."
The PTI vice president also said that institutions should try to solve the country's many problems instead of making arrests.
"First they arrested Azam Swati, then Shehbaz Gill, then me. Now they have charged Khyber Pakhtunkhwa's daughter Shandana Gulzar with treason." She was booked in a sedition case filed over her controversial remarks on a TV talk show.
"This is all part of an attempt to destabilise Pakistan," he said, adding, "They [government] are struggling to manage both to country and Imran Khan and failing miserably at both."
While pointing his finger at the caretaker government in two provinces, he insisted that "dummy governments" had been set up in Punjab and KP.
The governors in the two provinces seemed to be on an unmerited power trip, he added.
"However, if we criticise them, or anyone for that matter, we will be called traitors. By this definition, the entire country is full of traitors."
Speaking on the occasion, Hammad Azhar — who served during the PTI regime as the federal minister for economic affairs — criticised the coalition government for its economic policies as a delegation of the International Monetary Fund (IMF) is in Pakistan for technical and policy level discussions to revive the $7 billion Extended Fund Facility stalled for months.
"Economy does not run without stability," Azhar said, adding, "The rupee has decreased from Rs80 to Rs90 in nine months. This will have an adverse impact on the country."
He further said that the inflation rate in the country would reach 40%. "Only if general elections are held to bring to power a democratically elected government, then the country's economic woes be assuaged."