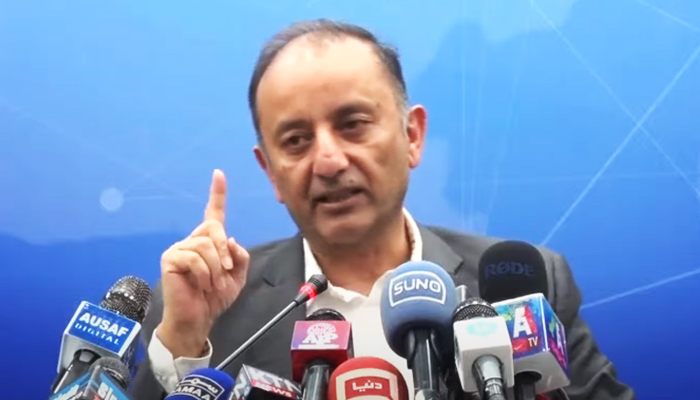 Govt to revise petrol price at scheduled time, Malik says.
Minister warns hoarders not to challenge state's writ.
Malik says sufficient petrol stock for 20 days available.
---
ISLAMABAD: Minister of State for Petroleum Dr Musadik Malik has warned petroleum products hoarders of "dire consequences" and blamed them for creating an artificial shortage of the commodities in the country.
"Sufficient stocks of petroleum products are available in the country to meet the needs of petrol (363,085 metric tonnes) for 20 days and diesel (515,687 metric tonnes) for 29 days," the minister told a press conference on Wednesday.
The minister — after reports surfaced that people were facing hardships in getting petrol and diesel across several cities — told journalists that figures mentioned earlier did not include the "cargoes in transit and waiting in the sea for berthing".

The minister added that a few people were involved in creating an artificial shortage by hoarding petrol and diesel with the hope of selling them at an exorbitant rate in future.
Malik said the government would ensure the state's writ at any cost and hinted that the licenses of the oil marketing companies, that are found involved in such illegal activities, would be revoked.
"I request those hoarding petroleum products to shun this practice and do not challenge the writ of the state," the minister said.
Malik added that prices of petroleum products would be revised by the federal government at the scheduled time while keeping in view the international market and rupee-dollar parity.
In response to a question, the minister said during the ongoing winter season, the incumbent government, under the leadership of Prime Minister Shehbaz Sharif, ensured "better gas management, which resulted in better supply to consumers, especially domestic sector as compared to the last 10 years".

Replying to another question, he said an agreement with Russia would hopefully be finalised, following which, low-cost crude oil will start arriving in Pakistan.
A document that the minister shared with journalists during the presser, showed that the country has sufficient stocks of petrol for 20 days (363,085 metric tonnes), diesel for 29 days (515,687 metric tonnes), and fuel oil for 202 days (466,702 metric tonnes) for 202 days.

The artificial shortage, as termed by officials, also comes as banks have stopped financing and facilitating payments for imports due to depleting foreign exchange reserves, traders and industry sources told Reuters.
Pakistan is facing a balance of payments crisis and the plummeting value of the rupee is pushing up the price of imported goods. Energy comprises a large chunk of Pakistan's import bill.
Pakistan typically meets more than a third of its annual power demand, using imported natural gas, prices for which shot up following Russia's invasion of Ukraine.