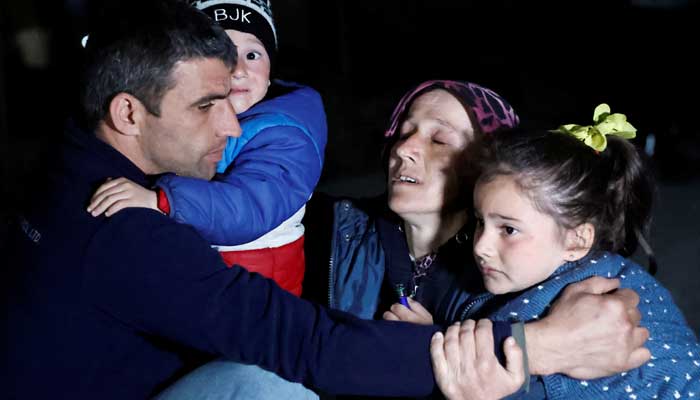 Fresh quake comes as rescue work winds down in Turkey.
Jolts also felt in Syria, Egypt and Lebanon.
Turkey's death toll surpasses 41,000.
---
ANTAKYA: A magnitude 6.3 earthquake struck southern Turkey near the Syrian border late on Monday, setting off panic and further damaging buildings two weeks after the country's worst earthquake in modern history left tens of thousands dead.
Two Reuters reporters said the tremors were strong and lasting, damaging buildings and leaving dust in the night air in central Antakya city, where it was centred. It was also felt in Egypt and Lebanon, Reuters reporters said.
The European Mediterranean Seismological Centre (EMSC) said the tremor struck at a shallow depth of 2 km (1.2 miles).
Police patrolled Antakya while ambulances rushed to the quake-hit area near the city center. Two people fainted, while others filled the streets around the central park making emergency calls on cell phones.
Reuters saw Turkish rescue teams running around on foot after the latest quake to check on residents, most of whom were living in temporary tents after the tremors two weeks ago.
Muna Al Omar, a resident, said she was in a tent in a park in central Antakya when the earthquake hit.
"I thought the earth was going to split open under my feet," she said, crying as she held her seven-year-old son in her arms.
"Is there going to be another aftershock?" she asked.
The two larger earthquakes that hit on February 6, which also rocked neighbouring Syria, left more than a million homeless and killed far more than the latest official tally of 46,000 people in both countries.
Smaller tremors have jolted the region in the last two weeks but the Monday quake was the largest since February 6. "It was very strong. It jolted us out of our places," said Burhan Abdelrahman, who was walking out of his tent in a camp in Antakya city centre when the earthquake struck.
"I called relatives in Syria, Adana, Mersin, Izmir, everywhere, to check on them."
Turkey's disaster agency AFAD urged residents to stay away from the Mediterranean coast over a possible 50-centimetre rise in waters due to the quake.