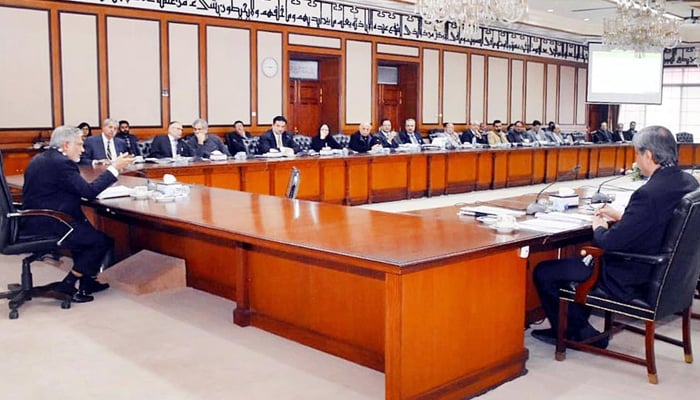 Dar chairs first meeting of committee formed to oversee implementation of austerity measures.
No such notification issued by Cabinet Division despite directions. 
Committee directs accounting officers to cut budget by 15%.
---
ISLAMABAD: Under the austerity drive declared by Prime Minister Shehbaz Sharif amid a financial crunch, a monitoring committee for the implementation of measures is set to put forward the recommendations before the premier for the withdrawal of official vehicles under use by the heads of parliamentary committees, including the Public Accounts and standing committees, The News reported on Tuesday. 
The committee in its meeting also directed the Cabinet Division to issue a notification for the measures approved by the federal cabinet, however, no such notification was promulgated.   
One federal minister in the huddle also suggested conducting the meetings of the Senate and National Assembly standing committees online via Zoom as substantial money is spent to hold theme in person.
After a detailed discussion, it was decided that the recommendations would be put forward before the premier for his approval.

The minister said that the expenditure incurred on different heads/chairpersons of standing committees should also be withdrawn. 
An official statement issued by the Ministry of Finance stated that Finance Minister Senator Ishaq Dar chaired the first meeting of the committee to oversee the implementation of austerity measures at the Finance Division on Monday.
Minister for Federal Education and Professional Training Rana Tanveer Hussain, Minister for National Food Security and Research Tariq Bashir Cheema, Minister for Law and Justice Azam Nazeer Tarar, Advisor the PM on Kashmir Affairs and Gilgit- Baltistan Qamar Zaman Kaira, Special Advisor to the Prime Minister (SAPM) on Finance Tariq Bajwa, federal secretaries and senior officers attended the meeting.
The meeting reviewed the implementation of the cabinet decisions on austerity measures. The finance secretary gave a presentation. It was informed that ministries/divisions are already working on these measures and instructions have been issued for immediate compliance and reporting of any exemption and violation of the decisions. 
The committee directed all principal accounting officers to implement a 15% cut in their current budgets. It was decided that the use of teleconferences must be encouraged for all meetings to save time and expenditure. 
The committee conveyed that the decision to withdraw the use of luxury vehicles by the cabinet members and government officials be implemented with no exemption in any case.
The finance minister, while highlighting the challenging economic situation in the country, stressed all the concerned to ensure and expedite the implementation of austerity measures with sincerity and devotion in their ranks without any exception.