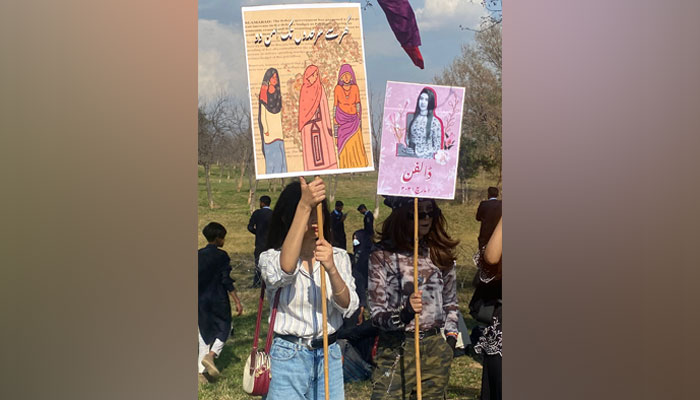 Pakistan along with the rest of the world is celebrating International Women's Day today (Wednesday) to recognise the social, economic, cultural and political achievements of women.
Besides public gatherings under the banner of Aurat March, a number of events will be held across the country in connection with Women's Day. United Nations' theme for the day is "DigitALL: Innovation and technology for gender equality", which highlights the importance of technology in advancing rights and the impact of the growing digital gender gap on women's job opportunities to online safety.
President Dr Arif Alvi, in his message, called for the need to expand women's access to technology and digital literacy programmes, especially in far-off areas of the country.
Dr Alvi emphasised that more women should be encouraged to participate in science, technology, engineering, and mathematics (STEM) fields besides providing them access to the internet, laptops and other digital technologies.
It is critical to provide resources and support to female entrepreneurs and business owners in order for them to become financially independent, President Alvi added.
PM Shehbaz calls for ensuring women empowerment
Meanwhile, Prime Minister Shehbaz Sharif said that International Women's Day was the day to honour women for playing a key role in society and contributing to the evolution of human civilisation.
"History is witness that the development of human society is not possible without the constructive role of women," the PM said.
PM Shehbaz called on society to work together to ensure more empowerment, protection and fair rights for women, saying that Islam granted equal rights to women 1,400 years ago.
Women's role game-changing in Pakistan's development: Bilawal
Meanwhile, Foreign Minister Bilawal Bhutto-Zardari also shared his thoughts on the occasion saying that the dream of making Pakistan a cradle of peace, prosperity and progressive thinking can't be fulfilled without the equal and full participation of women in every sector.
A statement issued by Media Cell, Bilawal House, said that the FM said that from education and training and professional sectors to politics and higher policy-making institutions, the involvement of women is essential. "Educated and confident women can play a game-changing role in Pakistan's development," he added.
Sherry Rehman stresses giving women their rights
Moreover, Federal Minister for Climate Change Senator Sherry Rehman said that the purpose of observing International Women's Day was to encourage women, recognise their rights and spread awareness among people regarding gender equality.
Rehman said 49% of Pakistan's population consists of women and they are the backbone of our family system, society, country and economy.
The minister stressed giving women their rights and status according to the constitution and that the law is essential for them to lead socially and economically dignified life.