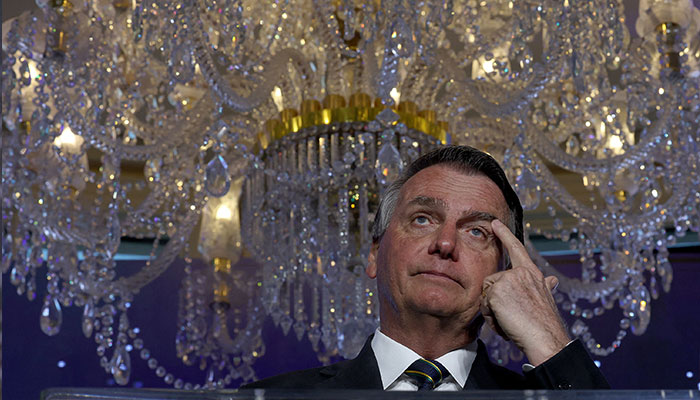 Bolsonaro expected to return soon to Brazil from the United States.
Saudi gave two packages to Bolsonaro in October 2021.
Officials found it was full of diamonds, and seized them for failure to pay the required import duty.
---
RIO DE JANEIRO: Brazil's former president Jair Bolsonaro is in hot water over allegations he tried to illegally import millions of dollars worth of jewellery given to him and his wife by Saudi Arabia.

The scandal has triggered multiple investigations, potentially complicating life for Bolsonaro — who is expected to return soon to Brazil from the United States, where the far-right ex-army captain has been living since just before his leftist successor, Luiz Inacio Lula da Silva, took office on January 1.
Here is a look at what we know about the case.
Where did the jewels come from?
Bolsonaro's then-mines and energy minister, Bento Albuquerque, says an "envoy" from the Saudi government gave his delegation two packages at the end of an official visit to Saudi Arabia in October 2021.
When the delegation returned to Brazil, customs inspectors found an aide to Albuquerque carrying one of the boxes — undeclared — in his backpack, according to the newspaper Estado de Sao Paulo, which broke the story.
Officials found it was full of diamonds, and seized them for failure to pay the required import duty.
The paper reported the Bolsonaro administration tried at least eight times to convince customs inspectors to release the jewels, right up to the third-to-last day of his term, when it dispatched a navy officer to the Sao Paulo airport to pressure officials to hand over the diamonds.
Subsequent reports said the second package escaped detection and was given to Bolsonaro, who kept it for himself.
The ex-president has denied wrongdoing, telling CNN Brasil there was "no illegality" on his part.
What was in the boxes?
Both packages were from the Swiss luxury house Chopard.
The first, which Albuquerque was filmed telling customs officials was for former first lady Michelle Bolsonaro, who held a necklace, ring, watch and pair of earrings, valued at three million euros ($3.2 million).
The second held a men's watch, ring, pair of cufflinks, pen and prayer-bead set, estimated to be worth at least $75,000.
What's under investigation?
Under Brazilian law, travellers entering the country with goods worth more than $1,000 are required to declare them.
The owner would then have had to pay an import duty of 50% on the excess value over $1,000 — plus a heavy fine in this case for failing to declare the jewels.
The jewels could have entered Brazil tax-free as official gifts to the nation. But then they would have belonged to the presidential palace collection, not the first family, according to legal experts.
"Government officials are absolutely forbidden to accept high-value gifts for themselves — even the president," said Isac Falcao, head of Sindifisco, the union representing tax authority employees.
"Every public servant knows that," he told AFP.
The federal police and tax authority have both opened investigations.
The head of the Senate transparency committee has also announced an investigation into whether the jewels were linked to the March 2021 sale of an oil refinery in northeastern Brazil to the United Arab Emirates sovereign investment fund, Mubadala, for $1.65 billion.
Where are the jewels?
The first set of jewels "is in a safe at Guarulhos airport" in Sao Paulo, where they were seized by customs inspectors, tax official Andre Martins told AFP.
The tax authority said the deadline to regularize their legal situation expired in July 2022. They could now be auctioned off, donated, added to the national collection or destroyed, it said.
Brazilian media reported Monday that Bolsonaro had agreed to hand the second set of jewels over to the authorities pending investigation.
What happens next?
Brazil's Federal Court of Accounts (TCU), which oversees the government coffers, last week ordered both Bolsonaro and Albuquerque to face questioning by police.
According to local media, Albuquerque told investigators Tuesday he did not know what was in the packages but considered them official gifts to the nation.
No date has been announced yet for Bolsonaro's deposition.
In Saudi Arabia, the episode has drawn little notice, and no official reaction from Crown Prince Mohammed bin Salman.
But it has dominated headlines in Brazil — a potential wrench in Bolsonaro's plans to return from Florida in the near future and lead the opposition to Lula's government.