The visit follows Putin's arrest warrant for war crimes.
China, Russia both denounce international court ruling.
China seeks to broker Ukraine peace, Kyiv wants Russia out.
---
Chinese President Xi Jinping met his "dear friend" Vladimir Putin in Moscow on Monday, seeking both to deepen economic ties with an ally he sees as a useful counterweight to the West and to promote Beijing's role as a potential peacemaker in Ukraine.
Xi was the first leader to meet the Russian president since the International Criminal Court (ICC) issued an arrest warrant for him on Friday over the deportation of Ukrainian children to Russia during its year-old invasion of Ukraine.
Moscow said the charge was one of several "clearly hostile displays" and opened a criminal case against the ICC prosecutor and judges. Beijing said the warrant reflected double standards.
Russia is presenting Xi's trip, his first since securing an unprecedented third term this month, as evidence that it has a powerful friend in its standoff with a hostile West.
The two men greeted one another as "dear friend" when they met in the Kremlin on Monday afternoon before dinner, to be followed by formal talks on Tuesday.
Putin told Xi he viewed China's proposals for a resolution of the Ukraine conflict with respect and was also "slightly envious" of China's rapid development in recent decades.
"China has created a very effective system for developing the economy and strengthening the state. It is much more effective than in many other countries," he said.
For Xi, the visit is a diplomatic tightrope.
China has released a broad 12-point proposal to solve the Ukraine crisis, while strengthening relations with Moscow.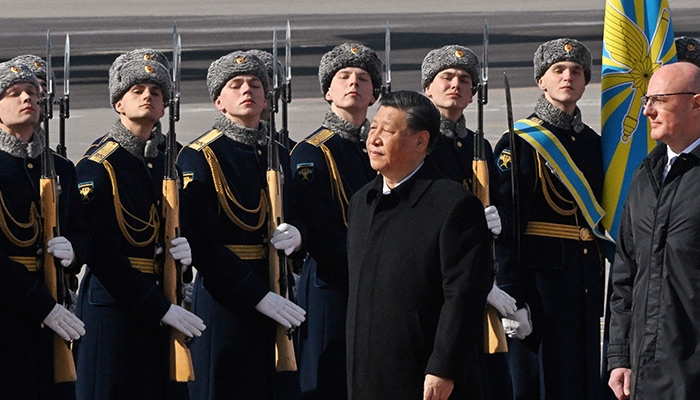 Beijing has repeatedly dismissed Western accusations that it is planning to arm Russia but says it wants a closer energy partnership after boosting imports of Russian coal, gas and oil.
"Both sides are continuously strengthening political mutual trust, creating a new paradigm of relations between major powers," Xi wrote in an article published in Russia ahead of his trip.
Western sanctions made Russian energy cheaper, saving China billions of dollars, but its top trade partners remain the United States and European Union.
Ukraine said China should press Russia to stop its invasion.
"We expect Beijing to use its influence on Moscow to make it put an end to the aggressive war against Ukraine," Ukrainian foreign ministry spokesperson Oleg Nikolenko said.
Xi said China's Ukraine peace proposal, an unspecific document released last month, reflects global views.
"Complex problems do not have simple solutions," he wrote in Rossiiskaya Gazeta, a daily published by the Russian government, according to a Reuters translation from Russian.
Western scepticism
Ukraine and its Western allies say any truce would just buy Putin time to reinforce ahead of a planned Ukrainian counter-offensive and that for Russia and China to uphold international law as they say they do, they must agree to Russia's withdrawal.
White House national security spokesperson John Kirby reiterated that call, adding that US President Joe Biden wanted to speak with Xi to keep communication channels open.
Putin signed a "no limits" partnership with Xi last year shortly before he sent tens of thousands of troops into Ukraine to end what he said was a threat to Russia from its neighbour's moves towards the West. The year-long war has killed tens of thousands of people, destroyed cities and forced millions to flee.
The Kremlin said Putin would provide Xi with detailed "clarifications" of Russia's position, without elaborating.
Washington has noted that China has declined to condemn Russia and has given it an economic lifeline.
Putin said Russia was helping to build nuclear power reactors in China and the two countries were deepening cooperation in space exploration and new technologies.
As Western pressure on Russia grows, Putin's administration has told officials to stop using Apple iPhones because of concerns the devices are vulnerable to Western intelligence agencies, a newspaper reported on Monday.
"Either throw it away or give it to the children," the Kommersant daily quoted a participant of the meeting as saying.
Justice ministers from around the world met in London on Monday to discuss support for the ICC, whose chief prosecutor Karim Khan called on Russia to repatriate the Ukrainian children to prove it is acting in their best interests as it says it is.
Several European Union countries agreed in Brussels to jointly buy 155 mm artillery shells for Ukraine, which sees them as critical as both sides fire thousands of rounds every day.
Fierce fighting continued in the eastern Ukrainian town of Bakhmut where Ukrainian forces have held out since last summer in the longest and bloodiest battle of the war.
Giving its regular morning roundup from the front, Ukraine's military said defenders in Bakhmut, Lyman, Ivanivske, Bohdanivka and Hryhorivka — all towns in the Donetsk region — had repelled 69 Russian attacks in the past day.
British intelligence said Ukrainian supply lines both west of Bakhmut and west of the town of Avdiivka, further south, were under pressure.
Ukraine's military said that Russian forces were on the defensive in the Kherson and Zaporizhzhia regions to the south.