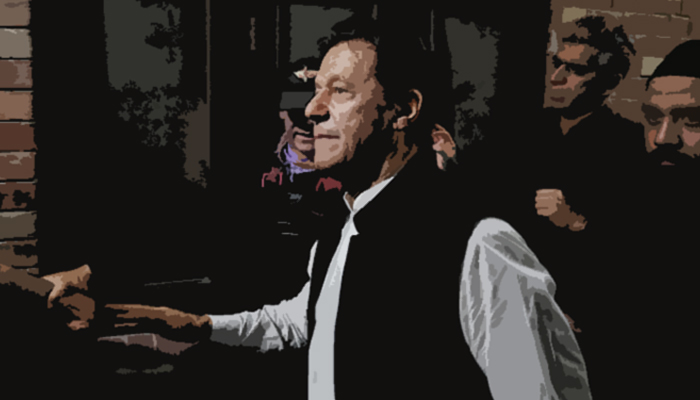 In politics, when a leader has chosen to go down a destructive path and knows very well how it's going to end, then the best way for them to remain on top of their 'following game' is to brainwash their buffs through — media- and now social-media-powered — propaganda and Pakistan's history is replete with politicians that have actually done it at the cost of the country.
Whether it was during military dictatorships imposed under the pretext of saving the country from the ills of democratic governments or leaders of civilian regimes using the system to revenge on their political opponents the widespread usage of baseless yet appealing notions had always been a common practice. While the nation has seen it all, many people still fall prey to false narratives and propaganda, thus proving the old-age adage that those that fail to learn from history are doomed to repeat it.
That begs the question: Why do people continue repeating the same mistakes over and over again? Is it because a chunk of our population is not educated, or is it because of other underlying factors, such as growing frustration due to unemployment? Maybe, the aforementioned reasons, together with a whole lot of other aspects of an average Pakistani's life contribute to collective political naivety.
Another important factor that contributes to the public's lack of political judgement is the mass media. American human rights activist, Malcolm X, said, "The media is the most powerful entity on earth. They have the power to make the innocent guilty and to make the guilty innocent, and that's power. Because they control the minds of the masses".
Although traditional media has long played a considerable role in shaping public opinion, the rise of social media — given the magnitude of its reach — is largely responsible for changing the way people perceive different things nowadays.
For example, the Jamat-e-Islami (JI) is not a popular party in Pakistan but it saw unprecedented support in the recent local government elections in Karachi — thanks to its vigorous election campaign on social media. The people of Karachi are now well-aware of how the party spread its influence and changed people's narratives about it.
On a countrywide scale, Pakistan Tehreek-e-Insaf (PTI) has been dominating headlines for the last few months, particularly since the ouster of its chief, Imran Khan, as the prime minister in April last year.
Aside from making headlines in newspapers, TV, and radio, Khan's party has been aggressively pushing his narrative on social media for around a decade and has been successful in achieving its goals. This is evident from how the PTI, by using the power of social media, first came into power in Khyber Pakhtunkhwa in 2013 and then went on to form a government in the centre in 2018.
When Khan was in power and even after his ouster, the party continued a robust social media campaign to push the narrative that "all was good" during Khan's tenure and Pakistan was headed towards economic prosperity and sustainability when his opponents sent him packing through a parliamentary no-trust vote.
This was the time when the PTI increasingly started capitalising on social media – and opponents termed it as propaganda – to push for early elections in the country.
Khan, before his ejection and after being in the opposition for some time, kept claiming he was removed from office as a result of a "foreign conspiracy to change his regime", saying that the United States, together with Pakistan Democratic Movement (PDM) and the establishment, had drummed him out.
After months of repeating the allegations and convincing his followers that he was telling the truth, he suddenly set aside the US conspiracy narrative in November last year and instead blamed the former army chief, General (retd) Qamar Javed Bajwa, for being the mastermind behind his government's unceremonious exit.
More recently, he has also started blaming the caretaker chief minister of Punjab, Mohsin Naqvi, for playing a "big role" in the alleged regime-change conspiracy.
One might wonder how quickly and conveniently Khan changed his narrative from blaming the US to accusing a local media mogul of removing a sitting prime minister. But his supporters are far from questioning anything about him, courtesy of around-the-clock content being propagated by his social media army.
In fact, an opinion poll published by Gallup showed a majority of Pakistanis blame the coalition government for the record-high inflation, while support for the former prime minister has surged massively ahead of the elections — if any — scheduled for later this year.
The report found that 62% of the 2,000 respondents blamed the PDM for the ongoing economic turmoil and decades-high inflation in the country. According to polling data, Khan's approval ratings, in contrast, jumped to 61% in February from 36% in January last year.
How is it possible that a party, which has repeatedly gone back on the promises it made to the nation, took terrible economic decisions, and also happens to be a co-contributor to the ongoing economic uncertainty still remains so popular among the masses?
Well, it seems like they're selling conspiracies.
Khan, who was shot in the legs in November last year during a rally, never gets tired of claiming that plots are being hatched to have him assassinated, but he hasn't been able to prove that the Shehbaz-Sharif-led coalition government was behind the shooting that he survived.
The PTI chairman, currently embroiled in scores of court cases ranging from terrorism and murder to sedition and corruption, has also successfully created a narrative that the government has falsely trapped him in litigations to stonewall his election campaign.
As the police went to arrest him following court orders, his supporters clashed with the lawmen outside his Zaman Park residence in Lahore, leading to a standoff.
On March 19, ahead of appearing before an Islamabad court after skipping several hearings, Khan convinced his supporters that he was called to the court so that the police could attack his Lahore residence and violate his family's privacy.
The Punjab police, however, denied Khan's allegations, saying his supporters were arrested for attacking the police with petrol bombs and possessing illegal weapons during the execution of a high court order.
The cricketer-turned-politician also accused Punjab's inspector general of police of siding with the coalition government, saying he was involved in the murder of a PTI worker Ali Bilal aka Zille Shah, who died in mysterious circumstances.
It's not only the PTI that's doing this, the Pakistan Muslim League-Nawaz (PML-N) has also been at loggerheads with the judiciary and levelling allegations that certain judges are anti-Nawaz Sharif or anti-PML-N – but they've not yet provided hard evidence for the claim.
Similarly, it's not only in Pakistan but in the United States as well that social media was used as a propaganda tool. Former US president Donald Trump recently asked his supporters to take to the streets as he feared getting arrested in a hush-money case.
But in view of the narrative that Khan and his political opponents have seamlessly woven for their supporters, the county seems to be moving towards political chaos that too at a time when it is struggling to prevent its economy from defaulting.
And for the wise, word is not enough; it's time for them to read between the 'lies'.
---
The author is a staffer at Geo.tv. He tweets @khawajaburhan6