US President Joe Biden has criticised Prime Minister Benjamin Netanyahu's plans for judicial reform and also said that the Israeli leader would not be getting an invitation to visit the White House in the near future.

President Biden passed these remarks while speaking to reporters in North Carolina. He expressed his concerns over what was happening to democracy in Israel which has resulted in massive countrywide protests and public strikes.
The president was quoted as saying: "Like many supporters of Israel, I'm very concerned." 
"And I'm concerned that they get this right. They cannot continue down this road," said Biden.
The US president was also asked whether he would invite the Israeli PM to the White House. He responded: "Not in the near term."

Israeli PM Netanyahu, in response, wrote in a statement on Twitter that Israel "is a sovereign country which makes its decisions by the will of its people and not based on pressures from abroad, including from the best of friends."
"I have known President Biden for over 40 years, and I appreciate his longstanding commitment to Israel," Netanyahu said.
"The alliance between Israel and the United States is unbreakable and always overcomes the occasional disagreements between us," he added.

The recent heated exchange of words was followed by the off-camera discussions in which Biden and other US officials have expressed the current state of affairs in Israel.
What is happening in Israel?
Thousands of Israelis took to the streets and many are demonstrating outside the Israeli Parliament which has crippled the government.
Due to the protests, diplomats have also been reported to walk off from their jobs.
The uproar was witnessed when Israeli PM Netanyahu dismissed defense minister who had called the PM to stop the judicial reforms.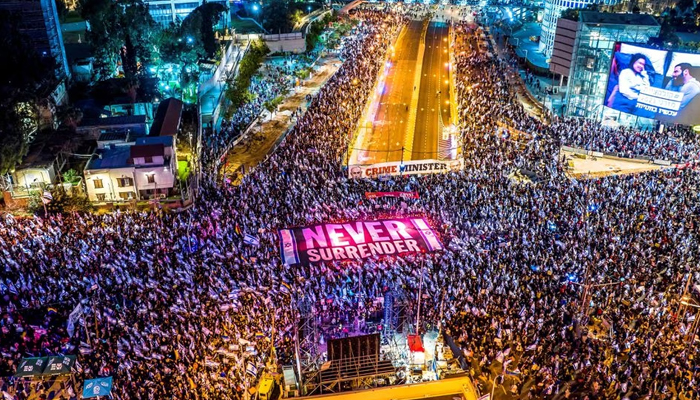 Netanyahu's government is the most right-wing government that came to power in Israel which aims to limit the power of the Supreme Court and allow the Israeli parliament to pass laws.
The Israeli PM is currently facing charges of corruption which he has repeatedly denied.
What Biden and Netanyahu discussed on phone?
US President Biden during a phone call last week with the Israeli PM expressed his concerns over the PM's judicial reforms plans.
In a national press conference, Netanyahu said to delay the reforms process and avoid civil war in the country and seek compromise with the parties.