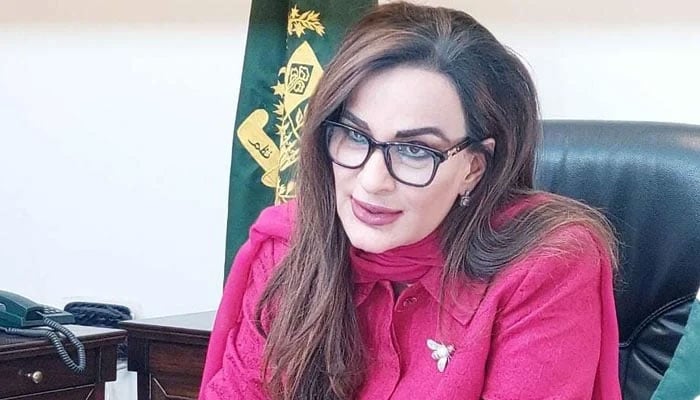 Sherry regrets that a 9-member bench was reduced to 3 members.
She requests court to reconsider the formation of full court bench.
Solution to crisis lies in display of collective wisdom of court, she says. 
---
Urging the judges of the apex court to sit together to overcome the apparent internal divisions and disputes, Pakistan Peoples Party (PPP) senior leader Sherry Rehman said Saturday that the way the Supreme Court's bench was suffering from purported "division and fragmentation" was not good for the "reputation and image" of the judiciary.

Taking to Twitter, the PPP leader said: "The court should not miss this opportunity to restore its reputation and image of impartiality."
She regretted that a nine-member bench was reduced to Three members. She was referring to the bench constituted by the Chief Justice of Pakistan Umar Ata Bandial after a suo-motu notice related to holding elections in Punjab and Khyber Pakhtunkhwa.
The same bench was shrunk to five in reconstitution after the outcry against certain judges of the Supreme Court. Later the top court, in an appeal filed by the PTI challenging the postponement of elections till October 8 by the Election Commission of Pakistan (ECP), once again constituted a five-member bench and after the recusal of the two judges was left with three judges who would continue to hold proceedings on Monday.
In the wake of the aforementioned background details, Rehman said that: "Clearly, this[newly-constituted] bench has lost its majority and impartiality. If the bench becomes controversial before the verdict, it is not justice," urging a full-court bench of the apex court to shelve any controversy.
The minister maintained that once again the request of the full court bench by the government and bar council was rejected. "We request the apex court to reconsider the formation of the full court bench," the minister added to ensure transparency and acceptability of the verdict by all the political stakeholders.
"The solution to this crisis lies in the display of collective wisdom of the court. The decision of the 3-judge bench could not be the collective wisdom of the court," the minister viewed.