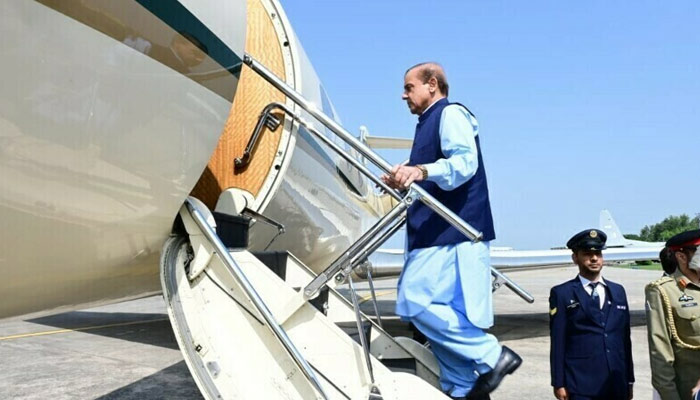 PM Shehbaz to represent Pakistan during coronation ceremony.
"The UK-Pakistan relations are rooted in shared history," he says.
"Will use opportunity to attend Commonwealth leaders' summit."
---
Prime Minister Shehbaz Sharif has touched down in United Kingdom's capital London for representing Pakistan at the coronation ceremony of King Charles III.
Some 2,000 guests, including global royalty and world leaders, will be at Saturday's event in central London, with huge crowds lining the route to and from Buckingham Palace.
More than 29,000 police officers will take part in one of the UK's "most significant" ever security operations for the coronation of King Charles.
Before departing for the visit, the prime minister said he was en route to the Kingdom whose leaders have been "great friends of Pakistan".
"The UK-Pakistan relations are rooted in shared history & multifaceted bonds that have grown stronger over the decades," the prime minister said in a tweet.
"I will also use the opportunity to attend the Commonwealth leaders' summit as well as engage with other world leaders bilaterally," the prime minister said.
Geo News reported that the prime minister is expected to return on Monday, while he is also scheduled to meet Nawaz Sharif, who is his elder brother and Pakistan Muslim League-Nawaz's supremo.
Thousands of ceremonial troops will take part in a procession from Buckingham Palace to Westminster Abbey as part of the coronation.
Dress rehearsals took place overnight from Tuesday to Wednesday.
The security operation to protect the route to and from the abbey — dubbed Operation Golden Orb — will include rooftop snipers and undercover officers, as well as airport-style scanners, sniffer dogs, and a no-fly zone over central London.
Archbishop of Canterbury, Justin Welby, will call on "all persons of goodwill in the United Kingdom of Great Britain and Northern Ireland, and of the other realms and the territories to make their homage, in heart and voice, to their undoubted king, defender of all".
The order of service will read: "All who so desire, in the abbey, and elsewhere, say together: I swear that I will pay true allegiance to Your Majesty, and to your heirs and successors according to law. So help me God."
British parliamentarians, but also Canadians since the British sovereign is their head of state, already swear allegiance to the monarch when they take office.
---
— Additional input from AFP