Timeline: Prime ministers who were arrested in Pakistan
Earlier today, deposed premier Imran Khan was taken into custody following conviction in Toshakhana case
Updated Saturday Aug 05 2023
Former prime minister Imran Khan on Saturday was arrested after a local court in Islamabad convicted the Pakistan Tehreek-e-Insaf (PTI) chairman in the Toshakhana case related to the corrupt practices linked to the state gift repository, allegations which he denies.
Khan has been arrested for the second time in almost three months, as he was detained by the Rangers personnel from the Islamabad High Court (IHC) earlier on May 9. 
Today, the PTI chief was taken into custody from his Zaman Park residence in Lahore following the announcement of a verdict by Additional and Sessions Judge Humayun Dilawar, who handed Khan three years in jail along with a fine of Rs100,000.
This is not the first time in Pakistan that a former head of the state was taken into custody. 

Here is a list of premiers arrested in different cases in the country's history.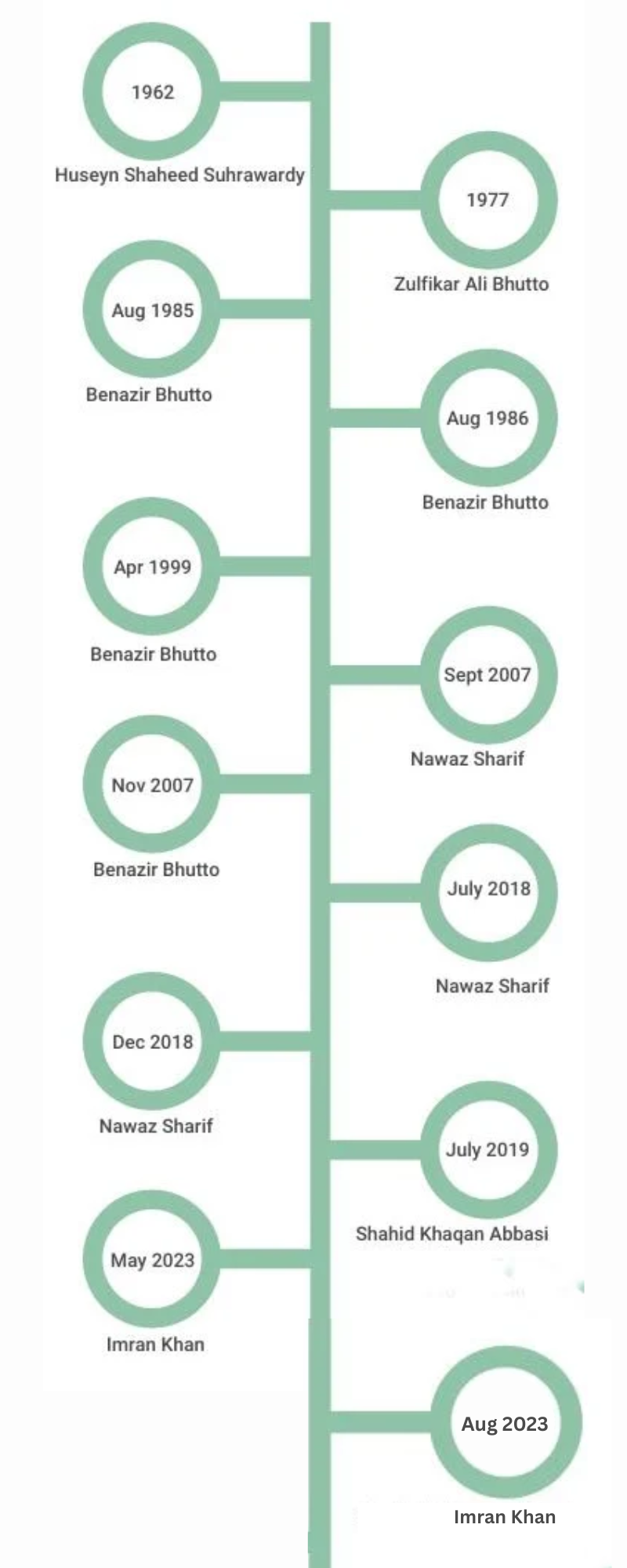 January 1962
Huseyn Shaheed Suhrawardy, who served as the fifth prime minister, refused to support Gen Ayub Khan's military coup. He was arrested on bogus charges of "anti-state activities". 

September 1977
Zulfikar Ali Bhutto, who served as the ninth prime minister, was taken into custody on the charges of conspiracy to murder a political opponent in 1974. He was sentenced to death and executed on April 4, 1979.
August 1985
Benazir Bhutto served as the premier twice from 1988 to 1990 and again from 1993 to 1996. She was detained first in 1985 and put under house arrest for 90 days.

August 1986
Later, she was arrested in 1986 for denouncing the government at a rally in Karachi on independence day. 
April 1999
Benazir was sentenced to five years imprisonment for corruption and disqualified from holding public office and fined more than £5 million. 
September 2007 
Nawaz Sharif was exiled during Gen Pervez Musharraf's government for 10 years. He was arrested when he returned to Pakistan and sent to Saudi Arabia to complete the remaining years of exile. 
November 2007
Benazir was again put under arrest for a week in a bid to stop her from leading a long march against Gen Musharraf's government. 
July 2018
Nawaz was sentenced to 10 years in jail along with his daughter Maryam Nawaz in a corruption case. 
December 2018 
The three-time prime minister was again handed over seven years in prison in the Al-Azizia Steel Mills corruption reference. 
July 2019
Shahid Khaqan Abbasi was arrested in connection with the LNG case by the National Accountability Bureau (NAB) for alleged corruption. 
May 2023
Imran Khan was arrested on the orders of NAB by Rangers personnel on the charges of corruption in the Al-Qadir University Trust case. 

August 2023
Imran Khan was arrested again after being convicted for corrupt practices related to state gift repository, in the notorious Toshakhana case.