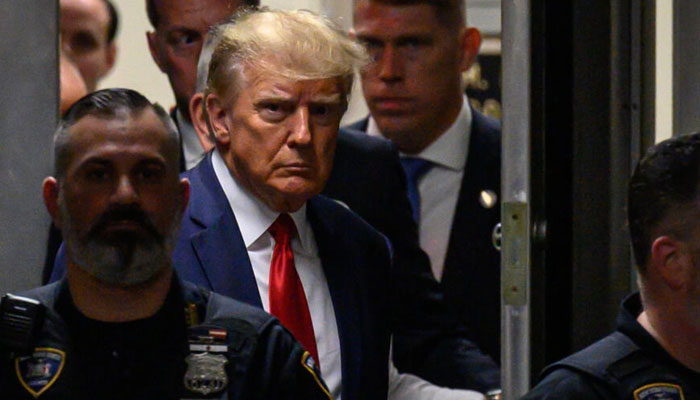 Former US President Donald Trump appeared in court via video link for his hush money case, where he was warned by a judge about evidence sharing. 
The hearing aimed to ensure Trump understood the restrictions on using evidence to target witnesses, and violating the order could result in sanctions or contempt of court. Trump's lawyers are seeking to move his criminal case to federal court while he continues his bid for the presidency in 2024.

Former US President Donald Trump made a virtual court appearance, receiving a stern warning from the judge regarding evidence sharing in his criminal hush money case. This marked his first appearance in court since his plea of not guilty to 34 felony counts of falsifying business records and ordering hush money payments on April 5. While Trump connected via video conference, prosecutors and his lawyers attended the Manhattan court in person.
The hearing focused solely on ensuring that Trump was aware of the new rules prohibiting him from using evidence provided by the prosecutors to target or attack witnesses. Judge Juan Merchan addressed Trump directly, cautioning him that any violation of the protective order could result in sanctions, including contempt of court. Trump's lawyer, Todd Blanche, affirmed Trump's understanding of the need to comply with the court order and the potential consequences of non-compliance.
In response to concerns raised by the prosecutors about Trump's history of making harassing and threatening statements about individuals involved in legal disputes, the protective order was sought. Its objective was to prevent Trump from disseminating evidence to third parties or posting on social media. Additionally, certain sensitive material provided by the prosecutors was to be exclusively accessed by Trump's legal team. It is important to note that the order does not infringe upon Trump's right to publicly defend himself.
Trump's court appearance comes at a significant juncture, as he is the first former US president to face criminal charges while actively seeking a return to the White House in the 2024 elections. Simultaneously, his lawyers are making efforts to move his criminal case to federal court, potentially influencing the legal proceedings.
In a separate case, Trump was recently found liable for sexually abusing and defaming writer E Jean Carroll. The court ordered him to pay $5 million in damages, despite his consistent denial of the allegations. Shortly after the jury's ruling, Trump publicly mocked Carroll on prime-time television, referring to her as a "wack job" and alleging bias on the part of the judge.
As Trump navigates the legal battles surrounding him, his court appearances and the outcome of his cases will undoubtedly have far-reaching implications for his political ambitions and public image. The intersection of law and politics creates a compelling narrative as Trump strives to regain the presidency, all while facing legal scrutiny and controversy.