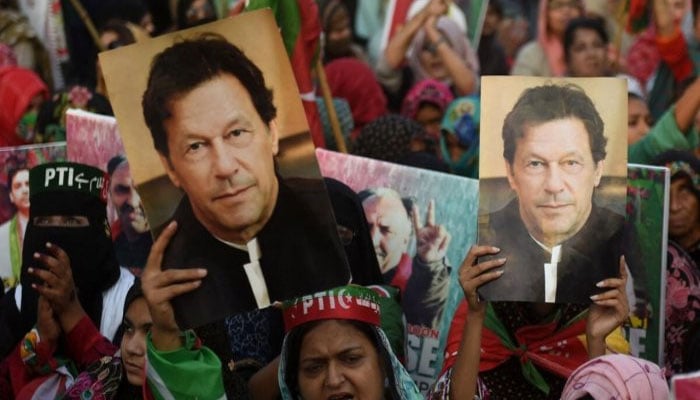 Pakistan Tehreek-e-Insaf (PTI) Chairman Imran Khan's arrest in the Al-Qadir Trust case on May 9 and subsequent violent protests, during which unruly supporters and workers stormed and torched state installations almost across the country, unleashed a mass exodus of leaders from the former ruling party.
The nearly three-day-long protests also claimed at least 8 lives and injured dozens of others with the incumbent coalition government suspending internet services and deploying army troops to maintain law and order situation.
Following the unprecedented attacks on defence and public properties, the crackdown was launched on the PTI to detain the suspect involved in the vandalism with the country's top civil-military leadership vowing to try rioters under relevant laws of the country including the Army Act.
Since then, several PTI leaders including close aides of Khan have announced quitting the party over May 9 vandalism with some blaming Khan's policies for the attacks on the military installations.

Here is the province-wise breakdown of PTI leaders who have parted ways with the deposed prime minister:
Islamabad 
Punjab
Senior vice president Fawad Chaudhry
Senior vice president Shireen Mazari

Former provincial minister Fayazul Hassan Chohan



Ex-MPA Abdul Razaq Khan Niazi
Ex-MPA Makhdoom Iftikharul Hassan Gillani
Ex-MPA Mian Jaleel Ahmed Sharaqpuri
Ex-MNA Khawaja Qutab Fareed Koreja
Founding member Aamer Mahmood Kiani
Chaudhry Wajahat Hussain
Former federal minister Malik Amin Aslam
PTI West Punjab President Faizullah Kamoka
Former PTI central deputy secretary general for Islamabad Dr Muhammad Amjad
Additional secretary general south Punjab Malik Asif Awan
Ex-MPA Jalil Sharqpuri
Ex-MPA Syed Saeedul Hassan

Ex-MPA Saleem Akhtar Labar



MNA Chaudhry Hussain Elahi
Ticket holder (PP-247) Chaudhry Ehsanul Haq
Ticket holder (PP-248) Dr Mohammad Afzal
Ticket holder (PP-257) Chaudhary Jehanzeb Rasheed


Ex-MPA Zaheeruddin Khan Alizai



Ex-MPA Aun Dogar
Ex-MPA Abdul Hai Dasti
Ex-MPA Malik Mujtaba Niaz Gishkori
Ex-MPA Alamdar Husain Qureshi
Ex-MPA Sajjad Hussain Cheena
Ex-MPA Sardar Qaisar Abbas Khan Magsi

Ex-MPA Ashraf Rind

 
Ex-MPA Javed Ansari

Ex-MNA Maleeka Ali Bokhari
Ex-MPA Javed Akhtar Ansari
Ex-MPA Ahsan Saleem Baryar
Muhammad Saleem Baryar

Ex-MPA Ansir Iqbal Baryar
President PTI Gujranwala Khalid Aziz Lone

Ex-MPA Mian Mumtaz Ahmad Maharwi

Ex-MPA Asif Manzoor 

Jamshed Iqbal Cheema 



Ex-MPA Musarrat Jamshed Cheema
Ex-MPA Ayaz Khan Niazi

Ex-MPA Malik Akram Kanhon

Ex-MPA Murad Raas
Ex-MPA Pir Ahmad Khagga

Ex-MPA Raja Yawar Kamal

Ex-MPA Chaudhry Muhammad Adnan
Abrar-ul-Haq
Senator leader Saifullah Niazi
Ex-MNA Khurram Shahzad
Ex-MPA Mian Ahsan Ansar Bhatti
Dr Firdous Ashiq Awan
Ex-MPA Muhammad Waris Aziz
Ex-MNA Khusro Bakhtiar
Ex-MPA Ahmad Shah Khagga
Ex-MPA Hashim Dogar
Ex-MPA Malik Khurram Ali Khan
Khyber Pakhtunkhwa
Former provincial minister Dr Hisham Inamullah Malik
Ex-KP government spokesperson Ajmal Wazir
Former advisor to chief minister Malik Qasim Khan Khattak

MNA Usman Tarakai
MNA Malik Jawad Hussain
Ex-KP minister Muhammad Iqbal Wazir
Ex-MPA Nadia Sher

District leader Malik Qayyum Hissam

Ex-MPA Nadia Sher Ali 
Ex-MPA Haider Ali Khan 
Ex-MNA Jamshed Thomas

Sindh
Sindh President Ali Zaidi
MPA Bilal Ghaffar
MNA Jay Prakash
Sindh MPA Omar Omari
PTI Sindh Vice President Mehmood Moulvi
PTI Karachi President Aftab Siddiqui
MPA Syed Zulfiqar Ali Shah
MPA Sanjay Gangwani
MPA Dr Imran Shah
District President Khairpur Syed Ghulam Shah
Ex-MPA Karim Bakhsh Gabol
MPA Imran Ali Shah
Ex-MPA Omar Amari 
Ex-MNA Syma Nadeem
MPA Muhammad Abbas Jafri 
Rabia Azfar Nizami

Former governor Imran Ismail
Balochistan
Ex-provincial minister Mubeen Khilji
Senator Mohammad Abdul Qadir
Overseas office bearers

Makhdoom Syed Tariq Mahmoodul Hassan, former prime minister Imran Khan's Special Assistant to the Prime Minister (SAPM) on Overseas Pakistanis and Human Development
---
Disclaimer: The list has been compiled on the basis of media reports.