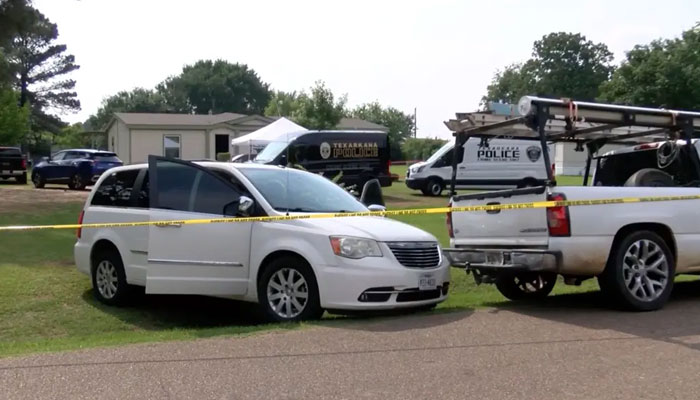 Authorities in east Texas have arrested an 18-year-old man on capital murder charges after he allegedly killed his parents, sister, and younger brother.  
The shocking incident occurred in the small town of Nash, where police responded to a report of a man harming his family and threatening self-harm. Cesar Olalde was found barricaded inside the home, and officers later discovered the bodies of his family members in the bathroom. According to an affidavit, Olalde claimed that he killed his family because he believed they were cannibals and planning to eat him.
The affidavit revealed a horrifying scene as the victims had been shot in various areas of the house and dragged to the bathroom. Multiple spent cartridge casings and blood spatter were found throughout the residence. A co-worker of Lisbet Olalde, the older sister, had visited the home after she failed to show up for work. He was confronted by Cesar Olalde, who pointed a firearm at him. The co-worker later informed the police that Olalde confessed to killing his family because he believed they were cannibals.

Cesar Olalde was arrested after a standoff with the police. The 18-year-old now faces capital murder charges, which carry severe penalties, including the possibility of the death penalty or life imprisonment without parole. The community of Nash, with a population of about 3,800, has been shaken by this tragic incident, describing the family as hardworking and kind-hearted.

Neighbors expressed shock and disbelief at the gruesome crime that unfolded in their quiet town. One neighbor, Robert Ward, described the Olalde family as a "beautiful family" and spoke highly of their character. Lisbet, the older sister, had recently graduated from college and had aspirations of becoming a teacher. Cesar was seen as a promising young man, planning to enter an apprentice program for plumbing. Friends and loved ones are grappling with the devastating loss and expressing their grief on social media.

The shocking incident in Nash highlights the ongoing issue of mass killings in the United States. The frequency of such incidents this year has been alarming, prompting discussions about gun control and mental health support. As the investigation continues, the community mourns the loss of the Olalde family and seeks to understand the tragic events that unfolded. 
The legal proceedings will determine the fate of Cesar Olalde, who now faces a long and arduous legal battle ahead.