Top UAE diplomat in Pakistan calls on Finance Minister Ishaq Dar.
Both exchange views on promoting economic, financial relations. 
Dar acknowledges UAE has been a great partner in various fields.
---
ISLAMABAD: Minister for Finance and Revenue Ishaq Dar on Thursday discussed various areas of common interest to further strengthen trade and economic ties with United Arab Emirates (UAE) top diplomat. 
The financial czar met UAE Ambassador to Pakistan Hamad Obaid Ibrahim Salim Al-Zaabi and conversed about the deep-rooted brotherly ties between both countries. 
In a statement issued by the Ministry of Finance, Ambassador Al-Zaabi, called on FinMin Dar today and exchanged views on further promoting bilateral, economic and financial relations between the two countries.
Dar acknowledged that the UAE has been a great partner of Pakistan in various fields including energy, refinery, petroleum and trade. Meanwhile, Ambassador Al-Zaabi also reciprocated the interest of the UAE government in expanding investment in various sectors of the economy of Pakistan. 
The Fin-Min appreciated and welcomed the investment proposals of the Gulf country in Pakistan and assured of complete support and cooperation by the government. 

He also shared sentiments of gratitude and goodwill with the UAE ambassador.  
The UAE is among Pakistan's largest trade partners and has supported the nation financially in the past with deposits in the State Bank of Pakistan. 
Recently, the UAE also informed the International Monetary Fund (IMF) about its plans of providing $1bn support to Pakistan, after the global lender was securing confirmation from international partners to meet the financing gap requirements of Pakistan. 
China assures constant support to Pakistan
Moreover, China's Acting Charge'd Affairs Bao Zhong also called on Dar today. 
During the meeting, the finance minister highlighted the deep-rooted, long-standing bilateral ties between Pakistan and China, appreciating the Chinese support to Pakistan on multiple fronts.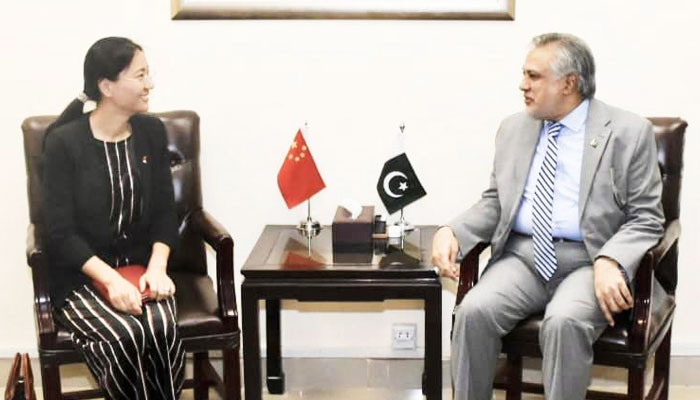 He also apprised the envoy of the economic situation of the country and the progress in the ongoing IMF programme.

Zhong reciprocated the sentiments about the strong bilateral ties between the two countries. She also assured of the constant support of the Chinese government to the people of Pakistan in economic and political terms.
Dar thanked the Chinese envoy for the support and cooperation of China to Pakistan.