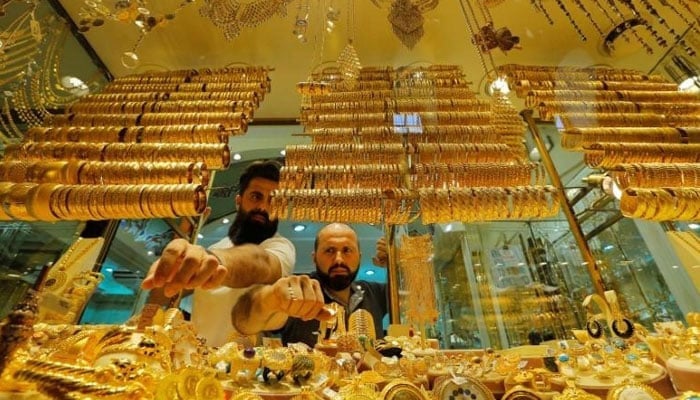 Price of gold cut by Rs1,000 per tola to Rs230,400.
Silver prices remain stable in the market.
Price of gold decline by $8 in foreign market.
---
KARACHI: The gold price in Pakistan slipped for the second time on Monday despite a depreciation in the rupee in the interbank as well as the open market against the dollar. 
According to the data released by All-Pakistan Sarafa Gems and Jewellers Association (APSGJA), the price of gold (24 carats) decreased by Rs1,000 per tola and Rs857 per 10 grams to settle at Rs230,400 and Rs197,531, respectively.
Meanwhile, the price of gold declined by $8 in the international market to settle at $1,940 per ounce. 
The value of gold fluctuated throughout the outgoing week in domestic markets and fell by Rs1,600 last week on Saturday (June 3). Cumulatively, the price of gold decreased by Rs2,600 in the last two sessions.

The gold rate has been volatile in Pakistan recently amid continued political and economic uncertainty, high inflation, and currency depreciation. People prefer to buy yellow metal in such times as a safe investment and a hedge.

Data shared by the association showed the price of silver remained unchanged at Rs2,750 per tola and Rs2,357.68 per 10 grams, respectively. 
The local currency, at the start of the week, lost Rs0.51 or 0.18% against the greenback and closed at Rs286.19.