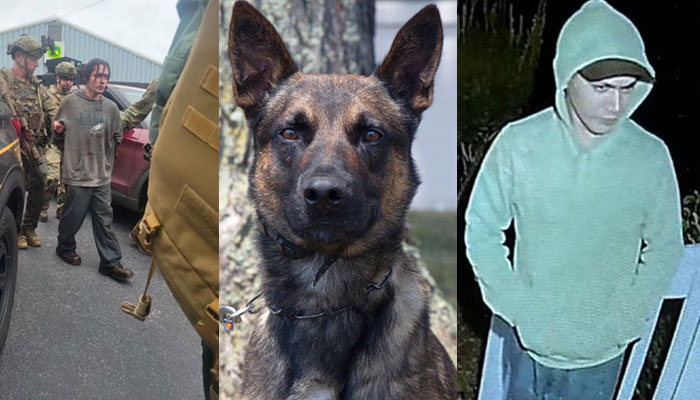 A murderer, Danelo Cavalcante, who had escaped from a US jail two weeks ago, found himself captured with the assistance of a law enforcement dog after a heat-sensing aircraft pinpointed his location.
The authorities revealed that Cavalcante, aged 34, was apprehended in a wooded area in Pennsylvania while attempting to crawl away from officers who had encircled him.
This dramatic capture followed a massive two-week manhunt involving more than 500 officers after his escape on August 31st. Just a week before his escape, Cavalcante had been sentenced to life in prison for the 2021 murder of his ex-girlfriend in front of her two children.
The daring escape saw Cavalcante "crab-walk" between two walls and scale a razor-wire fence at Chester County Prison, located approximately 30 miles west of Philadelphia. The extensive manhunt had put the residents of Chester County on edge, prompting police to advise them to lock their doors and remain indoors.
During a news conference, Pennsylvania Governor Josh Shapiro commended the capture of Cavalcante without any shots fired, attributing it to the exceptional efforts of law enforcement and the support of the public.
The search operation involved mounted patrols, canine units, and aircraft scouring the woods of South Coventry Township, ultimately aided by a burglar alarm at a nearby home.
A Drug Enforcement Administration plane detected a heat signal on the ground, and a tactical team of officers closed in on the heat source, eventually locating and surrounding Cavalcante. Despite the element of surprise, Cavalcante resisted arrest and attempted to flee, taking a stolen rifle with him as he crawled through dense underbrush.
However, a four-year-old Belgian Malinois police dog named Yoda subdued Cavalcante, inflicting a minor bite wound, and officers subsequently took him into custody.
Cavalcante, who sustained a scalp wound during the capture, will undergo a medical assessment before being transferred to a prison facility. He will also face a felony escape charge in court, as stated by Philadelphia's attorney general.
Cavalcante's capture ended a harrowing two-week period for Chester County, marked by changes to prison security following his escape. His method of escape was eerily reminiscent of another inmate's breakout earlier in the year, exposing significant security lapses at the prison.
During his time on the run, Cavalcante attempted to contact acquaintances, including his sister, who was later taken into custody for an immigration violation.
The fugitive also entered an open garage, fleeing with a .22 calibre rifle as the homeowner fired several shots in his direction. The family of his murdered ex-girlfriend, Deborah Brandão, remained under 24-hour police protection during the manhunt.
Cavalcante's escape and subsequent arrest garnered attention in his native Brazil, where social media users celebrated the end of the manhunt. Speaking about the arrest, Silvia Brandão, the sister of the victim, expressed relief, acknowledging the fear of potential revenge from Cavalcante. In addition to the murder of Brandão, Cavalcante faces accusations of killing a young friend over an unpaid debt in the central Brazilian state of Tocantins in 2017.