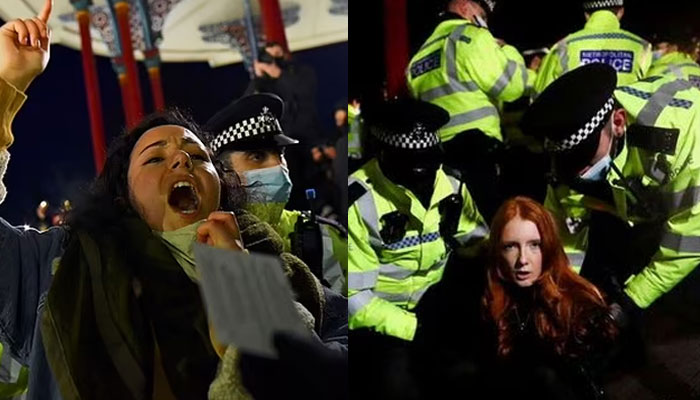 London's police force has issued an official apology and paid "substantial damages" to two women who were detained during a vigil held in memory of Sarah Everard, a tragic victim of rape and murder by a serving police officer.
The incident occurred in March 2021 when Everard was abducted off a London street while walking home, and her body was later discovered in woodland approximately 50 miles away.
The news of Everard's heinous killing and the subsequent revelation that a serving officer, Wayne Couzens, had been arrested, ignited widespread anger and protests.
In response, hundreds of individuals, predominantly women, gathered at Clapham Common in southwest London, near where Everard was last seen, to hold a vigil just three days after her body was found.
Among the attendees were Dania Al-Obeid and Patsy Stevenson, who were detained by the police and subsequently taken away in handcuffs.
 Law firm Bindmans, representing the women, confirmed that the Metropolitan Police had settled civil claims brought by Al-Obeid and Stevenson. As part of the settlement, the women received damages and an apology from the police.
Stevenson expressed her thoughts on the resolution, stating, "It has taken over two years to reach this conclusion. It's been a really tiring and difficult process but it has felt important to push for some form of accountability and justice for myself and all women who attended the vigil to express our anger and grief over the murder of Sarah Everard by a serving Metropolitan Police officer."
A spokesperson for the Metropolitan Police acknowledged the exceptional circumstances in which the vigil took place and defended the actions of its officers, asserting that they had acted in good faith.
The spokesperson emphasized that a prolonged legal dispute would not be in the best interests of any party involved, particularly the complainants who had already experienced significant distress due to the incident.
The tragic murder of Sarah Everard and the police response to the subsequent vigil were part of a series of scandals that have marred the reputation of the London police force in recent years, leading to the resignation of its former chief, Cressida Dick. An independent watchdog report shortly after the vigil had concluded that the police had acted appropriately.
However, a scathing review published in March of the same year, commissioned following Wayne Couzens' life imprisonment, characterized the force as misogynistic and cited the vigil incident as an example of its shortcomings, underscoring the urgent need for reform within the organization.