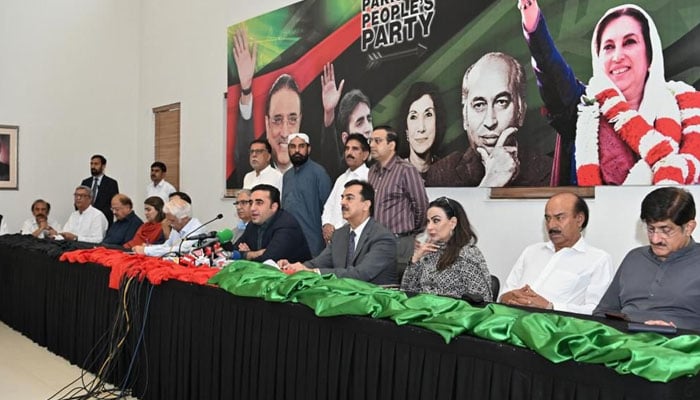 Bilawal says no one should assume that PPP is confined to a province.
PPP's CEC urges ECP to issue election date and schedule.
PPP empowers Zardari to take up issue of a lack of "level playing field" in politics.
---
Without naming the Pakistan Muslim League-Nawaz (PML-N) Pakistan Peoples Party (PPP) Chairman Bilawal Bhutto Zardari claimed that the Shehbaz Sharif-led party faced consequences in the 2018 elections for conspiring against his party in the 2013 polls.
"A conspiracy was made to keep out the party representing the underprivileged class of Punjab," Bilawal claimed while talking to newsmen after the conclusion of his party's two-day Central Executive Committee (CEC) meeting.
Continuing his tirade against his former ally, the PPP leader said that "everyone" is aware of how former Inter-Services Intelligence (ISI) director general Lt Gen (retd) Pasha, former chief justice of Pakistan Iftikhar Chaudhary and a "political party" conducted "RO elections" in 2013.

"In 2013, the PPP was expelled from Punjab in an undemocratic manner. Later this party [PML-N] itself suffered due to this conspiracy in Punjab," Bilawal said. 

He went on to say that in the 2018 elections, there was an "alliance among" Lt Gen (retd) Faiz, former CJP Saqib Nisar and "a political party" — indirectly pointing towards the Imran Khan-led Pakistan Tehreek-e-Insaf (PTI). 
The PPP chairman regretted that no one would ask a question from Nawaz Sharif if he did not spend the night in Sindh indicating that he was not interested in that province. He also lamented that it was disappointing that PPP was targeted in this "character assassination".
"No one should assume that the PPP has confined itself to a single province," Bilawal said. He added that if a party decides against contesting elections from a certain area does not mean that they do not have a presence in that place.
"The Peoples Party is the party that was born in Punjab. Mian Sahib [Nawaz Sharif] was not asked that you did not spend a night in Karachi or Balochistan. The Peoples Party is present everywhere [be it] Lahore, Quetta, Peshawar or Karachi," Bilawal said.
The former foreign minister, in the last coalition government, said that he is "ready to show" his 16-month performance to the people.
"We are not disappointed look at the TV to see who has disappointed faces," Bilawal said. He added that his party was demanding elections be held as soon as possible.
"The excuses, Rana Sanaullah is giving, have turned into a joke. What can I say about it?" asked Bilawal. He added that their complaint of a "level playing field" was against one political party.
He also said that the CEC has empowered the party's Co-chairperson Asif Ali Zardari to take up the issue of a lack of a "level playing field in the country" for political parties at appropriate forums.
"Hopefully, our complaint will be addressed soon and I will speak openly after that," the PPP chairman added.
SC judgment was expected: Bilawal

To a question about the Supreme Court's verdict on NAB amendments, Bilawal said that even though he had not read the verdict, his party was expecting the decision that came today.
"We have this position that NAB is an institution created by a dictator and it should be closed," Bilawal said. He added that his party had seen multiple graft cases and is ready to face them again be it based on the new or old laws.
CEC urges ECP to announce election date immediately
Earlier before taking questions, Bilawal read out the resolution passed by his party's CEC after the two-day meeting.
In the resolution, the PPP demanded the Election Commission of Pakistan (ECP) to immediately announce an "election date and schedule" which is required under the Consitution.
The resolution, as read out by Bilawal, stated that the decision was taken after the CEC had an "extensive discussion on constitutional matters including the urgent need for dampening down a cycle of chronic political instability". It believes that this cycle would only settle down with the announcement of an election date and schedule.
"The party's constitutional lawyers also briefed the leadership on the responsibility of the Election Commission of Pakistan to announce an election date and schedule immediately as the constitution required," said Bilawal.
The PPP's CEC also unanimously agreed that relief should be provided to the people from "spiralling inflation, unemployment and poverty as well as, electricity, utility bills, and petrol prices". However, it added that this should not be done by undertaking "irresponsible macroeconomic actions" which would "destabilise" Pakistan's multilateral commitment.
Apart from this, the PPP leadership was also briefed on the riverine floods in Kasur, Okara, Vehari, Bahawalnagar, Pakpattan, Lodhran and Bahawalpur. It called for the affected areas to be declared disaster-hit and the dispensation of emergency cash for the people via the Benazir Income Support Programme.
Furthermore, the PPP expressed solidarity with the Christian community affected by the Jaranwala violence.
"The party also expressed its disappointment at the blocking of a Senate resolution it had requisitioned on the same issue to pass a House resolution," said Bilawal. The PPP's top decision-making body also expressed concern regarding rising terrorism and law and order situation.