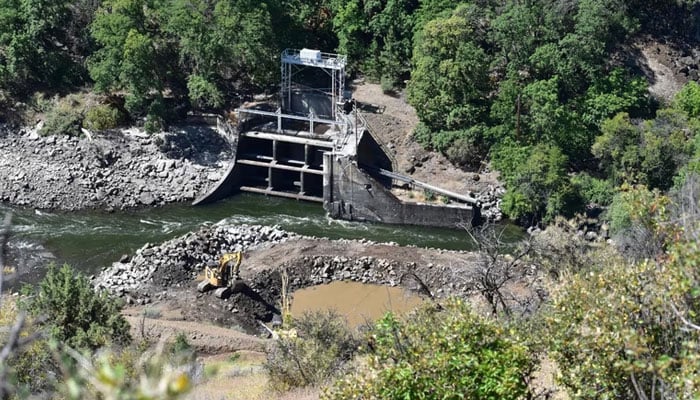 A monumental transformation is underway in California as the state embarks on the most extensive dam removal project globally, with a mission to restore natural habitats and counter the impacts of climate change. 
The focal point of this colossal effort is the revive the Klamath River, a goal to be achieved by dismantling a series of significant dams that have stood as barriers to the river for decades. 

By this time next year, these mammoth structures, constructed back in the 1950s, will have vanished, allowing the river to flow unrestricted once again. 

The Iron Gate Dam, the final dam in a series of four, is at the heart of this ambitious venture, once regulating the river's flow and providing water to Northern California.
The deconstruction of Copco2, one of the dams in focus, was a relatively swift process, taking only a few months, in stark contrast to the lengthy construction of the Iron Gate Dam.
Mark Bransom, CEO of the Klamath River Renewal Corporation, confirmed that once the dam's infrastructure is removed, the river will regain its natural course. Restoration plans include using native vegetation to stabilise the remaining sediments after the reservoir is emptied.
Amidst the escalating challenges of extreme heat, severe droughts, and disastrous floods exacerbated by climate change, a nationwide movement, dubbed "rewilding," aims to restore ecosystems to their natural state, before significant human intervention. 
Dams, often constructed without consideration for the environment, have come under particular scrutiny in this initiative.
Ann Willis, California regional director for American Rivers, a water-centric non-profit organisation, highlighted that one of the swiftest ways to heal a river is through dam removal. Willis emphasised that rivers can start their healing process as soon as the water flows freely.
The U.S. Army Corps of Engineers, responsible for maintaining the National Inventory of Dams, has identified a staggering 76% of existing U.S. dams as having "high hazard potential." The Iron Gate Dam, for instance, hosts toxic algae in its stagnant reservoir, endangering water quality and safety.
Tribal activists have played a pivotal role in advocating for the dam's decommissioning, emphasising the near extinction of salmon in the Klamath River and its impact on sacred practices of the Karuk, Yurok, and Hoopa tribes.
The ambitious project has a price tag of $500 million, funded by taxpayers and PacifiCorps, the local electric power company. While some homeowners have expressed concerns about declining property values, proponents argue that the cost is justified to restore nature, citing the success of the Elwha Dam Removal project in Washington state.
Looking ahead, advocates hope to replicate the Klamath River's restoration success in other regions, such as the current federal proposal to breach four dams on the lower Snake River in eastern Washington, with an estimated cost of $33.5 billion.