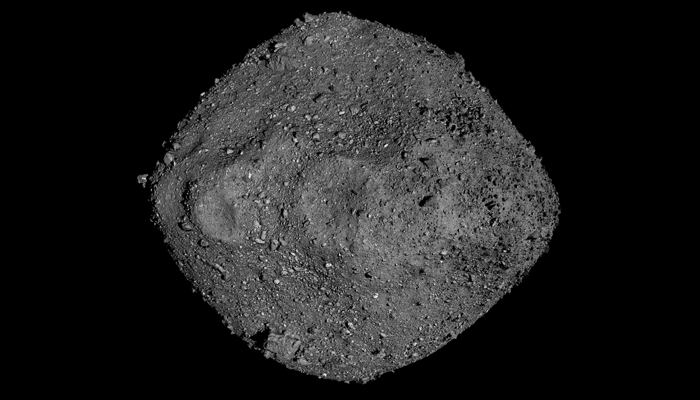 Researchers have been waiting on Earth to receive the biggest asteroid sample which will be sent from space by Nasa's OSIRIS-Rex probe, as astronomers are gaining more understanding about the evolution of the solar system and the alien rocks that are to impact our planet in future. 
Origins, Spectral Interpretation, Resource Identification, Security-Regolith Explorer (OSIRIS-Rex) will be releasing a sample of the Bennu asteroid which is likely to touch down in Utah weighing an estimated 8.8 ounces.
The event will be live-streamed starting at 10am ET Sunday.
The capsule is likely to enter Earth's atmosphere at 10:42am ET, with a speed of about 27,650 miles per hour (44,498 kilometres per hour), landing 13 minutes later.
The probe — launched in 2016 — will continue its space journey in the solar system to collect further information about asteroid named Apophis.

The samples from space may assist scientists to gain more insight into the origins and evolution of the solar system as asteroids are the "leftovers" from those early days 4.5 billion years ago.
The analysis will also help gain more insight into Bennu, which is expected to hit Earth in the future.
After surveying the Bennu — a rubble-pile asteroid shaped like a spinning top, is about one-third of a mile (500 meters) wide and composed of rocks held together by gravity.

During the sample collection, OSIRIS-REx went 1.6 feet (0.5 meters) deep into the surface — loosely packed — of the asteroid.
After saying goodbye to Bennu in May 2021, Nasa's probe has been on its way to Earth, circling the sun twice so it can fly by Earth at the right time to release the sample.
The capsule will land within an area of 36 miles by 8.5 miles on the Defense Department's Utah Test and Training Range.
Sandra Freund, OSIRIS-REx program manager at Lockheed Martin Space, said: "Parachutes will deploy to slow the capsule to a gentle touchdown at 11 miles per hour, and recovery teams will be standing by to retrieve the capsule once it is safe to do so."
Details about the sample, after undergoing the necessary process will be revealed through a Nasa broadcast from Johnson on October 11.
According to scientists, carbonaceous asteroids such as Bennu crashed into Earth early during their formation, delivering elements like water.
"We're looking for clues as to why Earth is a habitable world — this rare jewel in outer space that has oceans and has a protective atmosphere," said Dante Lauretta, OSIRIS-REx principal investigator at the University of Arizona in Tucson.
"We think all of those materials were brought by these carbon-rich asteroids very early in our planetary system formation."
"We believe that we're bringing back that kind of material, literally maybe representatives of the seeds of life that these asteroids delivered at the beginning of our planet that led to this amazing biosphere, biological evolution and to us being here today," Lauretta added.