Farmers in various regions are turning to technological innovations as honeybee populations struggle to adequately pollinate crops. 
Thai Sade, the founder of the Israeli tech firm BloomX, has developed a method to mechanically pollinate crops, offering an alternative to the declining honeybee population.
Sade clarifies that their technology does not seek to replace bees but rather provides more efficient pollination methods to reduce dependence on commercial honeybees. 
Pollinators play a crucial role in agriculture, with approximately three-quarters of the world's fruit and seed-producing crops relying on them, primarily bees.
In the United States and Europe, bees are responsible for around 75% of pollination for fruits, nuts, and vegetables. However, factors like climate change, habitat loss, and pesticide use have adversely impacted bee populations. European honeybees are additionally plagued by the varroa destructor mite.
BloomX's innovative technology, including products like "Robee" and "Crossbee," focuses on blueberries and avocados, enabling pollination even when bee populations are scarce. "Robee" resembles a push-along lawnmower with vibrating arms that mimic the actions of bumble bees, efficiently pollinating blueberry plants. "Crossbee," on the other hand, is a handheld tool for transferring pollen between avocado trees. BloomX's AI-based software system, paired with GPS technology, ensures precise and efficient pollination in agricultural fields.
California, a major producer of almonds, heavily relies on honeybee pollination. To fertilise its vast almond orchards, honeybees are transported from across the United States, potentially causing shortages of honeybees for other crops nationwide. Artificial pollination, like that offered by BloomX and similar companies, could help alleviate this problem.
Lisa Wasko DeVetter from Washington State University acknowledges the importance of almond pollination for beekeepers' income but highlights the stress and mortality rates that honeybees experience during this process. Additionally, it can disrupt natural ecosystems and expose wild bees to new diseases. Artificial pollination may offer a solution by reducing the pressure on honeybees.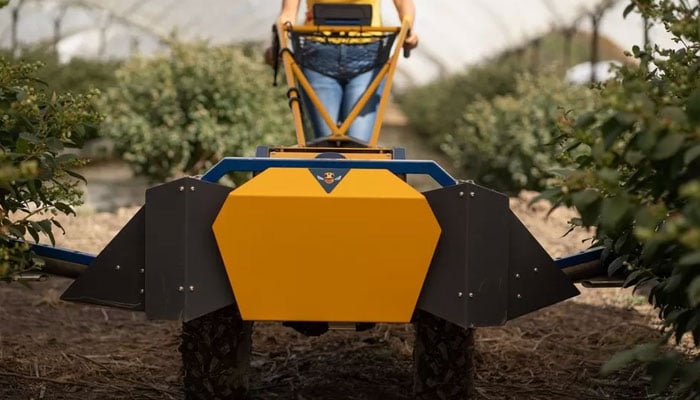 Another Israeli tech firm, Edete, specialises in artificial pollination and has developed machinery to collect and store pollen for several years. This technology is mainly used in California for pistachio fields and is gradually being introduced to almond orchards. Edete's approach aims to ease the stress on honeybees and allow them to thrive naturally, benefitting both pollinators and agriculture.

However, Diane Drinkwater from the British Beekeepers Association emphasises that artificial pollination may be largely unnecessary if bee health and welfare are prioritised. She highlights that bees have been natural pollinators for millions of years, and while migratory pollination can boost crop yields, honeybees need nectar and pollen to maintain their populations.
In conclusion, as bee populations face numerous challenges, technological solutions like those provided by BloomX and Edete offer promising alternatives to traditional pollination methods, potentially benefiting both agriculture and bee conservation efforts.