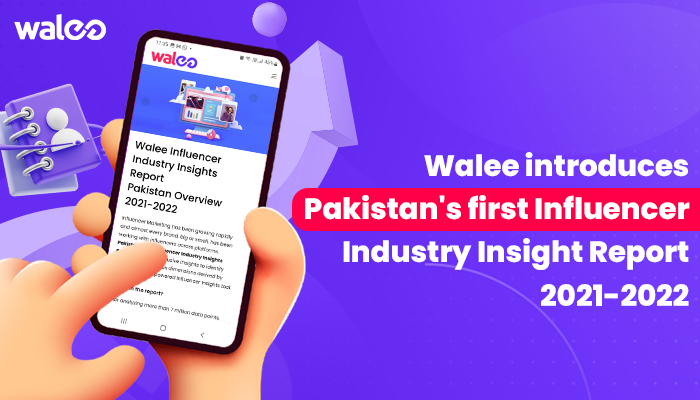 The world of marketing and advertising has undergone a significant transformation in recent years, and one of the most significant shifts has been the rise of influencer marketing. This trend has been driven by the increased usage of social media by consumers and the growing importance of digital channels for brands looking to reach consumers. The influencer industry has grown globally now estimated at about US$104 billion, it has not lagged behind in Pakistan. The Walee Influencer Industry Insights Report 2021-22 provides a comprehensive look at the state of the influencer industry in Pakistan, highlighting the growth, challenges, and opportunities in the market.

Influencer marketing, as a basic concept, is not an unusual occurrence when examining human progress throughout history. Consumers have always turned to influential people in society when embracing change. Historically, influencers were celebrities, politicians, and distinguished individuals who received the most attention, driving trends through influence. However, with the rise of globalization and social media, the definition of "influencer" has become subjective.
Pakistan is a country with a large population and a growing middle class that is increasingly spending more on consumer goods and services. This has made the country an attractive market for brands looking to reach consumers through influencer marketing. The report finds that the influencer industry or the new 'royals' in Pakistan is still in its early stages of development but is growing rapidly, with the number of influencers and brand collaborations increasing year after year.
One of the key trends highlighted in the report is the increasing use of social media as a marketing tool by brands. In recent years, social media platforms such as Instagram, YouTube, and TikTok have become essential marketing channels for brands looking to reach consumers in Pakistan. The report finds that the majority of influencer marketing collaborations in the country take place on Instagram, followed by YouTube and TikTok.
It also sheds light on the types of influencers that are most sought after by brands in Pakistan. Fashion (23.6%) and Beauty (22.2%) influencers are the most popular, followed by FMGC (15.6%) and Lifestyle (9.4%) influencers. Brands are drawn to these types of influencers because they are seen as relatable and have a large and engaged following.
However, the report also highlights some of the challenges facing the influencer industry in Pakistan. One of the biggest challenges is the lack of regulation and standardization in the industry.
Another challenge is the issue of authenticity and trust in influencer marketing. This has led to a situation where some influencers have large followings but may not be as influential as they appear, which can be due to inorganic growth through bots, while others have smaller followings but a high level of influence. This makes it difficult for brands to determine which influencers are the best fit for their campaigns.
To address these challenges, Walee's report suggests that the influencer industry in Pakistan needs to establish a set of standards and guidelines to regulate the industry and improve the transparency and accountability of influencer marketing campaigns. This could include measures such as requiring influencers to disclose their relationships with brands, as well as setting standards for measuring the reach and influence of their campaigns, for example, Walee's proprietary scoring method the Influencer Quality Score (IQS) which measures the quality of influencers based on their active versus inactive followers.
Despite this, the report finds that the influencer industry in Pakistan offers significant opportunities for brands. One of the biggest advantages of influencer marketing is that it allows brands to reach consumers in a more personalized and authentic way. By partnering with influencers who already have established relationships of trust with their followers, brands can tap into that trust and credibility to build brand awareness and drive sales.
Another opportunity for brands is the ability to reach a younger demographic. The majority of social media users in Pakistan are under the age of 35, making it an attractive market for brands looking to reach young consumers.
Additionally, the report also highlights the importance of choosing the right influencer for a campaign. It finds that the success of an influencer marketing campaign depends on the fit between the brand and the influencer. Brands need to choose influencers who align with their values and target audience, and who have a strong and engaged following that is relevant to the brand's target audience.
The Walee Influencer Industry Insights Report 2021-22 provides a promising picture of the flourishing influencer market in Pakistan, despite its challenges and being in its early stages, it is already expanding rapidly with significant growth potential. Social media platforms are only becoming more popular and widespread as time passes, producing exciting opportunities for brands to connect with consumers in a personalized and authentic manner. Prioritizing these relationships with content creators, especially in the early stages is the key to unlocking the full potential of influencer marketing campaigns, and the report offers valuable insights to help brands make the best decisions. With its comprehensive examination of the industry and its future prospects, the report is a must-read for anyone looking to succeed in influencer marketing in Pakistan.
You can download the report from here.