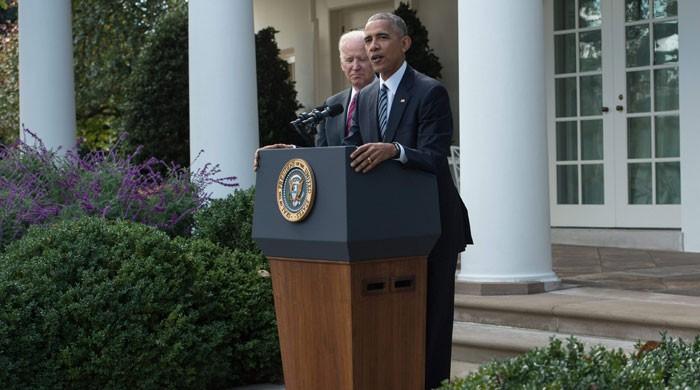 WASHINGTON: US President Barack Obama will welcome his successor Donald Trump in the White House on Thursday, where the president-elect will be accompanied by his wife, Melania, who will have a meeting with First Lady Michelle Obama.
Obama congratulated Trump following his shocker win in the elections and also called Hillary Clinton, his one-time secretary of state and fellow Democrat, to express his "admiration for the strong campaign she waged throughout the country," White House spokesman Josh Earnest said in a statement.
At the White House, Obama -- whose own 2008 campaign to make history as the country´s first black president hinged on unifying a divided country -- plans to discuss "what steps we can take as a country to come together after this hard-fought election season," Earnest said.
During their talks on Thursday, Obama and Trump -- who once spearheaded the so-called birther movement questioning the president´s place of birth and legitimacy to be president -- are set to discuss the presidential transition.
"Ensuring a smooth transition of power is one of the top priorities the president identified at the beginning of the year and a meeting with the president-elect is the next step," added Earnest.
Obama pledged on Wednesday to work for a smooth transition of power with president-elect Donald Trump, the Republican winner of Tuesday's election, who has promised to undo Obama's top domestic and foreign policy initiatives.
In brief remarks to reporters in the White House Rose Garden, Obama urged fellow Democrats to put aside their disappointment and tried to strike a positive tone after a devastating electoral defeat.
"It is no secret that the president-elect and I have some pretty significant differences," Obama said with a smile about Trump, who had long questioned whether Obama had been born in the United States and his eligibility for office.
"We are now all rooting for his success in uniting and leading the country," Obama said.