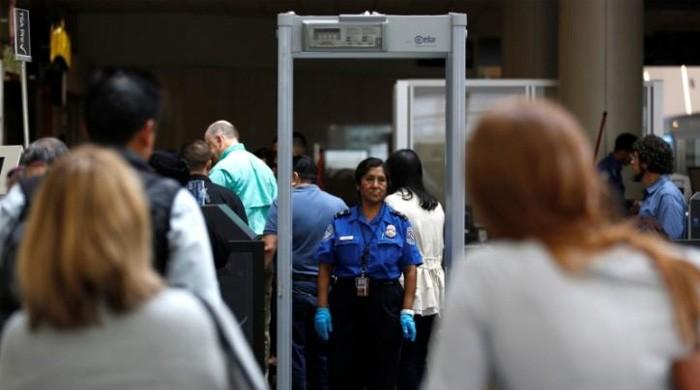 WASHINGTON: US authorities are planning to ban passengers travelling on certain US-bound foreign airline flights from carrying into the cabin larger electronic devices in response to an unspecified terrorist threat, US officials told Reuters on Monday.
A US official said the ban on some electronics is believed to be related to Al Qaeda in the Arabian Peninsula or AQAP, CNN Money reported.
The new rule is expected to be announced as early as Monday night by the Department of Homeland Security, the officials said, adding that it had been under consideration since the US government learnt of a threat several weeks ago.
The source said the rule would cover a dozen foreign airlines flying from about a dozen countries, including some from the Middle East, and would include airlines based in Jordan and Saudi Arabia. The officials did not name the other countries.
The officials said no American carriers were affected by the ban, which would involve devices larger than a cell phone. Passengers would be allowed to carry larger devices in their checked luggage.
AFP adds that "a tweet from Saudi Airlines and one – subsequently deleted – by Royal Jordanian airlines informed their customers of an imminent cabin ban on electronic devices larger than a cell phone. It said all such devices – including laptops, tablets, cameras, DVD players and electronic games – would need to be checked in under new US government rules coming into force March 21. The tweet was later removed amid suggestions the airline had released the information prematurely."
Al Riyadh newspaper, which is close to the Saudi government, reported that the civil aviation authority had informed "airlines flying from the kingdom's (Saudi) airports to US airports of the latest measures from US security agencies in which passengers must store laptops and tablets" in checked in baggage.
Al Riyadh quoted a civil aviation authority source as saying that these measures from senior US authorities were relayed to the Saudi interior ministry.
The White House declined to comment.
A spokesman for the US Department of Homeland Security, David Lapan, said the agency has "no comment on potential security precautions, but will provide an update when appropriate.
Homeland Security Secretary John Kelly called congressional lawmakers this weekend to notify them of the plan, congressional aides said.
Many media outlets have differing statements in this regard. Financial Times, citing a US official, mentioned the new rules will concern eight Middle Eastern nations, including Egypt, Jordan, Saudi Arabia, and the United Arab Emirates. The Guardian, on the other hand, said the edict – distributed in a confidential email from the US Transportation Safety Administration – would affect 13 nations.